Print
Outdoor furniture
Backyards have evolved into extensions of the home. With the incredible popularity of barbecues, the deck has been transformed into an outdoor dining room and lounge area.

When the time comes to choose your outdoor furniture, you need to look at your available space, the furniture's resistance to the sun and weather conditions, maintenance requirements and storage needs.

There are many furniture sets available, and as much to choose from in terms of style as the materials used. This buying guide will help you make the decision that best suits your needs.


Choose your outdoor furniture according to your needs
Show All Steps
Close All Steps
How big is your patio or back yard?
What are your favourite outdoor activities: relaxing, meals, cooking?
What furniture style are you looking for;on the traditional side or more modern?
Which type of material do you prefer: wood, metal, PVC wicker?
Where will you store your furniture during the winter?
By garden furniture, we include all kinds of furniture used for mealtime enjoyment or lounging outdoors, weather permitting. This includesdining sets, coffee sets, end tables, low tables, and chaises longues.
Chairs and armchairs
Most of the time, the chairs included in a dining set are straight-back chairs that imitate the chairs used for the dining room inside the home, whereas arm chairs usually have deeper seats. Outdoor chairs are often accessorized with cushions.
Features to consider:
with or without armrests;
chair back height;
reclining positions and adjustments;
seat depth, either standard or extra deep;
pivoting, rocking or straight base;
storage options with chairs you can stack or fold away;
hardware, either copper or stainless steel.
Chaises longues
The chaise longue has been integral to traditional garden decor for a very long time. Still just as popular, chaises longues have evolved over time and are now made of a larger range of materials.
Features to consider:
number of seats, single or double;
with or without arm supports;
slide out or fold out tray;
adjustable reclining positions;
adjustable foot rest;
wheels on legs to facilitate moving.
Sofas andloveseats
Sofas are just as readily available as outdoor chairs and armchairs.
Features to consider:
number of seats, usually two or three;
with or without a swing mechanism;
with or without armrests;
seat depth, regular or extra deep;
seat back height.

Tables, coffee tables and side tables
Tables are both practical and decorative, from the traditional rectangular table with tempered glass top to the charming bistro table.
Features to consider:
shape of the table top, eitherround, square or rectangular;
space for guests;
with or without a leaf;
location of the legs, either in the corners or in the centre;
composition of the tabletop, which can be tempered glass,tiles, or the same material as the frame;
possibility of inserting a table umbrella;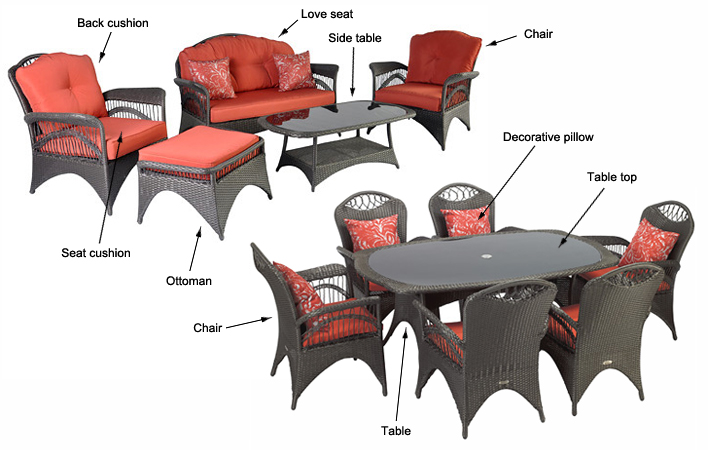 The materials used to make outdoor furniture can generally be divided into three main categories: wood, metal, and synthetic resin. New natural-looking composite materials have been developed to be more resistant to difficultweather conditions. Wood composite made of wood and resin is an example of this new kind of material. Combining materials can also be very successful in outdoor furniture, such as wood and metal or metal and ceramic tile. Cushions and accessories in bright colours will liven up the overall effect.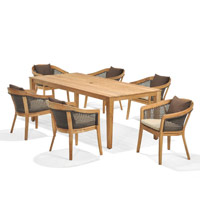 Whatever wood species is used, wood furniture is a perennial favourite. The more expensive the wood, the longer it will last. Teak, one of the most popular species for garden furniture, is a fine-grained hardwood;it doesn't rot, and it's very resistant to changes in temperature.
A combination of wood and resin goes into furniture made of composite materials. Lightweight and durable, this type of material is used more and more for building decks and fences, and also for outdoor furniture. Composite materials are available in many colours that resist fading. No need for new tools; you can use your traditional building tools when working with composite. Also, composite materials are mould and mildew-resistant and won't crack or splinter; worth considering as an alternative to wood.
Material
Benefits
Drawbacks
Maintenance

Wood

Warm appearance that works with all types of decor
Durable if well-maintained
Available using local wood species (pine, white or red cedar)
Exotic species also available (teakand mahogany)

Requires maintenance
Ideally, should be stored during the winter; if left outdoors, snow should not be left to accumulate
Expensive, initially

Wash with soapy water
Stain, paint, or apply oil recommended by the manufacturer, according to the manufacturer's instructions

Composite Material

Interesting appearance
Available in many colours
Lightweight and durable
Mould and mildew-resistant
Colours don't fade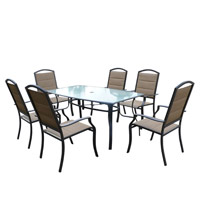 Metal furniture is incredibly sturdy, long-lasting and can stand up to all kinds of weather. Metal harmonizes with all decor styles, from a traditional English-style garden decor to a simpler rustic decor, all the way to a minimalist contemporary style decor. This category includes aluminum, stainless steel and wrought iron furniture.
Material
Benefits
Drawbacks
Maintenance

Aluminium - Tubular

Works well in a modern design
Comfortable with or without cushions
Usually foldable, easy to store
Lightweight, easy to handle and move
Moderately priced
Easy to maintain, doesn't rust
Can be covered withPVC

Lightweight; windy conditions are problematic
Does not work well for a rustic or romantic decor

Wash with soapy water
Cover if left outside over the winter

Aluminum - Cast Aluminum

Available in a variety of styles: romantic, modern, urban, etc.
Lightweight, easy to move around
Moderately priced
Easy to maintain
Durable, doesn't rust

Lightweight; windy conditions are problematic

Wash with soapy water
Cover if left outside over the winter

Stainless Steel

Interesting, associated with a modern design
More wind-resistant than aluminum
Foldable, easy to store
Affordable

May rust
Must be stored during the winter

Wash with soapy water
Use a metal brush to eliminate rust spots
Touch up with anti-rustpaint

Wrought Iron

Durable, can last for decades
Refined, elegant, romantic
Easy to maintain
Painted black, brown, beige or white

Very heavy; difficult to move around
May rust
Must be stored during the winter
Can't be folded or stacked; requires considerable storage space
Expensive, initially

Wash with soapy water
Apply liquid wax three to four times per year
Use a metal brush to eliminate rust spots
Touch up with anti-rust paint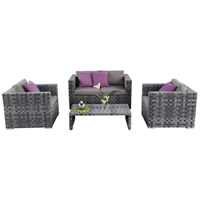 Synthetic resin furniture remains a popular choice, even though new combinations, styles, textures and attractive colours continue to come on the market. When you're choosing your furniture, opt for the thickest and heaviest resin available; it will last longer.Coloured resin materials are more resistant to water marks left by the rain, which is a problem with white resin furniture.
Synthetic rattan, PVC wicker, and Petan fibre are especially well-liked because they combine the beauty of natural rattan with easy maintenance. These materials also harmonize with all sorts of decors, from rustic to classic or modern.If this is your choice, don't compromise on the quality of the frames, which are generally made of metal.
Material
Benefits
Drawbacks
Maintenance

Synthetic Resin

Durable, comfortable, and fairly resistant
Affordable
Easy to store,foldable or stackable furniture
Lightweight; easy to move around
Easy to maintain

Not very rigid;more likely to break than wood or metal
Lightweight; windy conditions are problematic
More ordinary appearance
Colours fade over time
Must be stored during the winter

Opt for a non-porous glossy finish to facilitate cleaning
Wash with soapy water
Apply a resin furniture wax in the spring and mid-summer

Synthetic Rattan

Very attractive and combines with all decor styles
Easy to maintain
Durable
Comfortable with or without cushions

Expensive, particularly high-end materials
Poor quality materials stretch in the heat
Must be stored during the winter
Requires considerable storage space, since furniture cannot be folded or stacked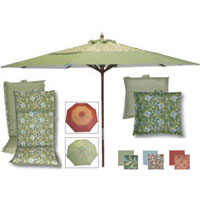 Cushions, lawn umbrellas, hammocks and other accessories are available in a wide range of textures, patterns and colours.Bright colours and bold patterns have made a triumphant return and work exceptionally well with wood and rattan furniture. Innovative combinations of colours, styles and materials are particularly sought after. It's best if you buy your cushions and umbrella at the same time to ensure continuity of style.
Cushions

When you're choosing your cushions, pay particular attention to the coverings. They are generally made of cotton, polyester or PVC-covered fibres. Cotton is fresh-feeling and comfortable, but less resistant to stains and tearing. On the other hand, PVC-covered fibres are both comfortable and very resistant, though less fresh looking. Polyester is smooth, supple and comfortable and provides good value for money.
Water-repellent acrylic that has been treated to withstand UV rays and resist staining is being used more and more to cover cushions. Cushions and padding materials are designed to be water-resistant, but you should store your cushions indoors or cover them when not in use.These additional precautions will maximize thelife and appearance of your cushions.
Umbrellas
There is a variety of patio umbrellas available today, from the traditional model inserted into the centre of the table to the self-supporting umbrella placed to one side. The choice of colours is vast, and the shapes to choose from are round, square or rectangular. Umbrella size varies enormously: up to 4m wide or 4m in diameter.The best way to make an umbrella waterproof and resistant to sun and dust is to use a protective cover, which will also enhance its wind-resistance.

Garden shelters
In addition to permanently-installed sheds in the yard, there are more and more portable garden structures available now.Most are constructed with highly-resistant and durable fabrics, treated to resist water and UV rays. Shapes and configurations vary a great deal.
Patio bars
Outdoor bars are increasingly popular. Often made of wood, they are also practical; the counter includes storage space for bottles and such useful items as ice cubes. Gather round some bar stools, and you're all set to entertain your friends in high style.
Portable fireplaces and patio heaters
Another patio feature that can truly add to your comfort and outdoor pleasure during long summer evenings on the deck: a propane-fueledportable fireplace. A portable fireplace adds a campfire kind of atmosphere to your outdoors with the added benefit of flexibility.You can place it in the centre of your gathering or over to the side of thetable.
There are various models of patio heaters that can be mounted on the exterior wall or placed on a stand. The stand-up variety is covered by a convex cap that distributes the heat generated by the heating elements. Most patio heaters are fuelled by a propane cylinderconcealed in the base of the heater, which means there is no need to plug it in to an electrical outlet. The finish is usually metallic, giving it a more contemporary look that can suit any number of decor styles.
Helpful Information
Related projects and Guides
Build a patio coffee table
A deck or patio is far from complete unless there is patio furniture or, at the very least, a patio coffee table to hold drink glasses, plates or food...
Learn more
Install fence panels
The addition of a fence can be either necessary or purely decorative. There's no need to sacrifice your outdoor decor: choose fence panels that will h...
Learn more
Your store :
Fort Erie RONA
584 Garrison Road,
Fort Erie, Ontario, L2A 1N4

Details
|
Change store
Call your store
Phone : (905) 871-3648
Customer Service
Monday - Friday: 8 AM - 9 PM (Eastern Time)
Saturday - Sunday: 8 AM - 5 PM (Eastern Time)
© RONA 2019, All Rights Reserved