Lawn Mowers (1)
Lawn mowers
are an essential part of keeping green space maintained. Many models offer side or rear discharge and mulching capabilities to handle the yard debris collected with
leaf blowers
and other equipment. Choose from self-propelled 
electric lawn mowers
and gas-powered models or even those that run on manual pushing power. A range of 
lawn mower accessories
such as spark plugs, engine filters, and drive belts are also available to keep your machine in peak condition all year round.
---
Keep your lawn looking well-groomed with
lawn mowers
from Rona. For such a simple function and design, these pieces of
outdoor power equipment
are remarkably versatile. Three-in-one models of 
power lawn mowers
give you the option to select side discharge, bagging, or mulching.
If green performance is a priority there are two main options. The first is an 
electric lawn mower
that runs on household current via an extension cord. The second option is a manual push mower. Both types of 
lawn mower
never require fuel refills and produce no emissions. The trade off between the two is that while a motorised unit requires less effort to use, a manual model is more compact and weighs less. Both types have a lower operating cost than gas-powered 
lawn mowers
.
Another option beyond the standard gas variety, is cordless. Cordless models run on batteries, just like other standard power tools. Using lithium-ion or other new battery technology, the power cells of these mowers are resistant to forming a memory. They also deliver consistent speed and cutting power until the charge is nearly depleted.
Look for a self-propelled or assisted power mower when want to spare yourself some effort. Any mower except for manual can be self-propelled. These models accelerate on their own when you engage the dead-man bar and stop when you release it. A self-propelled lawn mower is a lifesaver when the property has hills and other uneven terrain.
If you're using a gas-powered mower, another major convenience feature to look for is an assisted start function. Most gas 
lawn mowers
use a pull cord. Higher-end manufacturers are redesigning the cords to better harness the kinetic motion of the recoil for more consistent starts. This means that what might have once taken you up to a dozen pulls can now require only one, two, or three to get started.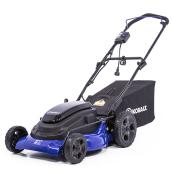 KOBALT
Kobalt 3-in-1 13-Amp 21-in Corded Electric Lawn Mower
Format 13A 21"
Details
Article #46835050