Water Heaters - Electric (3)
Browse trusted brands of
water heaters
to optimize hot water efficiency and longevity. Consider models that deliver 10% more on-demand hot water for high usage or traditional
electric water heaters
with glass interiors. For maximum output, shop the 60-gallon tanks. For maximizing space and quick response, investigate tankless options that offer energy-saving technology. Upgrade an existing unit with an aluminum
insulation blanket
. Keep an older heater running, or boost efficiency with water heater 
parts and accessories
.
---
Electric water heaters
come in two main designs: those with tanks and tankless options. Heaters with tanks also come in various sizes. Compact options supply instant hot water in point-of-use applications, such as sinks in residential, industrial, and commercial applications, for cleaning hands and small tools. The tanks come in various capacities ranging from 2 to 10 gallons. Heaters with medium-capacity tanks are suitable for small homes with one or two bathrooms. The tanks range in capacity from 10 to 20 gallons. Large heaters have tanks that exceed 30 gallons and supply water to bigger residences and commercial settings. Water heating units with tanks are usually set on floors or strong supports.
Tanks with special linings, such as blue cobalt glass, are typically long lasting because the material resists corrosion. Some heaters also feature corrosion-resistant heating elements, such as magnesium, to prolong their service lives. For optimal energy efficiency, some tanks have fibreglass insulation to minimize heat loss. Select tank and tankless
water heaters
have smart features with digital temperature displays. Some thermostats have additional features that help regulate water temperatures to help prevent injury and damage. There are ETL- and UL-listed heaters that meet various safety and energy efficiency standards.
Tankless heaters provide instant hot water. Their compact sizes allow users to mount them on walls or floors. Heaters have various capabilities, and powerful 30-kilowatt heaters can supply water to up to four bathrooms. Medium-power options include 20- and 30-kilowatt units that can supply between two and three bathrooms or major appliances with hot water. Small heaters for one to two-member households use less than 20 kilowatts. Thanks to their compact designs, some tankless heaters are compatible with mobile homes.
Select electrical
water heaters
have useful features, such as flow control and intelligent self-modulation for energy conservation and temperature regulation. Other water heating units, such as 
gas water heaters
, do not use electricity, so are ideal for areas prone to power outages.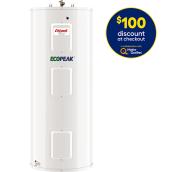 GIANT
Giant Electric Water-Heater - Standard 60-Gallon - Ecopeak
Format 60GA
Details
Article #01355056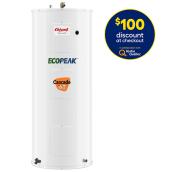 GIANT
Giant Electric Water Heater - Cascade 60-Gallon - Ecopeak
Format 60Gx240V
Details
Article #01355040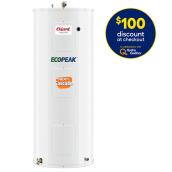 GIANT
Giant Electric Water Heater - Super Cascade 60-Gallon - Ecopeak
Format 60Gx240V
Details
Article #01355039