Description
Zing canister vacuum from Bissell(TM) with multi surface floor tool that easily cleans hard floors as well as carpet. Weighing only 7.7 pounds, this compact machine is easy to transport. Other features include: variable suction control, auto cord rewind (15 cord length), metal telescopic wand, and a full bag indicator. Includes a 2-in-1 crevice tool and dusting brush. Offers quick and easy hygienic emptying by simply disposing of the paper bag. 2.5 L dirt tank capacity. Replacement bag model no# 160-8099 (3-pack). 1-year limited warranty.
Related Projects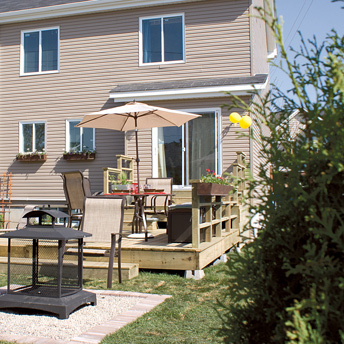 Exterior summer home maintenance checklist
When the weather is temperate and the hours of daylight are longer, take some time to both maintenance and to build improvements onto the exterior of the home. ...Learn more
Zing Canister Vacuum - 2.5 L
is rated out of
5
by
427
.
Rated

5

out of

5
by
Mary
from
Like pulling a marshmallow
As an older citizen, I forgot I would be aged someday. Oops, that day came and my somewhat new upright was just too heavy to push around. I am a pretty fit person but I actually had to hire someone to use the vacuum. Then one day, I remembered my cute little machine that never broke down--I gave it away when we went overseas. I began to look at the various shop and discovered the Bissell Zing--inexpensive, top rated, and most of all, VERY light weight--just like the one I had 40 years ago. I actually LIKE vacuuming now, and its good exercise. THANK you Bissell! [This review was collected as part of a promotion.]
Date published: 2019-04-12
Rated

3

out of

5
by
Krysti
from
Great budget vac
Good suction, but I don't like how the canister rolls and I don't like the attachment head for the floors. Doesn't get my carpet clean. Of course it's good for hard wood floors though. Really, this is a very affordable option with great adjustable suction so you can do curtains, beds, etc. This doesn't pick up big pieces too well. But again, great for budget, and it seems the same with hose length and capability included, to a Severin, which I was considering but it seems like both attachment heads are the same with carpets. #sweepstakes (kind of a play on words, eh? Sweep?) [This review was collected as part of a promotion.]
Date published: 2018-09-01
Rated

5

out of

5
by
Alexander
from
Fantastic vacuum!!
This is the fourth Zing vacuum that I have purchased. I love this thing back, because the suction power is fantastic. Even when the bag gets full, the suction power is still there. I lived in Florida, and the thing kept the sand, dog hair and everything else I dealt with in control. As a courtesy to the other people who lived where I live, I left two of the Vacuums in Florida, 1 in Ohio, and now I have the 4th. The Zing is the best vacuum for solid floors, and getting around in crevices and baseboards, Etc.. It only cost a little over $50, with free shipping. What a deal! Thank you for engineering in building such a powerful vacuum, for such a low price. [This review was collected as part of a promotion.]
Date published: 2018-08-01
Rated

1

out of

5
by
Janet
from
I would never buy this product again
Yes I am an older woman and live alone so my daughter picked this out on the internet since I have a small apartment & a young woman comes in ever Friday to clean for me. She said it looked like a very small toy vacuum. She cleans houses for a living & I realize it was very inexpensive however I did not know it would be not mechanized on the rug - my whole entire house is carpeting!!!!! She has to go all over the rooms pushing with her own strength. That is not explained at all. I certainly would not have purchased it for mer. And I tried to fill out the lifetime warranty form but they don't take it without a picture so i can't seem to get anywhere.
Date published: 2017-11-10
Rated

5

out of

5
by
Milemaker13
from
Awesome vac for everyday cleaning & dog hair tumbleweeds
We have a black lab and a new baby. So the baby was always covered in dog hair. The fur would collect in places like little tumbleweeds. This vac with its very basic head attachment works well for daily pickup of dog hair, dirt, lint, small scraps, cheerios... whatever. Its not a deep carpet cleaner, but does well on the carpet too. I like the variable speed motor and the thumb port on the wand that allows less suction for delicate jobs. Onboard tool storage would be nice, also a better crevice tool. However, these things are not a reason to pass on this vac. I just use the crevice tool from the old vac, fit perfectly!
Date published: 2017-01-22
Rated

5

out of

5
by
Debbie
from
I would purchase this again!! Love it!!
Hi ! I purchased my Bissell Zing in June as we just purchased a new berber rug. After researching how to clean a berber rug, I realized you can't use a rotating brush on it or it will snag the loops. The zing does not have a rotating brush. I was worried it would not have enough suction to clean it, as it is in our condo at the beach and sees a lot of sand. But, I tried it and for a small vacuum, it sure has great suction!! I am very happy with it and would highly recommend it ! It is a canister and very lightweight, which is a plus!! love it!! [This review was collected as part of a promotion.]
Date published: 2018-06-29
Rated

5

out of

5
by
Tricia
from
I will buy this vacuum forever
I have 3 large dogs, 2 long haired cats, and 2 indoor/outdoor potbelly pigs. I'm in rural Florida, and I have two young children. This vacuum is LIFECHANGING! I recommend it to anybody struggling to get on on top of constant hair and sand and general floor mess. It's a beast! And it's easy enough to use that my kids fight over who gets to vacuum. They FIGHT over who gets to vacuum. Buy this vacuum. [This review was collected as part of a promotion.]
Date published: 2019-03-23
Rated

5

out of

5
by
Christian
from
First Bissell Purchase, But Definitely Not My Last
This was purchased as a replacement for an older upright from a different manufacturer. The older unit was never particularly reliable, and had become even less so in recent years. I'd had a maid service in to clean at one point and saw one of them had a Zing and watched her use it. Small, portable, and (as I know now) powerful. It was precisely what I wanted. We have two cats, and keeping up with their shedding is always a chore, but the Zing has made it very easy and I can't recommend it enough. When I went shopping for a replacement this was my first choice, and then when I saw that Bissell runs a pet foundation, I knew my mind was made up. Thanks for making quality products and helping to save animals! [This review was collected as part of a promotion.]
Date published: 2019-05-17