Description
Provide ample and stylish lighting in hallways, studios, and rooms at home with this 1-light wall sconce. It features an intricate pattern on a metal shade that offers mood-setting panache. A chrome finish on the shade makes this 8" wall light fixture stand out, even when unlit, and the shade is easy to clean with a wipe. The 60 W, single light bulb is sold separately. Installation is easy, particularly when replacing a previous fixture. Chrome wall sconces elevate room decor aesthetics while providing light. Brighten a dark space or alcove, provide soft night lighting in a hall or stairway, or set an alternate ambient tone to a lamp-lit room.
Frequently bought together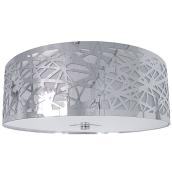 UBERHAUS
Uberhaus Wynne Flush-mount Light - Chrome-Finished - 14"
Format 14"-60W E26 N/IN
Details
Article #02575009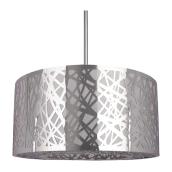 UBERHAUS
Uberhaus 'Wynne' 3-light pendant - 15.75'' - 60 W - Chrome
Format 15.75"-60W-E26N/IN
Details
Article #02575006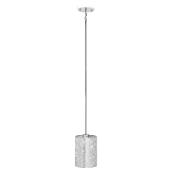 UBERHAUS
Uberhaus ' Wynne ' 1-light pendant - 6'' - 60 W - Chrome
Format 6"-60W-E26-N/IN
Details
Article #02575007