Description
The Bosch 10" (25.4 cm) worksite table saw with wheeled stand delivers both rip capacity and outstanding portability for a tool that can get the job done, wherever it is. The powerful 15 A saw delivers 4.0 max HP for outstanding productivity. It also incorporates soft-start circuitry to manage the intensity of motor start-up and minimize the possibility of tripping a circuit breaker. The table saw provides a 29" x 21-1/2" (73.6 cm x 53.3 cm) square tabletop with a 25" (63.5 cm). 1-Year limited warranty.
Product specifications
29" x 21 1/2" (73.6 cm x 53.3 cm)
At 45 degrees : 2 1/2" (5 cm) At 90 degrees : 3 1/8" (7.6 cm)
Wheeled Table Saw Stand, Barrier-Guard Device, Carbide-Tipped Blade, SquareLock Rip Fence, Miter Gauge, Push Stick, Throat Plate Insert, Multi-Function Blade Wrench, Adjustment Wrench
Frequently bought together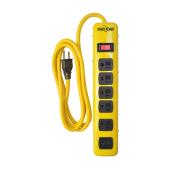 YELLOW JACKET
6-Outlet Power Bar with Surge Protection - 6' - Yellow
Format 1.8M
Details
Article #32045053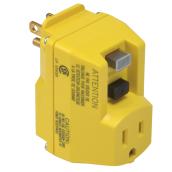 YELLOW JACKET
Single Outlet Portable GFCI Adapter - 1800 W - 15 A
Details
Article #32045050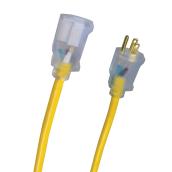 WOODS
12/3 Extension Cord - 25' - Red
Format 12/3 25'
Details
Article #74045239
Hi, i've Decided to buy a Bosch portable table saw but not sure which one I should chose. I have a skill power saw and a chop saw for the cottage now I need a table saw which I can use to for all the jobs around the cottage.  Eddo 
This is the second saw of this model I have purchased. As a pro, this is the best value-for-money tablesaw on the market. It has the power and capacity to handle anything you need. Just keep the blade sharp and appropriate for the task and you'll enjoy it for years.
Date published: 2018-08-11
Can you use a dado blade on this saw?
Specs say - Dado Width: 13/16"
Date published: 2018-04-29
Does this saw come with the Digital Ripfence shown in the video? I see on Bosch's website the new saws listed as the 4100DG-09 so I'm assuming the 4100-09 doesn't have this new ripfence.
This saw does not come with the digital rip fence. The digital device is discontinued.
Date published: 2017-05-22
What is the blade height adjustment gearing made of ....plastic or metal?
Worksite Table Saw with Wheeled Stand - 10"
is rated out of
5
by
155
.
Rated

5

out of

5
by
KIP
from
The saw is better than expected.
I did not expect the quality of this saw to be this good. This saw cuts very cleanly and I had to make no adjustments out of the box.The Craftsman saw I had was so to speak junk compared to this saw.The saw fence is of good quality. The sliding miter could be a little better fit tolerance wise to get a square cut. But a little playing around you can get it to cut square.The saw has excellent power , has not bogged down cutting oak,cherry or other hard woods.I would recommend this saw to anyone. I have had this saw for over a year now and absolutely no problems.I am also a very moderate wood worker,love to build projects.
Date published: 2011-02-19
Rated

5

out of

5
by
Keith
from
Excellent Portable Saw
Our application required that we had a stable saw with good a solid fence that was portable. After a recommendation from a Lowes employee we bought the saw and have been using it for over a month. We are really happy with the performance and the portability. We have to move the saw to a closet area every night and this saw has the ability to fold up and move around like a two wheeler. There is side storage for the miter gauge, the fence and the push stick along with power cord storage. I am giving serious consideration to get one of these for my home shop. The only thing that I would change is the wheel size to make it easier to get it up steps.
Date published: 2013-06-29
Rated

5

out of

5
by
Jayson
from
Table saw Review
If your looking for the best portable jobsite table saw, look no further. Everything about this saw is money. Can't really give it a negative mark anywhere. The only thing I would warn anyone about it is that the stand and saw are not light and are connected to each other. This is no longer a two piece deal where you can throw the saw and stand in the truck separately. So unless you have another person to help load it in the truck, it is tough getting it in and out (without banging it). I was already buying a trailer so that problem was solved for me quickly anyway. Beautiful tool though, all the way around.
Date published: 2013-08-07
Rated

5

out of

5
by
cdinTN
from
went for the dewalt but left with the bosch
bought mine 5/4/13 for me my immeadiate family to use around our houses. we are all very good at home improvement but that isnt our primary occupation. the devils in the details and the details on this bosch are just great. this is the second day i've had it and i installed a complete room with waynes coat and all the tiny trim pieces. it ripped the waynes coat clean with no rough edges. the trim was equally good. usually i get nervous about big purchases such as this but not this time. i'm more than satisfied with this machine. i highly recommend. ps, get the one with the cart and you will be very happy. well worth the add expense for it.
Date published: 2013-05-06
Rated

5

out of

5
by
Locus
from
Almost Perfect
Amazing saw that is feature rich and powerful enough to cut with heavier blades like dados. Overall I am very happy with this saw, even if I did have some issues assembling it. The nuts and bolts were off count, leaving me with 2 unused screws and missing very critical washers. I had to drive to the local hardware store to hunt down the best matching washers I could find. The screws used to mount the saw onto the stand are extremely thin and barely hold onto the edges, even with their appropriate washers. It would have been nice if they splurged on the correct accessory hardware but it's a small complaint for such a great tool. My lines have never been more straight.
Date published: 2012-11-14
Rated

5

out of

5
by
Anonymous
from
First Table Saw
This is my first table saw. I have a small garage shop, so space is at a premium. I found the saw to be well engineered for my needs, and it is as if the designer actually used the equipment himself. The dust collection at the back fits my shop vac keeping dust at a small minimum. What amazed me was the stand and how easily it folds up for storing out of the way. If you buy another brand of saw, consider getting this if you space is small. This is quality engineering. If your choice of saw doesn't fit the holes, a piece of plywood with the right hole placement would do nicely. I have nothing to nitpick about this. Maybe it could better, but I don't know at this point having used it for less than a month.
Date published: 2012-10-22
Rated

5

out of

5
by
AJBrown
from
Sturdy saw that is lightweight and stowable
This is one of the best power tool purchases I have made. I wanted a lightweight saw that was sturdy and stowable. The rip fence and miter gauge are high quality, allowing precise cuts. I am a hobbyist and have used this saw for several furniture projects. The dust collection works fairly well (90%). The skirt is high grade plastic and the cutting surface is aluminum for light weight, but the aluminum is softer than steel and will scratch and dent, so some care is needed. When folded, the saw takes up about 20" x 30" floor space, and the stand is a snap to use. The saw with the stand weighs only 100 lbs, and is easy to wheel around the shop. Buy this saw; you won't regret it.
Date published: 2012-01-02
Rated

5

out of

5
by
Sometimeshandyman
from
I should have bought it sooner!!!
I've passed this saw in the store many times and always thought it was too expensive for my needs. I always thought it looked great and more importantly sturdy and dependable. And I am not disappointed at all. The table saw I had before this one was good, but I always felt is was going to tip over. So I finally decided to buy the Bosch. It is great. Once you put it together, which takes a little doing, the directions aren't that great, gut you will get through it. It sets up in seconds, cuts great, and has terrific power. I only wish I bought it sooner. It is higher than other job site saws too. Being a tall person this is important. Even if it is only an inch or two.
Date published: 2013-03-12