Buying guide
Everything You Need to Know About Laminate Flooring
Laminate flooring (also called "floating floor") is economical, easy to install and easy to adapt to every space making it an ideal flooring choice.

Please click on the closed captioning icon at the bottom of the video player to watch with English subtitles.
Laminate Flooring in a Nutshell
Installation
Easy installation
Maintenance
Easy to care for and low maintenance.
Water Resistance
Somewhat resistant to water
Why Choose Laminate Flooring for Your Home?
Want the look of hardwood without the associated cost? Consider laminate! Laminate flooring, also called floating flooring, can realistically mimic many different hardwood types, including walnut, oak, and hickory. It is a fantastic option for DIY flooring projects as well.
SHOP ALL LAMINATE FLOORINGS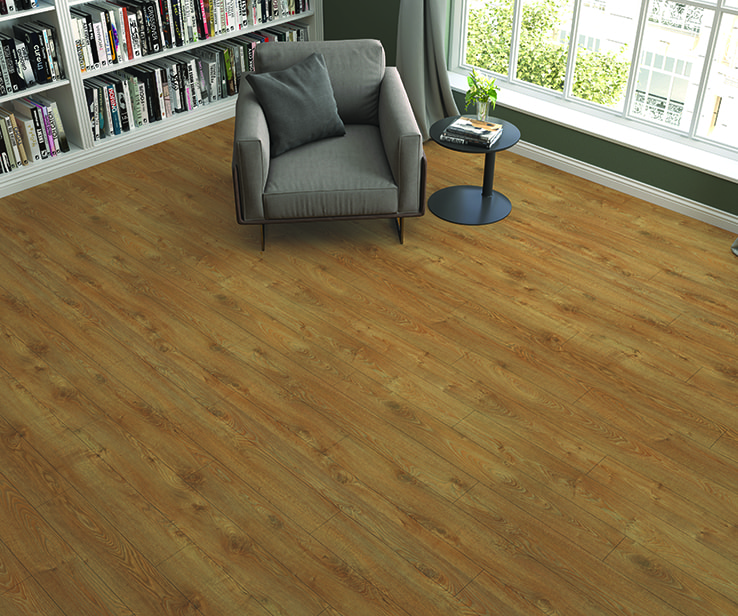 Pros and Cons of Laminate Flooring
There are many advantages to laminate flooring, such as its affordable price point, ease of installation and more. 
Pros 
Works for almost all spaces
Easy to install
Affordable
Wide variety of styles and types (wood imitation, tiling, concrete, etc.)
Scratch resistant 
Cons 
Thin material
The less expensive laminate flooring can be made of lesser quality material
Sensitive to humidity
Laminate Flooring Construction
The lamination process used to make laminate flooring ensures a durable and affordable finished product for your home. Laminate is made up of 4 distinct layers:
Backer Layer. A bottom layer for structural stability and support.
Core Layer. A middle layer that provides strength and superior dent resistance.
Decor Layer. A top layer with a printed image that can look like wood, stone, or tile.
Wear Layer. An easy-to-clean layer that protects against scratches, regular wear and tear, stains, and fading.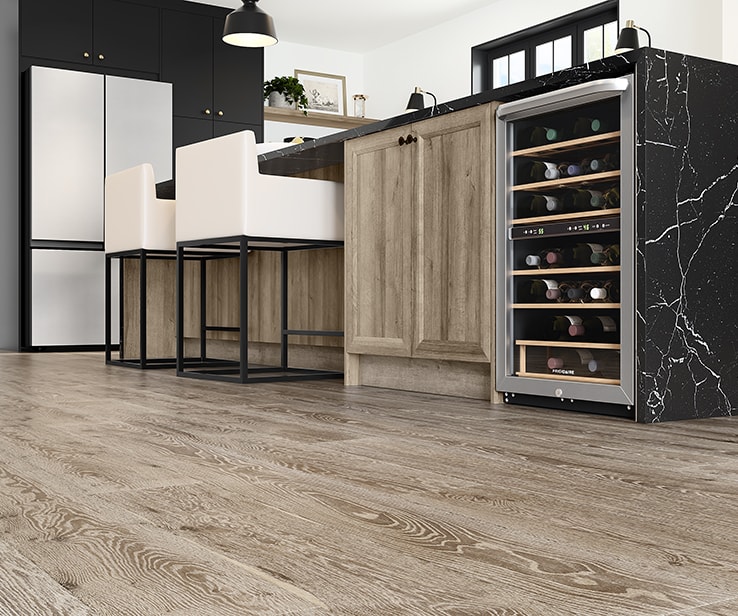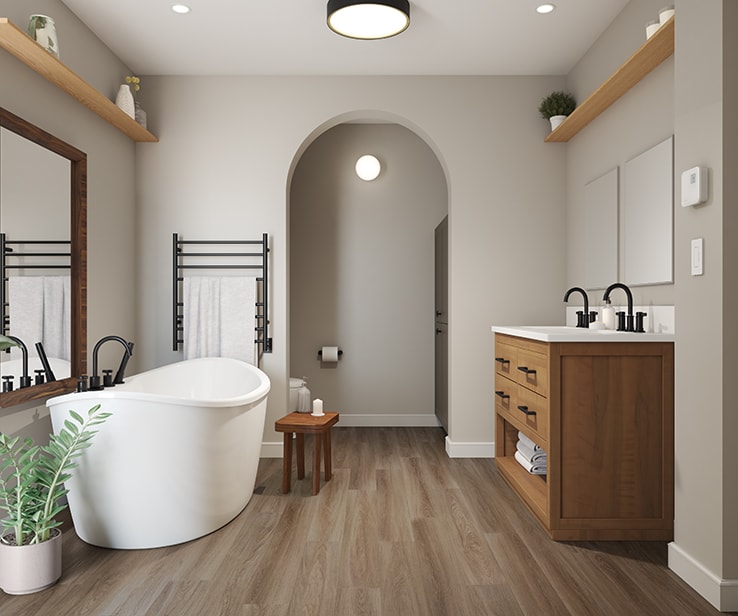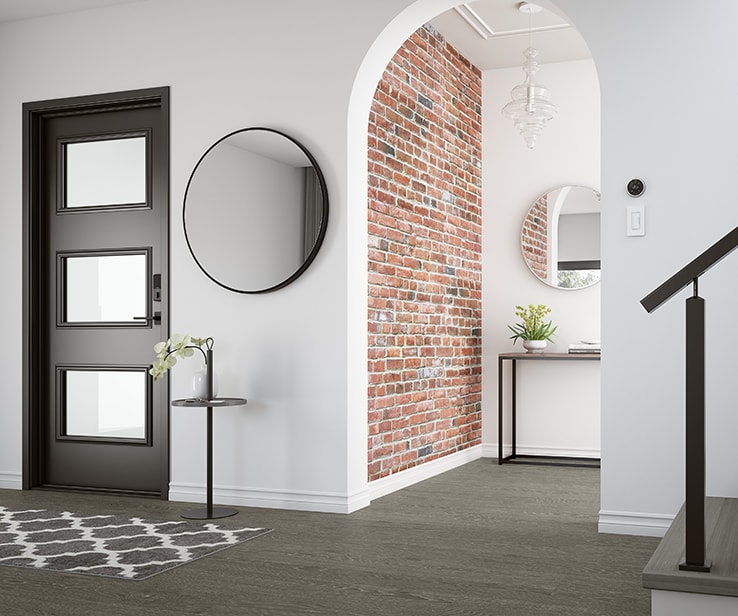 Where to Use Laminate Flooring
The durability of laminate flooring makes it an excellent option for high-traffic areas, so it is commonly found in entryways and living rooms. However, its high visual appeal also means that it is suitable for any space in the home, and waterproof varieties can also be installed in bathrooms, kitchens, and basements. Just be sure to use underlayment if the product information calls for it.
Designer Tip
Looking to add an accent wall to your home? Laminate planks can also be installed on interior walls, as long as the walls as plumb, stable, and clean. You may also need to prime the wall before you start.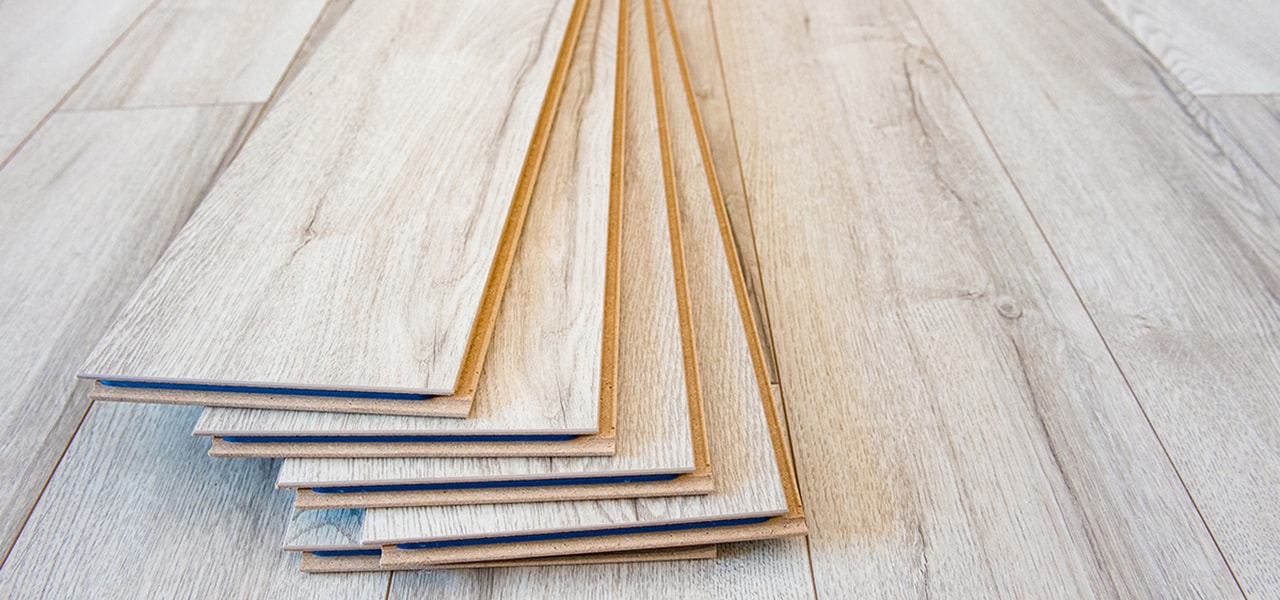 What You Need to Know About Laminate Flooring
Here are some factors to consider when choosing laminate flooring:

Width

Most laminate planks are 5" to 7" wide.

Thickness

Most laminate planks are 7 mm to 12 mm thick. Thicker laminate reduces noise and is more resistant to bending due to uneven floors, but planks of all thicknesses offer the same dent resistance. Keep in mind that some manufacturers count the core and attached pad in the thickness measurement.

Finish

Laminate flooring comes in a large array of finishes, including walnut, oak, pine, maple, hickory, chestnut, cherry, and more.

Type of Click

It is important to consider how the laminate floor clicks together when choosing a floor. There are many options, but Dropclic floors (as well as similar clicking systems) are the easiest to install and repair. They minimize damage and breakage when removing the flooring.

AC Rating

Laminate flooring undergoes wear and tear tests to determine its durability grade. The higher the AC rating, the more resistant the flooring. The AC3, AC4 and AC5 ratings indicate that the flooring is quite durable.

Texture

Textured laminate flooring can simulate the look of real wood and is available in many different options.

Heated Floor Compatibility

If you have heated floors, you'll need to use a compatible laminate flooring system. The installation may require embedding the mesh in self-leveller or thin-set.
Pro Tip
If the subfloor is uneven, opt for thicker floating floor planks.
Water-Resistant and Waterproof Options
Laminate flooring also comes in water-resistant and waterproof varieties. Water-resistant flooring can usually stand up to moisture for 30 minutes before it is cleaned up, though products can vary. For laminate flooring to be waterproof, it needs to be installed carefully according to instructions with the use of a 3/8" perimeter backer rod and a 100% silicone sealant.