Description
Style and convenience come together in this large-capacity Whirlpool(TM) French-door refrigerator. Spillproof shelves contain mess and provide plenty of storage space, along with a full-width pantry drawer and adjustable door bins. The freezer provides two-tier storage, and the built-in dispenser with EveryDrop(TM) filtration gives you on-demand access to refreshing, filtered water and ice. The crisper drawers are humidity controlled and feature produce preservers, ensuring that fruits and vegetables stay fresher for longer. Backed by a 1-year limited warranty on parts and labour.
Product specifications
Reversible Door Swing (Y/N)
Tempered glass spillproof shelves
Number of Refrigerator Shelves
Water filtration, FreshFlow(TM) produce preserver
6 door bins (adjustable door bin), full-width pantry drawer, 2 humidity-controlled crispers, fixed full-width shelf, 3 half-width adjustable shelves, small removable shelf
Frequently bought together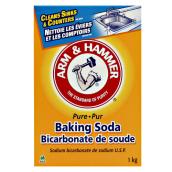 ARM & HAMMER
Baking Soda
Format 1KG
Details
Article #53975001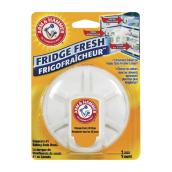 ARM & HAMMER
"Fridge Fresh" Refrigerator Air Filter
Details
Article #53975000
Whirlpool French-Door Refrigerator - 36" - 25 cu. ft. - Black
is rated out of
5
by
2582
.
Rated

1

out of

5
by
afmurrysville
from
One of the worst purchases in my life
I bought this refrigerator about two years ago because I wanted a French Door and it was one of the few to fit my space. The first year wasn't too bad but, pretty much as soon as the warranty expired, it began to leak water two or three times per week. From that point on, Whirpool has been trying to sell me an extra warranty or else. It seems to be either almost on purpose or the engineering team is clueless. Not always, I have to be on the lookout for leakages but it also has ruined a large chunk of my hardwood. I'll definitely won't buy another Whirpool appliance, and I caution people against purchasing a Whirpool refrigerator. [This review was collected as part of a promotion.]
Date published: 2019-11-19
Rated

1

out of

5
by
jasonb2020
from
Ruining Food During a Quarantine
Just bought a new house and moved in 3 weeks ago with a brand new Whirlpool Fridge, Then during a time when we stocked up on food to quarantine during a global pandemic, my food and vegetables and juices are all frozen in the fridge, even with the setting at 41 degrees. I don't understand and I've never seen this happen to a new fridge but this is my first experience with Whirlpool. And I tried to reach a customer service and they are closed. this is so sad when food at this time is hard to come by also so this stress isn't easy to deal with. I will wait hopeful that whirlpool will reach out to get this fixed for me asap but i don't know if they will.......
Date published: 2020-03-21
Rated

1

out of

5
by
BPMN
from
Horrible Product Do Not Buy
We have had this refrigerator for one year and have had 5 service calls. After the most recent calls to fix the refrigerator section freezing food, it no longer cools (60 degrees) and we have lost all our food. The company that provides the repairs has no parts in stock, so each repair results in 2 service calls. We escalated this issue with the Whirlpool Customer Care team and asked for a replacement and were told that a new one will be sent out in 7-14 days. Is that reasonable to expect someone to be without a refrigerator for 14 days? Sad to see a once high quality manufacturer dip so low.
Date published: 2019-09-13
Rated

1

out of

5
by
Jacob18
from
Avoid!
This fridge was a replacement provided by Whirlpool for a fridge I purchased in 2016 that couldn't be repaired. My original fridge was part of their Gold series and this fridge is definitely not. The shelves and drawers are low quality and the ice machine takes up a lot of room. The worst part though is the noise. The fridge never shuts off and the compressor rattles so loud we have to turn the volume up on the TV. We've had the fridge about a month and have already had components on the fridge replaced to try and fix the noise and constant running. That round of repairs didn't work and we are gearing up for another round. [This review was collected as part of a promotion.]
Date published: 2018-08-06
Rated

1

out of

5
by
rmsalty
from
Really like it at first!
Really like it at first!, We bought this fridge on 9/07/2019 everything seemed to be working fine about 2/12 weeks later the fridge started my a rattling, we're having them pick this one up on Friday 10//3 also noticed on Monday the fridge is always running and the outside panel shows that the fridge temperature should be 38 inside temperature is 28 degrees! I am glad we decided to have this one pick up, we're having it replaced with a GE, I am hopeful I guess! This will be our 3rd refrigerator in less than a month, our first one was a LG after 12 hours being plugged in a code was flashing on the outside display, after calling the warranty place they said it has a bad motor! It a shame if you ask me, refrigerator cost a lot of money$$$$ [This review was collected as part of a promotion.]
Date published: 2019-09-30
Rated

4

out of

5
by
NCC-1701-D
from
Overall a great refrigerator
There is only one reason I didn't give this refrigerator 5 stars. The left door requires more effort to close than the right door, And it is easy to have things arranged improperly in the freezer so the pull out drawer doesn't fully close, which is fine unless you have small children who think they closed the door or drawer but didn't. I think Whirlpool should offer a door open monitor that triggers an alarm after 30 seconds or so. If I were not a parent with younger children I would not have noticed this minor flaw and I would have given it 5 stars. It is a fantastic refrigerator otherwise. [This review was collected as part of a promotion.]
Date published: 2020-04-16
Rated

3

out of

5
by
lindan
from
Disappointing
After using the refrigerator for several weeks I am disappointed with several features. The refrigerator is much noisier than expected. Yes, I read the manual and see that some noise is expected, but it makes noise every time you open it in addition to ice, etc. The left side of the refrigerator is colder than the right side. I can't use the left drawer for fruits and vegetables because they freeze. The door on the left side of the refrigerator doesn't always close tightly but the alert message on the door only shows when you are inside the refrigerator so several times I have found it not sealed. [This review was collected as part of a promotion.]
Date published: 2019-07-02
Rated

2

out of

5
by
Lemidi
from
Not enough space
While this refrigerator appears large from the outside there is not enough functional space on the inside. It is very cramped. Yet, there are is a very large drawer at the bottom of the fridge that is very shallow but very deep. So deep in fact that many things get forgotten about and perish before use. I love to cook and entertain and there is not enough space for pre-made casseroles or a turkey for example during holiday time. We decided to purchase an extra fridge for the garage to take care of this problem. I am not thrilled with this purchase. Best for a small family with no leftovers. [This review was collected as part of a promotion.]
Date published: 2020-05-18