Description
This slim-design Whirlpool(R) French-door refrigerator fits in seamlessly with your kitchen space while providing great usable space. It has great features such as integrated LED lighting, a FreshFlow(TM) air filter eliminating bad odours as well as purposefully designed zones that provide better organization to let you store more grocery items. It also includes a built-in filtered water and ice dispenser as well a quick-cool feature that temporarily provides cooler air inside the unit. Vegetables and fruits stay fresher for longer in humidity-controlled crispers, and the tuck shelf provides space for taller items, including 4-litre bottles. This refrigerator is backed by a 1-year limited warranty on parts and labour.
Product specifications
Water filtration, FreshFlow air filtration
Reversible Door Swing (Y/N)
Number of Refrigerator Shelves
3 fixed door bins, 3 adjustable gallon door bins, full-width pantry drawer, 2 humidity-controlled crispers, 2 adjustable full-width shelves, fixed full-width shelf
Frequently bought together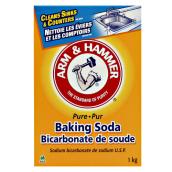 ARM & HAMMER
Baking Soda
Format 1KG
Details
Article #53975001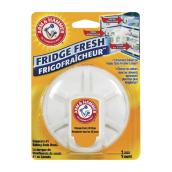 ARM & HAMMER
"Fridge Fresh" Refrigerator Air Filter
Details
Article #53975000
Whirlpool French-Door Refrigerator - 30" - 19.7 cu. ft. - White
is rated out of
5
by
222
.
Rated

1

out of

5
by
Jaxster
from
It's a nice fridge but very poorly made
Once I put food in it, it's a lot smaller then I realized, also poorly made.. insulation hanging outside the doors and at the top hinge, whirlpool logo was crooked. I attached pictures. Drawer in freezer doesn't slide well and you have to really push on freezer door to close otherwise it doesn't close all the way/seal then there's ice build up inside, drawers inside slide with grease or something that gets all over the place. Had the warranty guy out said they would have to replace the door and move all the parts in it to the new one if we wanted the insulation on the hinge gone and no guarantee the new door wouldn't be the same thing. They did order us a new logo though.. I will say it's quieter then our last one so that's a plus (This review was collected as part of a promotion.)
Date published: 2018-10-24
Rated

4

out of

5
by
sam816
from
For the size, good features
I had to have a frig that would fit into a 32" opening and I wanted filtered water thru the door. This met my requirements. The space for tall items on the inside is very limited. I love the freezer! It is very roomy even with the ice maker being there. Size wise, this is a good frig for a single person. I was disappointed that it did not have a light on the outside door where the water dispenser is. I bought this frig sight unseen because of the requirements I wanted, it had to be ordered. No floor models. It is a very pretty appliance and you can barely hear it running. All in all I like it! [This review was collected as part of a promotion.]
Date published: 2019-07-13
Rated

1

out of

5
by
Rayfishken
from
Looks great does not work so great
We bought this fridge on Labor Day replacing an 11 year old perfectly working whirlpool fridge. Brought it home read the manual hooked it up and set it according to the manual . My wife had to work Tuesday and cleaned it out and transferred the food to the new one on Wednesday . Freezer worked fine but the fridge will not go below 42 Deg. Service has been out once and as of this review because it keeps emailing me for it they are due back this morning. It may look great but does not work great. Hope they can get this sorted out soon paid a lot of money and time. Very disappointed [This review was collected as part of a promotion.]
Date published: 2019-09-18
Rated

5

out of

5
by
MaryF13
from
Small but Mighty
Despite limited choices for a refrigerator to fit in a smaller space, this was a great find! My old fridge died suddenly and I was rushed into buying and somewhat concerned that I didn't have enough time to look around more and research. But I think I got the best being offered, for my needs. I did read some complaints about the height of the shelving that doesn't allow taller items. But after some clever arrangement in the fresh food area, I could fit everything I had in my old fridge which was 33" wide (this one is 30" wide and 1" shorter than my old fridge). There's a shelf that slides half back to allow taller containers. Door shelving holds the rest of the tall items. Lighting inside looked dim because I was used to the lighting in my old fridge which I think now was overkill. Contents are illuminated just fine and since the shelving is all crystal clear, I can locate everything easily. The only odd thing is the amount of silicone-type lubricant they sloppily applied to the crisper door slides and the one door shelf that is intended to tip and lift out. I just wiped off the excess. Outside doors are truly fingerprint resistant (unless you have dirty hands, of course). You can lock the outside panel so young children who like to play with buttons don't accidentally trigger the water and end up soaked. There's a super cool feature for after you've had the doors open while loading groceries.I keep a thermostat inside the fridge and the temperature stays fairly consistent/within range. Freezer area is large and well-lit. It's divided into upper and lower compartments. Ice maker is in the freezer and the ice cubes collect in a container there (not through the door) and started making ice within 2 hours. There are three filters for this fridge - a filtered water cartridge, an optional filter for the crisper drawer to slow down ripening, and one is placed in a compartment on the back inside wall of the fridge for overall freshness. They really thought of everything. I've had this fridge for over a week and overall very pleased with my choice! [This review was collected as part of a promotion.]
Date published: 2019-07-22
Rated

5

out of

5
by
2Kelly
from
Perfect for our small space!
The main problem we had in finding a new refrigerator was the size. Our home was built in 1963 so the space for the refrigerator was small. We really wanted one that had the freezer on the bottom. The French doors would have been a bonus but we found all of what we wanted in this one. Fits perfect in the space we had width-wise with 3/4 of an inch to spare for the height! Also really like the water dispenser on the door but the ice in the freezer drawer! It's been so much easier for my parents to get their stuff without bending down and they use the water dispenser often. Had to order the white but it was worth the wait! [This review was collected as part of a promotion.]
Date published: 2019-08-17
Rated

4

out of

5
by
JoJoW
from
glad for extra features for a 30"
We've been using for 2 months now and I'm happy to have the options not often available on a 30" fridge. I loved my former Samsung 33" but needed a 30" when we moved. After a little organizing, everything I need to get in fits fine in the fridge and the freezer. Also love the slick white finish - no fingerprints! We did have service on the water dispenser after a month--the fridge was too cold and the reservoir froze solid. Our local technician fixed it and no more problems. Only negative is the produce bins that do not close/seal properly. The drawers are rimless and never square up when closed--whether full of produce or empty. Perhaps Whirlpool can replace or redesign?
Date published: 2019-10-31
Rated

4

out of

5
by
Rose2750
from
Love the Freezer on the bottom
After waiting almost a month for delivery, I am very pleased I bought a Fridge with the freezer on the bottom. We were restricted on space, so this one is a bit small. We had to eliminate one shelf inside in order to put any kind of bottles in the fridge (salad bottles, wine bottles, orange juice, etc). My only issues is that it takes DAYS to make any ice. to start you have to make 3 full containers of ice (and dump them). At the rate it makes ice, it will take about 2 months to complete this. Except for the ice maker, I love the fridge. [This review was collected as part of a promotion.]
Date published: 2019-12-17
Rated

3

out of

5
by
Budwen
from
Good features but some problems
I am very happy with the shelves, size and set up of the refrigerator, but its noisy and loud. The bottom drawer in the fridge is poor design top self is getting stuck difficult to slide, we have greased it. The door has to be pushed hard to close. My other problem is I expected the water to be cold out of dispenser, what is the point of paying extra. I do love the lighting inside! [This review was collected as part of a promotion.]
Date published: 2019-03-06