Description
This Whirlpool® convertible under cabinet hood range is designed to work seamlessly with smaller cooking appliances. Its high-style ceiling-mounted installation, classic and functional combines a sleek design with efficient ventilation. It features a high-performance 400 CFM exhaust rating blower, 3-speed settings and dual halogen lights that provide excellent cooktop lighting. This product is backed by a 1-year warranty part and labour.
Product specifications
1-year warranty part and labout
Removable grease filter dishwasher safe
Frequently bought together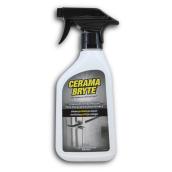 CERAMA BRYTE
Stainless Steel Cleaner
Format 474ML
Details
Article #8307003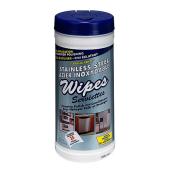 CERAMA BRYTE
Stainless Steel Cleaning Wipes
Format 35/PK
Details
Article #8307005
Whirlpool 30 '' Undercabinet Range Hood - 400 CFM - Stainless
is rated out of
5
by
30
.
Rated

5

out of

5
by
Anonymous
from
Beautiful Design and Performs Excellent
I wasn't able to install an over the range microwave with venting system due to space constraints. I wanted a new Stainless Steel Hood to compliment all my Maytag appliances. After looking at all the others out there, this Maytag unit was the best choice. I went with this one mainly for the design, It looks fantastic and I get so many compliments on it. Not only does it look great but it functions great too! It handles the steam, grease, odors (Charcoal Filter) with ease. The halogen lights (2) shed plenty of light on the stove top while cooking. This unit can be vented both outside or recirculating. I had mine converted so that it recirculates since I live in a high rise condo. I am very pleased with this purchase.
Date published: 2014-11-22
Rated

3

out of

5
by
Stlmom
from
Needs improvement
We had been looking for an under cabinet range hood so we could avoid costs of removing cabinets and all that tile work.After months of research this exhaust hood looked like the best fit in terms of size and looks.However since we like to cook a variety of cuisines this exhaust did not do a good job of removing all that odor(CFM numbers should be very high 600+).Its works best at setting 3 which is really really loud and annoying, the other two settings are practically useless.Also the top of hood gets greasy very quickly and the halogen lights can get really hot, so please be careful not to touch them accidentally.If you dont cook much this can be a good buy for the price but we are not happy and wish we could have returned it. [This review was collected as part of a promotion.]
Date published: 2018-08-25
Rated

5

out of

5
by
Robinsky
from
Looks and works beautifully! Very happy!
I've had this hood for about 4 months now. So glad I choose this one. Love the buttons, love the lights and usually leave it lit all night for late night trips to the kitchen for snacks and water. This fit in the space perfectly and is the only hood with a height of 9 in.that I could find. It really updated my kitchen and blends well with all my KitchenAid appliances. I like that that it does not have a Whirlpool logo on it anywhere so you can blend it with any other brand appliances beautifully!
Date published: 2018-03-16
Rated

5

out of

5
by
Jdav29
from
Excellent All Around Hood!
I have had this hood for a few years now and couldn't be happier. Not only does it look great but it performs well. I see many complaints about the noise, I could not disagree more. Not only does this fan vent extremely well on the lowest setting (where it spends 90% of its time) it is almost silent! When you need the extra venting it's going to be noisier but it works and it works well. Compared to many other vent hoods I've seen that can do none of these things and are still louder trying to suck up 50 CFM. I will agree that our buttons are falling off too. As for the lights, all halogen lights will get extremely hot, replace with LED if this is a problem.
Date published: 2018-07-16
Rated

5

out of

5
by
fixerupper
from
Sleek Classy Great Range Hood
After a not so easy installation I am extremely happy with this range hood. I purchased a home that was built in the mid 80's and as things wear out or break I replace them. I find that I have chosen Whirlpool products in every instance applicable. I am as pleased with this range hood as I have been with the previous Whirlpool items. The two lights provide excellent coverage of the cooking area without shining in your face or eyes. I like these push button switches rather than the dial type in my old range hood. The 3 speeds for the fan provide a wide coverage from low to very high exhaust and the noise level is not excessive, even on high speed. The sleek stainless design really is very attractive. There are no nooks or crannies for grease to collect, filters are easily removed for washing in the dishwasher. The only con was the installation. When replacing things in an older home it is never " exactly like the instructions" . We have vertical exhaust and the unit is made to slide onto preinstalled screws on the cabinet bottom or shims. However, if you have a lip on the bottom front of the kitchen cabinet you can't get it level and slide it onto the screws. The 4 predrilled screw holes on the top of the hood are not directly above an open spot on the hood and are hard to reach. The removable filters take up the center 70% of the hood with a solid 4" stainless plate on either side of the removable filters. the 4 screw holes are above the solid stainless plates and are very difficult to reach. After several frustrating attempts to screw the hood into the bottom of the cabinet we used longer self tapping screws in place of the ones provided and used a power screwdriver that could be used at an angle. Other than this problem the instructions were great and installation was no problem. I don't think you would have any problems if you had horizontal exhaust or using the recirculating mode.
Date published: 2014-03-02
Rated

5

out of

5
by
BF89
from
Excellent Hood
I've used this hood for about a year now and I'm very pleased. Lighting is very bright and the exhaust fan (with external vent) easily removes odors (and smoke). I have rarely ever used the high setting but it is powerful and will remove smoke fast. Low and medium settings are more than sufficient for normal cooking. The hood fit perfectly (flush) under the cabinet in place of the old hood and gives ample room underneath. The hood vent matched perfectly with my old exhaust duct. Hood installation took some effort but only because it replaced a 45 yr. old hood. My old hood had a direct electrical hook up (no plug) so I drilled a hole in the back of the hood for house wire access, installed a small junction box (with cover) under the hood next to the fan, cut off the new plug, and then connected the wires directly. All of the modifications are inside and covered by the screens. Made for a very clean installation. Hood construction is solid and gives a high quality appearance. I've had no problems whatsoever (failures/vibrations/noise/etc.).
Date published: 2015-09-29
Rated

5

out of

5
by
CookingGuy
from
great quality - looks nice
built well, runs well, great product that's easy to install for recirculating inside air or venting to the outside. very quiet on low and medium speeds, a tad loud on high but really moves some air.
Date published: 2012-10-02
Rated

2

out of

5
by
NYGAL
from
Do not reccommend
After using but a few times one of the buttons flew off when turning the appliance off. Whirlpool is sending a repair person to repair my new appliance. In contrast to the other reviews, we find that the lights while they illumination well, yes, too well as another reviewer mentioned, are horribly hot, far too hot. We are looking into replacing them and for that reason do not use the light feature presently. I am surprised that no one has mentioned that the corners of this hood are extremely sharp. We have had numerous bumps against those corners as the hood sits over our range at head level making it far too easy to bump our far-heads against those sharp corners. I am surprised that whirlpool did not round those corners or add some sort of protective covering. All in all while this hood is powerful (and noisy even at the lowest setting) and attractive (would blend well in most kitchens adding a more modern appeal) we are not satisfied with the purchase. In the future we now know what to look for (other than style) when purchasing a range hood. We will be looking for a replacement when finances allow of a quieter fan with lights that do not get excessively hot as with this appliance, and most of all, the next unit will not have sharp dangerous corners. Ouch!
Date published: 2015-10-12