Description
This upright freezer from Whirlpool provides 15.7 cu.ft. of capacity so you can store all your frozen goods. Enjoy great visibility with energy-efficient LED lighting and use the fast freeze option which quickly freezes large amounts of food by dropping the temperature to 10 degrees colder than its lowest setting. The 3 adjustable full-width shelves and 5 door bins let you organize your items easily and the automatic defrost system prevents ice build-up. This appliance is backed by a 1-year limited warranty on parts and labour.
Product specifications
Reversible Door Swing (Y/N)
Adjustable full-width shelves
Frequently bought together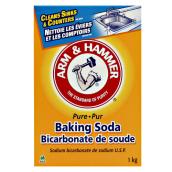 ARM & HAMMER
Baking Soda
Format 1KG
Details
Article #53975001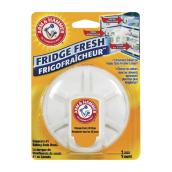 ARM & HAMMER
"Fridge Fresh" Refrigerator Air Filter
Details
Article #53975000
Where is this freezer made?
Hi There, This freezer is made in Ottawa, Ohio. Thanks for your question, Whirlpool Central Advisors.
Date published: 2020-08-05
Is it possible to disable the automatic defrost feature?
Hi Zquaitte. You can set up the timer. You can change the defrost time adjusting the timer. The instructions are to unplug the freezer, switch off the defrost for 1 minute. Then plug the freezer back, switch the defrost On and adjust the defrost timer. Insure you have appropriate electrical outlet. Thank you.
Date published: 2019-05-24
Is freezer door of model WZF34X16DW reversible to open from right to left
Yes. As a 'special order', you specify which way you want the door to open and that is the way they will hang the door. Mine opens from left to right, but still has a 'handle' on the other side. (indented, not visible). As well, you can open it with the indented 'handle' on the top of the door. It's really made well; we absolutely love this freezer. Roomy, well lit on the inside is a big plus, lots of shelving and storage inside the door.. Bigger plus, No Frost!!
Date published: 2019-04-16
What is the finish like Flat or shiny
It is a smooth flat white finish
Date published: 2019-01-20
Whirlpool(TM) Upright Freezer - 30 1/4" - 16 cu. ft. - White
is rated out of
5
by
2318
.
Rated

1

out of

5
by
Kitkat
from
Quit working properly
We bought this freezer 2/26/16 and it still runs and keeps a temperature of about 27 degrees but that is just barely enough to keep meat froze. I may have not figured this out for a while but I bought ice cream sandwich`s and they melted right away, so everything except my meat was spoiled as it had been thawed out for a bit. We did buy extended warranty, thank goodness. Appliances should last longer than that, the freezer this replaced was 25 years old! I feel that appliances should be better made and last longer then they do now. It can be done as I have seen it. Anyway we are being treated fairly by the warranty company.
Date published: 2017-09-08
Rated

5

out of

5
by
Bill
from
Very nice, simple, quiet, perfect for our need
This replaced a 25+ year old GE that met it's end of life. We initially purchased a Frigi***** that was quite noisy in normal use to the point we could hear it in the house, even though the freezer was installed in the garage. Lowes was very helpful in arranging it's replacement with this Whirlpool unit. The difference is amazing, and we couldn't be happier even though it's only been in use about a week. It quickly came down to normal operating temperature, and does what a freezer is supposed to do quietly and efficiently. It's unfortunate that the selection of new upright freezers in this size range is so limited, but we're happy to have found and obtained this one!
Date published: 2014-11-13
Rated

1

out of

5
by
Kim
from
Defective
Just finished the 3rd service call for the same problem. Door does not seal causing large amounts of ice buildup. 1st service called used a hair dryer to "fix" the problem, next service called "fixed" the problem with adding washers to the door to raise it so that it closed. This time the "fix" involved bending the hinge to create a proper seal supposedly. At this point I am not confident. I believe this is defective merchandise and Whirlpool should stand by their product but they evidently are not. This is the last Whirlpool product I will be buying and advise everyone to seriously consider buying from a company that doesn't stand by their products.
Date published: 2020-05-12
Rated

1

out of

5
by
Pazeen
from
Credibility of Reviews???
This is actually a review of the reviews rather than a review of the product. In case anyone from Lowes or Whirlpool is reading - I checked a number of recent reviews and they are all 5 Stars. That sounds good until you read that ALL of them were "collected as part of a promotion". That means the review was compensated somehow for the review. That makes these reviews ABSOLUTELY WORTHLESS, in my opinion. Amazon was doing the same thing for a while, but I believe they have stopped the practice. I, and probably many other people, wrote to Amazon to let them know that such reviews have ZERO CREDIBILITY.
Date published: 2017-02-10
Rated

5

out of

5
by
Jeff
from
Great Upright Freezer
Purchased this last year and it's been a real champ. It's exactly what we needed. IGNORE the reviews that says the door is not reversible. It is easily reversible. The only problem I've had was reversing the door. My plastic plugs for the left hand upper hinge didn't want to come out and broke. I'll head over to one of the big box stores to get replacements. For any naysayers I've uploaded pictures showing the doors reversed. The only thing this freezer was lacking for me was a direct temperature reading. I added an aftermarket temperature gauge. The temperature is always spot on.
Date published: 2016-01-13
Rated

4

out of

5
by
Buyer
from
Nice but..
We were very pleased with the general quality of this smaller freezer that has limited competition in this size range. If you want a small stand up with a right opening door, this appears to be a good choice. However, if you want to take advantage of the advertised reversible door and make it left opening, you should be aware. After spending two hours trying to get the door opening reversed and finally realizing that it just won't line up and close properly, we called Lowes and they informed us that we would need to buy a left opening hinge. Something our sales rep failed to mention. The incremental cost isn't as frustrating as the amount of time spent trying to make this work.
Date published: 2014-11-24
Rated

3

out of

5
by
Bill
from
Error in instruction manual!
The instruction manual directs one to lay the unit on its back on the floor to take the packaging and the plastic shipping skids off. In the start up section the manual DOES NOT make any mention of the need to wait a while before starting the freezer if it has not been kept upright. This usually is not the case, so I called Whirlpool. The customer service rep checked with one of the tech guys and was told that I needed to wait 24 hours to start the freezer! I pointed out that this is not in their manual, and they agreed that it needed to be in the manual (but wasn't).
Date published: 2016-10-12
Rated

1

out of

5
by
Nick
from
Frosts up weekly
After having this freezer for slightly over a year, I feel it time to write this review. I purchased based on the many positive reviews. The coils on this freezer freeze up weekly. I added a pic. I removed the white cover to help defrost it faster and so you could see. Once this happens the freezer will not keep anything frozen. I have 3 other older ones and never had a problem. My opinion this is complete junk. If you buy it don't be surprised if you need a dumpster to put all of your spoiled food in.
Date published: 2017-04-29