Description
This large capacity washer provides delicate yet deep cleaning. This is possible with the two-way washing action. Soaking, scrubbing and washing in one same place thanks to the integrated tap and the built-in faucet and fabric brush. Whirlpool offers the quick wash cycle for small, lightly soiled loads.
Frequently bought together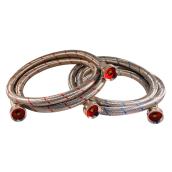 AQUA-DYNAMIC
Flexible Washer Connector - 3'4" x 60" - Pack of 2
Format 3/4"x60" 2/PK
Details
Article #01735519
Smart Top Load Washer - 6.1 cu. ft. Chrome Shadow
is rated out of
5
by
94
.
Rated

5

out of

5
by
Winston05
from
Good features
Machine works well. Manual included with machine contains very limited information. Called to ask questions. Was on hold for 30 minutes before reaching anyone. Once I did, she was unable to answer my questions. She put me on hold again & never returned. Called back. Got a different person who tried to assist me, but did not have any additional info than what is contained in the manual. Machine seems to be great, but needs a manual which explains all of its functions. It has been trial & error, and I still do not know how some of the features are intended to be used or their purpose. [This review was collected as part of a promotion.]
Date published: 2020-06-08
Rated

3

out of

5
by
Hoosierballer
from
Needs a better manual
We bought this model recently. We wanted to return to a top loader after having front loader past 5 years. My first issue was lack of a detailed manual. It's basically a quick start format and did not go into detail regarding the icons on the screen and what they met. also would be nice on explaining the "other" button to help set up favorite cycle. My wife is still trying to get used to the low water levels the new models use to wash clothes. I guess the days of the water being at the top and aggressive agitators are gone. So guess she has to give it time. Still trying to determine if clothes are getting as clean as the front loader did. [This review was collected as part of a promotion.]
Date published: 2020-04-27
Rated

2

out of

5
by
Fran2
from
Some issues
I bought this machine partly because I love Whirlpool products. I'm disappointed though in a couple of issues. One: 3 times now the touch feature to power on failed. The last time I unplugged the machine waited about 15 seconds and plugged back in..then touch feature worked. Two: the automatic default for the soap dispensing gets disabled...no idea how? And no idea how to "enable" it! I'm close to returning this washer as I don't have time to stand there and struggle with these issues. [This review was collected as part of a promotion.]
Date published: 2020-04-30
Rated

5

out of

5
by
TWilliams2020
from
Love my new washer
My old whirlpool washing machine bit the dust right in the middle of the stay at home order during Covid 19. With my stimulus money I was able to replace it with my new Whirlpool. I love all of the features, especially the load and go soap dispenser. I have not played too much with the wireless control yet. At first I thought the washer was 'to sensarive' and kept going out of balance during the spin cycle but I found that if you just toss the clothes into the center of the bin, the machine will balance the clothes for washing. I was trying to manually do it and would get it wrong. Guess I needed to let my machine do the thinking instead! [This review was collected as part of a promotion.]
Date published: 2020-05-14
Rated

3

out of

5
by
Momma Luedke
from
Large Capacity
I have only had this for a couple of weeks so I'm still trying to figure things out. It is nosier than I thought it would be. Not sure I like ho I have to push and hold the button for 3 seconds for it to start. It is nice not having to refill the dispenser every time. I do like how you can add more water however the button I keep hitting on accident when I try to get the close out of the washer (I'm to short) . [This review was collected as part of a promotion.]
Date published: 2020-05-11
Rated

1

out of

5
by
Bartman2
from
Regretting purchase
I am a Whirlpool employee and we bought the dryer and matching washer around two months ago. They look great except what is the deal with the washer having black feet and the dryer having white feet? Looks like there should have been some coordination between teams. They also work great.....when they work. We are experiencing issues that on occasion they will not come on and respond to control selections. The only way to resolve the issue so far has been to unplug them, let them set for a bit, then plug them back in. After that the controls usually respond as selected. Especially given the cost of these appliances I am very disappointed and regretting this purchase. [This review was collected as part of a promotion.]
Date published: 2020-06-08
Rated

5

out of

5
by
peachypootygirl
from
Great washer
I am glad I purchased this washer. Love the color too! [This review was collected as part of a promotion.]
Date published: 2020-03-25
Rated

4

out of

5
by
Tee46
from
Frustrating
I bought the washer less than a month ago and I am having a difficult time with the fiber softener. I use fiber softer however it does not appear to do you use doing the wash and I am trying to figure out exactly what I'm doing wrong. It also seems to be taking a long time for the wash to load with water. I have never owned a whirlpool washer no dryer before so maybe this is a learning curve. So I will continue to learn how to use these appliances unless the frustration takes over. [This review was collected as part of a promotion.]
Date published: 2020-05-08