Description
This Whirlpool(TM) 1.9 cu. ft. over-the-range microwave oven provides 1000 watts of cooking power and multiple smart features to make your life easier. Using your smartphone or tablet, send multiple cooking instructions at the same time and receive notifications about the cooking status or device connectivity. The temperature is set automatically according to the recipe you enter, giving you great results without having to check your meal constantly. Functions include detection cooking that monitors food status and adjusts cooking time as needed, as well as true convection and steam cooking modes, for results reminiscent of a traditional range. Easily read your display no matter where you are in the kitchen with a sensor that immediately wakes up the appliance when you're close and adjusts the display text size and volume based on your distance. The CleanRelease nonstick interior simplifies cleaning when it comes to liquid spills, while the concealed auto-adapt fan system with 4 speed airflow settings (400 CFM maximum air flow rate) eliminates smoke and odours in no time.
Product specifications
Dishwasher-safe glass turntable
Universal microwave steamer, cooking and convection racks
Appliance: 1100 W, cooking power: 1000 W, convection power: 1600 W
Cook, favorites, off/cancel, add 30 seconds, sound on/off, add a minute, beverage, control lock, cook power, cook time, convect, defrost, dinner plate, end of cycle signal, frozen vegetable, frozen entree, keep warm, pizza, popcorn, reheat, soften/melt, steam
Frequently bought together
Custard Cups - Pack of 4 - 177 ml - Glass - Clear
Details
Article #97737605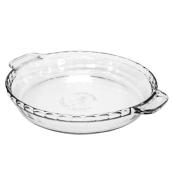 Pie Plate - Glass - 1 5/8" x 9" - Clear
Details
Article #97737604
Over-the-Range Microwave Oven - 1000 W - 1.9 cu. ft. - Black SS
is rated out of
5
by
13
.
Rated

1

out of

5
by
ITGuy11
from
Terrible Product
Like many other reviewers, I really wanted to love this microwave, but it is plagued with issues. The screen will go black or freeze up which requires to climb above and unplug the microwave. The clock randomly changes the time and date incorrectly. Occasionally the microwave will not start cooking even though the timer is counting down as if it is. Again have to unplug and reboot the microwave. And now the Whirlpool app isn't working. This smart microwave is a great concept, but clearly not ready for prime time. I feel like I wasted a lot of money on a non-functional beta product.
Date published: 2019-09-28
Rated

1

out of

5
by
organone
from
Do NOT buy...it will likely NEVER meet specs
It was professionally installed in August. It didn't work from the start. 3 service calls (and a new door) and it still didn't work right. They sent a replacement unit, and it has OTHER PROBLEMS. Like others have said, this is a poorly designed unit. VERY noisy exhaust fan. Almost no air suction at the intake grilles. Why so noisy, and so little air movement?? The APP and WiFi...forgot about it...seems like they'll never get it to work if they haven't by now. Please don't make the same mistake I did...far too much stress and there are other machines to choose.
Date published: 2019-11-04
Rated

1

out of

5
by
goaliebob99
from
90 days and multiple failures.
We have had this microwave for just over 90 days and have only been able to use it a few weeks. We have had multiple failures of the door LCD screen causing the unit to be rendered usless. The LCD screen has lines. We are on our 3rd door replacement and are about to enquire about getting a check back from Whirlpool as this unit is a lemon. The app can be much better as well, while this product could be awsome in many ways, it fails on every level.
Date published: 2019-09-23
Rated

5

out of

5
by
MarkJ
from
Best Microwave I have Owned
I have had this microwave for three months. Upon receipt it was missing the cooking rack and mounting kit. I called customer support and with ZERO pain, they sent me out the replacement parts. Now, let's talk about the oven itself. My entire house is automated and I am very difficult to make happy with it comes to technology. If I designed this oven myself, I could not have done better when it comes to ease of use and features. Whatever teams are responsible for its design, my hats off to you. Since I have only been using it for three months, I cannot speak to its reliability. But if this is an example of the hardware Whirlpool produces, I am going to recommend them to my friends and also seriously look at them closely for all my other future appliances.
Date published: 2019-09-08
Rated

1

out of

5
by
RobN1
from
Door has been replaced 4 times. What a lemon!
I do not recommend this microwave. We have had our door replaced 4 times due to a defective LCD Screen. The unit consistently freezes up. I'm suprised there isnt a class action lawsuit on this yet. I will not buy another Whirl Pool product again.
Date published: 2019-11-10
Rated

1

out of

5
by
Liz.
from
Clock doesn't work
This microwave came with my new home. The previous owner bent the door. My appliance person has tried 4 new doors. None of them have a clock that works. My model is: 76719. The microwave works, but the clock will not set properly.
Date published: 2019-07-25
Rated

4

out of

5
by
NoCOmom
from
Love convection function
I was initially very frustrated with this microwave because of the number of steps involved to cook anything. However, after getting past the initial learning curve, I have found that all of the "standard" easy cook options are there, plus a few I've never had before. The best part for us, however, is the convection feature. Even though I also have convection in my regular oven, the microwave is great for preparing smaller sized items, or reheating leftovers that beg to be crunchy. It heats up much faster than the regular oven, and gets the job done adequately in less time. As for the "smart" feature--the free Alexa we got wouldn't start up without a phone call to Amazo (who knows how long that could take...)n, so we haven't even bothered My only major complaint is that the touch screen constantly looks dirty and shows every single finger that touches it.
Date published: 2019-06-22
Rated

2

out of

5
by
Nickx1
from
It generally works but is poorly designed
As noted on several other reviews, the mounting nut retaining system is horribly designed. I was extremely careful trying to start the mounting bolts into the nuts but - only using my fingers - the nut fell out and into the interior of the microwave casing. I dismounted the unit, removed all the casing screws, extracted the nut/retainer. The retainer was deformed so I had to bend it back in shape. Second attempt - it fell out again. This time I glued the nut/retainer in place with superglue gel. That did the trick. From a useability perspective - two major issues. The fan is rated at 400 CFM - I rotated and installed the fan correctly (that's not the problem). The fan blows lots of air. I checked to make sure the damper is not blocked. But the internal ducting design is so poor that it draws almost NO AIR from the cooktop area. While it is jet-engine loud, it barely moves a candle flame! I suspect that actual airflow from above the range is probably close to 4 CFM - barely detectable. Second issue is the user interface. It's quite possible that this was done by a marketing intern, not a UIX designer. Again, horrible execution. To turn the fan on you have to click on the menu screen. There is a TINY fan icon with four settings. When you click the icon it does change the decibels - the airflow may go down but that's imperceptible. We haven't really tried cooking much in it yet - I'm hoping that the microwave puts out power reflective of its 1600W rated power and that the convection oven works better than the fan. While other reviewers have expressed dissatisfaction with the wi-fi, I found that it connected easily. Again a useability issue - I set it up for my wife, but she'll use it. The PROBLEM is that you MUST create a Whirlpool account and the microwave is only linked to that ONE account. WHAT? Again, horrible UIX design - how many families have only one user? I'll update accordingly. Pretty frustrating performance for the price-point.
Date published: 2019-07-14