Description
A slimmer design ensures this Whirlpool French-door refrigerator fits in seamlessly with your kitchen space while providing great usable space. It has great features such as integrated LED lighting, a FreshFlow(TM) air filter eliminating bad odours as well as purposefully designed zones that provide better organization to let you store more grocery items. Vegetables and fruits stay fresher for longer in the humidity-controlled crispers, and the tuck shelf provides space for taller items including 4-litre bottles. The black stainless steel finish is fingerprint-resistant and gives your kitchen an aesthetic, contemporary style. Backed by a 1-year limited warranty on parts and labour.
Product specifications
Water filter, FreshFlow(TM) air filter
Reversible Door Swing (Y/N)
Number of Refrigerator Shelves
Adjustable door bins, 3 shelves, 2 humidity-controlled crispers, full-width temperature-controlled drawer
Frequently bought together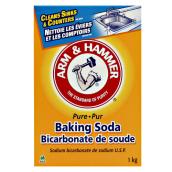 ARM & HAMMER
Baking Soda
Format 1KG
Details
Article #53975001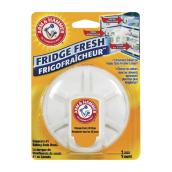 ARM & HAMMER
"Fridge Fresh" Refrigerator Air Filter
Details
Article #53975000
French-Door Refrigerator - 30" - 19.68 cu. ft. - Black
is rated out of
5
by
102
.
Rated

4

out of

5
by
Cornhopper
from
My opinion
I purchased this as this was the only refrigerator that fit into my spot in the kitchen. I do love it however I am disappointed that it came with no ice cube trays and a container to put ice cubes in. I find it a bit of an annoyance that I always have to open the right side of the door first and then close with the left side. Thus I always have to open all doors to see what's inside. I am not that organized as to putting items back in the same spot. I definitely would rather have had one door. Love the smudge free stainless steel. Definitely updated my kitchen! (This review was collected as part of a promotion.)
Date published: 2018-08-24
Rated

4

out of

5
by
Victoria78
from
Excellent design
First time with a freezer below and fridge space above , Love it !! So much space if someone needs more freezer space. Freezer capacity is excellent and far exceeds the space and ease of access that standard top freezer models have. Fridge space is so much easier to access daily foods. Fridge control panel monitors food freshness and tells you when filters need replacing easily. Excellent upgrade from standard fridge. A serious must for every kitchen . Great job to Whirlpool engineers! Thank you! (This review was collected as part of a promotion.)
Date published: 2018-10-20
Rated

5

out of

5
by
Jocelyne22
from
Best Refridgerator Yet
I just bought the Whirlpool 2 Door Refrigerator. I love all the different compartments. I stopped looking for things - now every food group has it's own compartment so I know exactly where everything is. I find that the freezer is a bit small but I have a freezer so it all works out well. The stainless finger print proof is nice too because I'm not washing and shining it everyday. All in all I am very happy with my new appliance. Thank you so much Whirlpool for this great new product. (This review was collected as part of a promotion.)
Date published: 2018-04-24
Rated

2

out of

5
by
rslayton
from
Doors don't open wide!!
I'm not all that thrilled with my fridge. I thought the french style doors would open out fully. Since the bins in the doors are quite bulky you can't put a large tray on a shelf all that easily. If there is an adjustment you can make to have the doors open more fully that would improve the fridge tremendously. I got this fridge because there aren't very many options for a smaller fridge with the freezer on the bottom. Most other fridges are too big for the space in my older home. (This review was collected as part of a promotion.)
Date published: 2018-05-02
Rated

5

out of

5
by
Little kitchen mom
from
Excellent for my small kitchen
This fridge provides excellent value!! With tons of food and freezer storage space, quiet operation, french doors with easy-access storage, it was the perfect choice for my small kitchen. I am also saving money because produce keeps so much better in the special drawers, than in my old fridge. The smat layout also lets the kids get what they need...and the little beeper tells them they are browsing too long! (This review was collected as part of a promotion.)
Date published: 2019-09-10
Rated

2

out of

5
by
Kdcreelman
from
Strong, will not go with French doors again
Recommended setting is 3 but things near the back freeze. So we leave it set on 2. Impossible to get the doors to line up completely level, electrical wires part glued next to one of the screws you are supposed to be able to turn, cannot turn the screw without affecting the wires, and the door leveling T isn't a perfect tool either, pretty good for such a small piece of plastic, but not perfect and the handles arrived nowhere near level, not sure how to remove screws to really try and even then out. Spent a lot of time on it but things will never be perfectly even. Not terrible, but will definitely be annoying to look at for the years to come and I'm sure will get more annoying as time progresses. The shelve spacing is different, probably really good once we get use to it. (This review was collected as part of a promotion.)
Date published: 2019-08-06
Rated

4

out of

5
by
JET62
from
Frigo bien pensé
3 tablettes ajustables dans chaque porte, super! La demi tablette qui se replie pour laisser de la place aux grandes bouteilles, fantastique! Dans d'autres marques, c'est toute la tablette qui se replie et cela fait perdre beaucoup d'espace de rangement. Dans le congélateur, les tiroirs en plastique sont ondulés, les petits pots ne tiennent pas bien, c'est pour cela que j'ai enlevé une étoile. [Cet avis a été recueilli dans le cadre d'une promotion.]
Date published: 2019-07-04
Rated

3

out of

5
by
NathLeclercq
from
A little bit disappointed
I received my new refrigerator 3 weeks ago, and I should probably choose a single door model. With is 2 french doors, this one doesn't offers me enough place to put an entire egg's dozen box in one of the door's containers. Not wide enough. And I would have to remove one of the door's containers to put some more taller recipients in one of the doors (such as soft drink bottles, milk container, bottle of wine, juice container, etc...). And the separator in the lower compartment of the freezer doesn't aloud me to put bigger box in it. It makes me feel it is smaller than my old one. I really miss my old Whirlpool refrigerator with is single door, and larger freezer compartment. And there is also humidity on the in-between french doors piece, problem I've never add with my old refrigerator. (This review was collected as part of a promotion.)
Date published: 2018-08-02