Description
Store a large number of frozen bulk foods and prepared meals with this Whirlpool(TM) 15.0 cu. ft. horizontal freezer. Two (2) removable storage bins provide quick and easy access to your frozen foods while keeping your unit well organized. The key lock system allows you to keep your food safe. The unit has a drain hose with adapter for easy defrosting. Simply attach the adapter to the drain to easily remove water when preparing to defrost. This unit is backed by a 1-year limited warranty on parts and labour.
Frequently bought together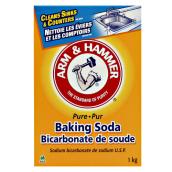 ARM & HAMMER
Baking Soda
Format 1KG
Details
Article #53975001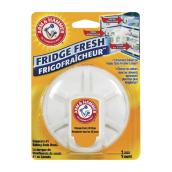 ARM & HAMMER
"Fridge Fresh" Refrigerator Air Filter
Details
Article #53975000
How long is the cord, and which side of the freezer is it on?
Hi Roach, the power cord is 63 inches long and is on the right side on the freezer. Thanks
Date published: 2018-10-09
Is this freezer energy star rated?
It is not Energy Star Certified
Date published: 2018-04-17
Does the depth of the freezer include the hinges.  We have a door width of 27 inches  need to see if it will go into this room
The depth including the handles is 30.25 inches
Date published: 2018-04-16
Whirlpool(TM) Chest Freezer - 48" - 15.0 cu. ft. - White
is rated out of
5
by
1129
.
Rated

4

out of

5
by
Sandrexia
from
Love It! Love It! Love It!
Really love this freezer.It is so quiet compared to my old Coldspot Model. Not only does it comes with an interior light (which I love) but it also comes with 2 baskets.The baskets not only look really nice but are very durable as well and can hold a fair amount of small goods. The only Cons I can say about this freezer is the placement of the freezer temperature control switch. I Can Not Find It. I can't see it on the back where most are placed. I think it is placed on the side of the freezer on the bottom which you have to pull out the freezer each time you want to adjust the dial to defrost it. This is the only reason I am giving it a 4 star rating. [This review was collected as part of a promotion.]
Date published: 2016-09-08
Rated

1

out of

5
by
James
from
Weak magnetic seal strip
Not only is ita weak magnetic seal strip, they also have a 1/2 inch by 1/16 in piece of plastic to cover the splice along the top of freezer in order to let the freezer seal I had to take a grinder and grind the splice joints down flush with the top of the freezer in order for the cover too close and sealed freezer so unless you're willing to take a grinder to your new Appliance I would not buy this product this is not just a fluke with my freezer it is a COMPLETE ENGINEERING FLAW !!!
Date published: 2018-06-04
Rated

5

out of

5
by
Pondside Ole
from
Quiet and Space-saving
Evidently, modern insulation allows this Whirlpool deep freezer to be built with thinner walls; it is about a foot shorter than my old freezer, both being 15 cubic feet. Also, it weighs so much less, which certainly made it easy to move it down the basement stairs, position and level it.The compressor is so quiet, operating with a very rapid muted clicking sound. It is of compact design, occupying only a small part of one rear corner.The two baskets are strong, but lightweight, hold a good amount of food, and slide easily from side to side, with no tendency to slip out of the supporting ledges built into the inside edges of side walls..
Date published: 2015-02-12
Rated

1

out of

5
by
Ryan
from
Failed after a week
Purchased on 7/3, waited 24 hours for it to cool before loading it with already frozen items. By 7/11 it had failed and warm up with all the contents thawed and spoiled. Still making the normal hum same as when it was first plugged in.
Date published: 2015-07-12
Rated

5

out of

5
by
RO
from
Homebrewers Dream
This freezer works great. Add a temperature regulator (https://www.morebeer.com/products/ranco-digital-temperature-controller-wired.html) and you are 9 Cornelius kegs and a 5 lb. CO2 tank ready! No need for a collar to increase the height for Corny kegs.
Date published: 2016-06-18
Rated

5

out of

5
by
Grammy's4
from
I love all the space it gives me.
I bought this a month ago during extremely hot weather. My older freezers lid had busted and wouldn't keep my food cold. This freezer was the same size as my old one but it has twice the amount of space. It cooled down fast and all my slightly frozen meat froze back fast. I love the baskets to put things you need more frequently and for small packages of meats and vegetables. My folks had a Whirlpool back in the late 1950's when I was born. It was one of the best we ever had. Your products were dependable then as they are now. Thank you for making such great appliances. [This review was collected as part of a promotion.]
Date published: 2018-07-19
Rated

5

out of

5
by
Jay
from
Huge, Quiet, Lifesaver
Outstanding freezer! It's very efficient, very quiet, and has ample room. There are only three minor things I'd change: a power-on indicator light, casters for the bottom, and led lighting rather than the single standard bulb inside. The competing Frigidaire offers the casters/light, but the increased cost isn't worth it. This model accommodates roughly a month's worth of frozen goods for us (3-5 cu. ft./person is the general rule). Our electric bill hasn't increased and the unit has nearly no ice build-up on the inner walls. I'm not worried about defrosting this, it looks as though it will only be needed once a year at most. Totally happy with our purchase and food cost savings! [This review was collected as part of a promotion.]
Date published: 2020-01-04
Rated

5

out of

5
by
pwang0611
from
Good freezer
I bought this freezer a month ago. It is energy saving and running quietly. The door lid covers better than the one I had before.
Date published: 2014-12-22
Rated

5

out of

5
by
Bryant
from
Amazing Product and I got it for a steal
Got this freezer marked down $100 and couldn't believe it. It's got more storage room than you would think for its size, I almost got the larger one not on sale but I stuck to my gut and got the 15 cu ft and am beyond pleased. Has more room than I've been able to fill, emptied out my refrigerators freezer and still have room in this. [This review was collected as part of a promotion.]
Date published: 2018-08-29
Rated

4

out of

5
by
SonnyB
from
The baskets sold me.
I have owned chest freezers before and this new purchase is expected to perform as advertised. However, I would like to tell the design department their joke on the company and the customer is not funny. The key (the joke) broke with the first turn. Was this small cylinder on a metal tab expected to be used? I do not trust the lock. And, the day before, my Whirlpool oven door locked after cleaning and refuses to unlock. I have done everything, including a repairman's efforts, and it will not budge. What's next? throw out a good oven and buy a new on. Right. [This review was collected as part of a promotion.]
Date published: 2020-01-09
Rated

1

out of

5
by
SteveK
from
Whirlpool 15 cu.ft. Chest freezer is junk!
Purchased this in July 2018. Around January noticed it would'nt freeze ice cream very well. I turned it up from setting 4 (should maintain -4F at #4) to max of 7. Took ice cream out of freezer in March. Periodically checked other food. In April noticed frozen meat in baskets were thawing. Called Whirlpool Customer Care on May 21st to request a serviceman for repair under waranty. Meanwhile salvaged what we could and transferred to other freezers. Food at the bottom was lost as well as most of what was in baskets. Waited over a month for serviceman to show. Called Whirlpool on 06/25/19 to inquire what's holding up the repair and/or replacement. Agent said there was no report on file from the repairman. She never returned my call. Called Whirlpool Customer Service on 07/01/2019. Customer service said there was no record of my call with the agent on 06/25/2019. I'm going on 2 months from my initial service request. The repairman did finall show but Whirlpool did not have the results of his work! So they cannot/will not resolve my waranty claim! What do I do next! Lowe's, if I were you I would discontinue carrying ANY Whirlpool products. I highly doubt this review will be posted! All of what I have written is true and not derogatory! [This review was collected as part of a promotion.]
Date published: 2019-07-01
Rated

3

out of

5
by
canuck
from
very noisy
needed a larger freezer, saw this was a Whirlpool and thought it would be a good choice. The large baskets are great but the freezer itself is very noisy. Originally planned for it to be in the house but had to move it out to the garage. Can still hear it even there.
Date published: 2017-06-09
Rated

5

out of

5
by
maryly8
from
What's not to love?
Our old chest freezer was 29 years old and, after all those seasons of berries and Christmas cookies, worn out. The gasket was falling off and the lid no longer stayed up by itself, and it was just deep enough that I could not reach the stuff on the bottom and still hold the lid up. There was only one small basket to corral those little things that so easily get lost, too. I love the new chest freezer! Two baskets, a lighter lid that stays up on it's own, so much easier to organize, and I can actually reach the food stored on the bottom! It is also much more energy efficient than the old appliance. All this, and the price was well within my budget. I am so happy with my new freezer!
Date published: 2015-04-09
Rated

1

out of

5
by
BB
from
terrible
Lasted less than 3 years (purchased by a school district agriculture program, so no extended warranty). The compressor quit working and we lost 300 pounds of meat raised by students on our school farm. Last Whirlpool appliance ever for myself and this program! [This review was collected as part of a promotion.]
Date published: 2019-10-07
Rated

4

out of

5
by
cableman
from
its ok nothing special
This purchase was a have to go and get quick it was not what we went after but Lowes stock on freezers is sorry at best and we had to settle for floor model. After we got it home we noticed that the door was not shutting correct it was gapped on the right side so it was not sealing unless you pushed on it had no choice but to deal with and find a fix we had a dead freezer with food thawing out.I believe problem was caused from the plexie glass cover that over the freezer opening at the store not factory defect the hinges on the freezer appear to have been under stress. After fixing a brand new freezer door the freezer seems to work fine bout only time will tell my advise to anyone is not to buy the floor model but if your in a pinch like me and have no choice what other option do you have.
Date published: 2015-02-04
Rated

5

out of

5
by
B. Hanshew Swenson
from
No complaints no issues
So I bought this one. I like that it has the lock on it because we keep it outside however if I did have a complaint it would be the key to it. First time I locked it it wanted to break my husband tried to solder it to hold it together. Other than that the freezer works great I haven't had it very long, it's not full but it is cold my turkey and ham are there for Christmas and this time they're still frozen. Very large in size and I love that it has the two baskets on the top then I can move. I will say it had a little ringing noise to it so I'm glad it's not in the house. The noise was very light it might have even quit but I do remember hearing it [This review was collected as part of a promotion.]
Date published: 2017-11-14
Rated

5

out of

5
by
Liz the homemaker
from
Best Freezer in the World
My husband and I bought this freezer a few months ago, because he is an avid hunter and we garden as well.... I was so pleased when it was delivered because it fit perfectly where we wanted to put it. I had not seen the product when we purchased it, and was so surprised at the inside space.The baskets are the perfect size for loaves of bread, and lunch meats or any other food item that we use a lot of. And there is so much space below for three deer easily.I also freeze leftovers, and anything I pull out of the garden until I can get it all canned.Very happy with this product.
Date published: 2015-08-11
Rated

5

out of

5
by
Hugh2
from
Great Freezer and Just the Right Size!
We bought this freezer to replace a different brand that lost all of its freon within a year and a half. This freezer seems to be built with much better quality judging by the seals on the door and the heavier weight. It also seems roomier on the inside for a 15 foot cubic foot freezer because they engineered it so the compressor unit takes less space from the freezer storage compartment. My wife and I can both tell that the freezer runs quieter and runs less often than the other brand to keep the inside temperature at zero degrees. We are both very pleased with this purchase.
Date published: 2015-02-14
Rated

5

out of

5
by
Anonymous
from
Good for the price / flimsy storage baskets a disappointment
Looking at other possibilities this was the best I could find for the price. I really couldn't afford to buy now but couldn't afford to loose what I had in my freezer and it was running continuously and getting hot and was about 20yrs old. Attractive as described, motor take little space out of the inside of the freezer. Baskets are not only plastic but pretty thin and brittle, I don't expect them to last. Very disappointing as having baskets in a chest freezer is necessary and something I'll be constantly taking in and out. [This review was collected as part of a promotion.]
Date published: 2016-09-19
Rated

4

out of

5
by
ChristineH
from
nice chest freezer
This freezer is easy to set up and worked fast to freeze. So far it meets our expectations. It's a freezer, not much else to say. We would definitely buy it again and recommend it to a friend.
Date published: 2015-04-14
Rated

4

out of

5
by
Josh H
from
Lacking indicator light on front
Overall I'm satisfied with the product. It does what it's suppose to. I would give it five stars if it had a light on the front as an indicator to show the freezer is on. Besides that the overall cost versus product is a good value. The freezer runs much more efficiently than my old unit and the two included sliding storage bins are a plus and keeps those common items easy to reach instead of digging through the bottom of the freezer. I do not like there are no adjustable legs on the bottom to adjust the level of the unit. [This review was collected as part of a promotion.]
Date published: 2019-06-10
Rated

5

out of

5
by
Les
from
I've only had it about a month, and so far I am very happy with it.
Date published: 2017-12-25
Rated

5

out of

5
by
Anonymous
from
Great freezer chest!
We bought this last month and were very pleased with it. Plugged it in and 2 hours later it was ready for everything in our old freezer. The 2 baskets are spacious and easily slide side to side, even when fully loaded.The rounded corners are going to make this super ready to clean when the time comes.The LED light in the lid is a really nice touch. Everything is visible.The lid stays up by itself and closes firmly. The lock and key is a great touch...keep the kids out of the ice cream so there's some left for us. ;) [This review was collected as part of a promotion.]
Date published: 2017-08-15
Rated

4

out of

5
by
JTDinWV
from
Lots of room!
We needed a larger chest freezer, and this one, with its two sliding bins, fits the bill pretty nicely. The only thing I wish it had was a system where I could put "dividers" in the bottom, choosing my own width. . . like moveable "walls" where I can stack all the bags of green beans we just froze from our garden, so when we start freezing the corn on the cob, the beans will stay put and so will the corn. As things freeze, it's hard to organize the bags in stacks without "walls." They would be a big help in organizing. [This review was collected as part of a promotion.]
Date published: 2019-07-26
Rated

5

out of

5
by
marty
from
whirlpool 15-cu ft chest freezer
Very happy with our new freezer.My old freezer quit at Thanksgiving and we had a winter advisory for the next day.I ordered on line and when we got to Lowes it was ready for pickup. We came home and had everything transfered to the new freezer. It was freezing within a few minutes and we didn't lose any food. We were so thankful for quick and easy pickup at Lowes. We couldn't wait for the 3day delivery. The freezer was up and running before the bad weather hit. The freezer is very quite and just the right size for us. [This review was collected as part of a promotion.]
Date published: 2018-12-05
Rated

4

out of

5
by
Stevanna
from
So Far So Great
I bought this about a week ago. Lowes was great, they Free delivered it and placed it where I wanted it. The Freezer was set for at Zero degrees as per the dial. After it settled-out the freezer was accurate and held at the Zero as expected from the dial. I really like the lightbulb inside, great feature. The thing I don't like is that it has no level legs. My garage floor was not exactly level and the unit rocked and I had to cut two pieces of thin wood to level the unit. But I'd still buy it again, at least so-far. [This review was collected as part of a promotion.]
Date published: 2019-03-21
Rated

5

out of

5
by
Gary
from
We Love it but much Larger than we thought!
I had a small deep freeze that lasted 45 years but it finally gave out. My daughter and I picked this one out but had no idea it was at least twice the size of the old one. We can't visualize cubic feet size so here sits this 4 foot plus long monster. Has large wire shelves on each side, on top, which really helps organize food. I can barely reach the bottom! It would hold a few hundred pounds of food. [This review was collected as part of a promotion.]
Date published: 2019-11-26
Rated

5

out of

5
by
Sewell
from
Whirlpool 15-cu ft Manual Chest Freezer (White)
At One Week since installation, we are very pleased with this new freezer. We bought it to replace a similar chest freezer(18.8 cu.ft.)that has worked for more than 25 years and was still working great. Unfortunately, it had developed a very small leak that was messing up our tile floor. This new unit is slightly smaller, lighter, make it easy to move around. Our unit is extremely quiet. We are very pleased with it and hope it will last for a long time.
Date published: 2018-04-04
Rated

1

out of

5
by
Disappointed
from
Didn't cool at all.
Plugged it in and it did not cool at all. Had a lot of problems getting a 2nd one delivered to replace the one that didn't work. Switchboard operator at the store said there was no one that I could talk too for help!!! I finally got help by talking to the appliance dept. Later I got a call, and asked if I got help. I recommended that they retrain the operator or fire her. I did get a new freezer.
Date published: 2015-05-15
Rated

5

out of

5
by
Tom
from
Great deal
Well worth the money. Stays at -5 degrees in my hot garage. Has two handy baskets fo the smaller stuff. [This review was collected as part of a promotion.]
Date published: 2018-08-01