Description
Store a large number of frozen bulk foods and prepared meals with this Whirlpool(TM) 22.0 cu. ft. horizontal freezer. It includes an adjustable thermostat and an alarm, which emits a signal when the internal temperature stays too high, ensuring an ideal preservation environment. Two (2) sliding storage bins provide quick and easy access to your frozen foods while keeping your unit perfectly organized. The key lock system allows you to keep your food safe. This unit is backed by a 1-year limited warranty on parts and labour.
Product specifications
2 plastic sliding baskets
Frequently bought together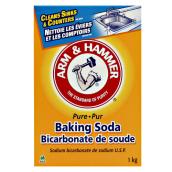 ARM & HAMMER
Baking Soda
Format 1KG
Details
Article #53975001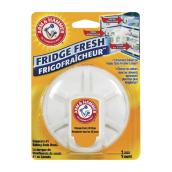 ARM & HAMMER
"Fridge Fresh" Refrigerator Air Filter
Details
Article #53975000
What type of refrigerant this freezer use ?And is it CSA approved ?
Hi Florian, this unit uses R-134A refrigerant. A great feature of this model is that it comes equipped with a temperature alarm that notifies you when the temperature rises to help you monitor the ideal environment for your food. Thank you for your question!
Date published: 2019-03-06
What are the dimensions?
In Inches Width 66 1/4 Depth Closed Excluding Handles 27 1/4 Depth Closed Including Handles 30 1/4 Depth Excluding Doors 24 5/8 Height To Top Of Door Hinge 33 3/8
Date published: 2018-04-17
I am looking for four new chest freezers to purchase. What would be price on this one if buying four?
Whirlpool(TM) Chest Freezer - 22 cu. ft. - White
is rated out of
5
by
46
.
Rated

4

out of

5
by
Had a spare freezer thank heavens.
from
Was replaced within a month.
Nine months after purchasing a new chest freezer it went out. A serviceman was sent out the next week. Part was ordered. This took just over another week. Then he came and said it was beyond repair. He turned in a report to Whirlpool. Within a couple days a lady called and scheduled sending another freezer. This also took a week and a half to arrive. If you had somewhere else to store your frozen items it wasn't so bad. If you didn't then you had to figure something out for a month. It was replaced and the old one was hauled away. None of the parties were difficult to deal with.
Date published: 2016-05-23
Rated

4

out of

5
by
Joe216
from
Good Freezer - Poor Fitting Baskets
I have had this Whirlpool 22cf chest freezer for several years and it works great. I don't go into it much and there is no ice inside. The only problem I have, and it can be a real pain, is the baskets fall into the freezer very easily. They don't take very much weight and the tabs on the ends that hold it in place are no long enough. When you load the basket, one side will fall down and jam into the freezer. After unloading the basket and working it loose, you can get pretty frustrated when you figure out the baskets are mostly useless. I like the alarm, though I can't hear it, due to the very high pitch, others can. What good is a power light if something else is wrong? The low temp warning could save your food and $$. Wish they made a larger size.
Date published: 2018-11-20
Rated

5

out of

5
by
john
from
perfect
Wanted a chest type to put in a storage building. Doesn't sweat on the floor and the alarm is very loud to hear outside of the building. [This review was collected as part of a promotion.]
Date published: 2019-04-11
Rated

2

out of

5
by
Lab Lady
from
bad design
Let me start with the good points: The freezer works well and quietly. It cooled down to temp quickly and we were able to load it in under 3 hours from startup. Other than that, I am so disappointed with this freezer! I have a Whirlpool range, microwave, and refrigerator/ freezer and they all have great design and features so was quite surprised that this appliance is such a real let-down. It was purchased to replace a Kenmore that served us for 29 years, but began to struggle to maintain temperature. Since I knew that Whirlpool was actually the builder of the Kenmore freezer, I just assumed that it would have the same great design, if not better, of interior features. Boy, was I ever wrong and felt instant regret when opening the lid after delivery!!! My Kenmore had 5 baskets plus 1 that we pressed into use from the freezer that it replaced. Some were made to ride on the top inside lip and the others slid along a small rail that was halfway down the walls of the freezer. This made access to the items inside and organization so easy. In contrast this unit came with 2 baskets that slide along the inside lip and 2 small baskets that just sit loose inside and are really of no use. After loading it, both my husband and I thought our new freezer seemed smaller than our old one even though it had the same cubic feet and felt that it was all due to the lack of a good basket system. Items are so much harder to access in this freezer and I grumble every time I have to retrieve something out of it. My advice to the Whirlpool company is to find a better design engineer for your freezer units!
Date published: 2019-08-09
Rated

5

out of

5
by
Rosrob
from
Good replacement for older chest freezer
This freezer replaced a very old chest freezer. So far I am very pleased. This freezer is quite a bit longer, as a result the depth is shallower. It is therefore much easier to reach food in the bottom. The 4 baskets make for better organization of the food. I really like the drain at the bottom which will make defrosting and cleaning much easier. Having a bright light is also quite convenient. (This review was collected as part of a promotion.)
Date published: 2018-02-23
Rated

5

out of

5
by
Anonymous
from
Lots of room,
Bought freezer out of desperation...old one died,and was afraid a newer freezer wouldn't hold all that the old one did. But it held it all and with room to spare. Much quieter than our old one. Works like a gem.Only thing better on the old one was metal baskets. Not sure the plastic ones with the new freezer will last as long...time will tell. [This review was collected as part of a promotion.]
Date published: 2016-05-31
Rated

5

out of

5
by
Steve the Subsister
from
Perfect for the Job!
I have had the freezer on line for about two months and it is just what I needed. I live in Alaska and meat and produce arrive in large quantities! I dropped two hundred pounds of Sockeye Salmon fillets and another 100 pounds of vegetables and wild berries into the freezer and it hasn't missed a lick! We are closer to being ready for winter. Lots of room and runs COLD!
Date published: 2015-09-21
Rated

5

out of

5
by
Rskgtcs
from
Plenty of space
Just got it so far it does what its supposed to. [This review was collected as part of a promotion.]
Date published: 2019-03-02