Description
This Whirlpool(TM) professional cooktop gives you space and versatility so you can prepare many everyday dishes. Continuous cast iron grates with EZ-2-Lift hinged design allow you to lift the grates without removing them, giving you quick access to spills. SpillGuard(TM) upswept edges prevent liquids from spilling out of the cooktop. For even more thorough cleaning, you can safely put the grates in the dishwasher. The SpeedHeat(TM) burner generates the high temperature needed for boiling water and stir-frying food, while the AccuSimmer (R) burner with power reduction function provides better control at low temperatures, which is ideal for simmering sauces. Burners are sealed to prevent food from falling inside, meaning that cleaning is child's play. For greater versatility, you can install this cooktop near a wall oven or separately. Backed by a 1-year limited warranty on parts and labour.
Product specifications
(2) 9100 BTU standard burners, 12,000 BTU standard burner, 5000 BTU AccuSimmer(R) simmer burner, 15,000 BTU SpeedHeat(TM) power burner
Dishwasher-safe stainless steel control knobs
Continuous cast iron grates
Hot Surface Indicator Light (Y/N)
Number of Burners/Elements
Frequently bought together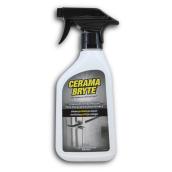 CERAMA BRYTE
Stainless Steel Cleaner
Format 474ML
Details
Article #8307003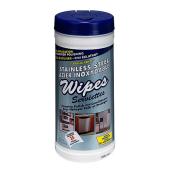 CERAMA BRYTE
Stainless Steel Cleaning Wipes
Format 35/PK
Details
Article #8307005
Whirlpool(TM) 5-Burner Gas Cooktop - 36" - Stainless Steel
is rated out of
5
by
164
.
Rated

4

out of

5
by
platfimate
from
First time gas cooktop user
This came with our new house, and everyone raves about gas so I was excited to use it. I have been cooking on a ceramic smooth cooktop pretty much my whole life. Everyone thinks gas is so much faster, but I haven't felt that way yet. Even on the rapid boil middle burner, it still takes 15 minutes or so to boil a pot of water for pasta. I guess my ceramic cooktops had been far superior to other cheap electric stoves. I just expected it to cook things faster like I'd been hearing for years. I love the way it looks in my kitchen and it works great so no complaints. [This review was collected as part of a promotion.]
Date published: 2018-08-04
Rated

3

out of

5
by
Bookcat
from
Questionable design and Cheap Knobs
The builder of our new home only offered Whirlpool appliances, and they allowed me to upgrade to this from their 30-inch cooktop. The grates would make it easy to clean if they weren't obstructed by the overhead cabinets--that's the builder's fault. They can't open all the way, but enough to clean them. The burner situation is the same as in my previous range. One super burner good for nothing buy boiling pasta water, one big honkin' burner for cooking everything else, and 3 wimpy burners good only for scrambling soft eggs and being able to turn your back while the spinach sautes. Isn't there a happy medium between super burners and wimpy burners? Worst feature: cheap knobs that melt so fast that one was half-melted by the installer. The flames really jump out and two knobs are melted and brown, one just misshapen. Even if this cooktop works for you, be sure to order plenty of replacement knobs. You'll need them.
Date published: 2018-06-27
Rated

1

out of

5
by
starrysky96
from
very disappointed
I've always chosen Whirpool. The design of this cooktop is terrible. The distance between the burner and the pot is too much- due to the tall grate. Whirpool should at least offer replacement grates to fix this problem. I'm considering changing my appliance preference, which means no more Whirpool.
Date published: 2018-06-25
Rated

4

out of

5
by
Bruzr19
from
Sleek design, works great
This unit came with the builders appliance package. It was the modern look we wanted. It works great with even flame on all the burners. The one drawback to this design is the stainless steel drip area under the grates scratches very, very easily. When we moved in we noticed it had large scratches that occurred during the installation/cleanup. The builder also warned us that it scratches very easily but agreed to replace it. Why design a finish that scratches easily for an area that requires regular cleaning after use? Good design must include not only aesthetics but functionality and ease of use. [This review was collected as part of a promotion.]
Date published: 2020-02-25
Rated

1

out of

5
by
Bala
from
Not happy with the whirlpool gas cook top grates
We moved into a house with all new whirlpool appliances, I am not happy with the gas cook top, it takes much more time to heat up the pots and pans with food, because the cook top grates are closed at the burners and placed very high. The distance between burner flame and pot is much more than normal.
Date published: 2018-05-07
Rated

4

out of

5
by
KrisH
from
Good range for the price
Our builder had quoted GE profile appliances but I really wanted Kitchenaid. Whirlpool was a compromise since we went over on other items. I felt that I got a steal on appliances. This cooktop was less than half than the cost of the Kitchenaid but it looks terrific in my new kitchen. It cleans up a lot better than my previous GE. My only complaint is that it takes awhile for a full pot of water to boil but I can deal with that for the amount of money it saved me. [This review was collected as part of a promotion.]
Date published: 2019-01-18
Rated

5

out of

5
by
Colleen 1954
from
Gas cook top 5 burner
After having glass cooktop for over 20 years I've been cooking for over 45 years happy to be able to cook with gas. Happy I don't have the expense of buying glass cooktop cleaner and Really having to Scrub Scrub Scrub to get the glass clean. And much better to use regular pots and pans on Gass cooktop. Easy to clean with stainless steel spray cleaner 1,2,3,Done! Saving lots of money not having to buy glass cooktop cleaner! Gas does cook faster also.My sister is also switching to same gas cooktop as me we both built new homes! Gas is the way to go! Love it! [This review was collected as part of a promotion.]
Date published: 2020-04-23
Rated

1

out of

5
by
Anonymous
from
Extremely poor design
This was installed in our brand new home. The first time my wife used this product the heat completely melted the knobs. We are extremely lucky she noticed it before she tried to turn the knob off with her hand. She could have been badly burned. The safety team acted like it was operator error! Unbelievable Do Not buy this product! It's extremely dangerous [This review was collected as part of a promotion.]
Date published: 2019-08-16