Description
Complete your kitchen with a spacious, refined design refrigeration appliance! This Whirlpool(TM) 24.6 cu. ft. side-by-side refrigerator features frameless glass shelves and adjustable gallon door bins, giving you the flexibility you need for a perfect organization of your groceries. Two humidity-controlled crispers let you store many fruits and vegetables in an ideal storage environment. A door-integrated dispenser with EveryDrop filtration system and LED night light gives you direct access to filtered water and ice without having to open the refrigerator door, no matter the time of day. In addition, the intelligent defrost system monitors the freezer environment and starts the defrost program only when needed. This Energy Star-certified unit comes with a 1-year limited warranty on parts and labour.

Ecological Attributes
This refrigerator is ENERGY STAR® certified to save up to 10% in energy.
Product specifications
EveryDrop(TM) water filtration
Fixed door bin, 3 adjustable gallon door bins, dairy compartment, 2 humidity-controlled crispers, fixed shelf, 3 adjustable shelves
Side-by-side refrigerator
Reversible Door Swing (Y/N)
Number of Refrigerator Shelves
4 door bins, 3 wire shelves, bottom drawer
Frequently bought together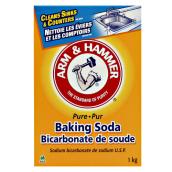 ARM & HAMMER
Baking Soda
Format 1KG
Details
Article #53975001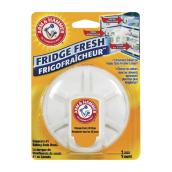 ARM & HAMMER
"Fridge Fresh" Refrigerator Air Filter
Details
Article #53975000
Whirlpool Side-By-Side Refrigerator - 25 cu. ft - 36" - White
is rated out of
5
by
60
.
Rated

4

out of

5
by
leave me alone
from
Would be nice to be able to relocate shelves
With an energy program I qualified for because I am below poverty level I was presented with my new Whirlpool refrigerator and am very satisfied with the product EXCEPT I would really appreciate being able to move the shelves. At my age and the fact that I have had both hips replaced since November of 2018 it would be less strenuous on me if I could have my gallon jugs of milk or juices on a lower level. It would help me and it would allow my grandchildren to access these items without my help. It would help them in their adventure to more independent visits with me. [This review was collected as part of a promotion.]
Date published: 2019-08-23
Rated

1

out of

5
by
rohit1986xyz
from
Not good build quality
We got this as part of new construction. The main refrigerator side door has shelves that are made of plastic (which is okay) but its very cheap plastic. But the problem is that the door is such that often when I am closing it, I get hold of one of the shelves and close the door. The shelves don't stick to the side door well and come out easily. We have broken 2 of the shelves within the first month just because they fell when they come out of the side door and crack easily. Extremely poor shelf material quality. We also had a huge issue of the ice maker not defrosting automatically, which caused cooling to fail. However, whirlpool was quick to fix it. [This review was collected as part of a promotion.]
Date published: 2020-02-12
Rated

4

out of

5
by
Doctyphoon
from
Solid fridge
Have had the fridge for a couple of weeks. It was of the few side by sides with a good energy rating. I appreciate the ergonomics of the water/ice dispenser as it is less likely to throw ice on the floor & spray water everywhere, like my last one. A small thing is that you can easily see where the water is emerging from and it is coming out straight down. These 2 factors make it simpler to position your glass correctly. Our last one was hidden from easy viewing in a dark recess and seemed to spray at a 45°angle. My only criticism is that the number of shelves and bins is marginal, but easily remedied. [This review was collected as part of a promotion.]
Date published: 2020-08-06
Rated

1

out of

5
by
Helen
from
Refrigerator is freezing!
Refrigerator is turned to highest "warmest" setting and the temp is reading about 30 degrees. Lowe's has replaced this once but we are still having the same problem. There is a lot of space in the refrigerator and ice maker is great but will have to replace it. Whirlpool was no help in telling us what might be wrong, just said to tell Lowe's to replace it. [This review was collected as part of a promotion.]
Date published: 2018-08-28
Rated

1

out of

5
by
xrae
from
Poor AT BEST!
I purchased this new refrigerator the end of February and it was delivered and installed mid-March. Since I've gotten this LEMON/demon of a product it has given me NOTHING but problems and expenses! A certified technician has came out 3 times to "repair" and hasn't worked for more than 2-2 1/2 weeks per repair! I've had to throw TONS of food out which is only costing ME MORE MONEY. Waiting on technician #4 to come and look at this LEMON. Whirlpool will not replace at this point NOR does their manufacturer "warranty" cover any cost associated with my loss of product. I am angry to say the least! Worst money I've ever thrown into the wind! Thanks for all your support WHIRLPOOL! Pathetic. I guess you got your money from me didn't you.
Date published: 2020-06-03
Rated

3

out of

5
by
Marsha S
from
Ice dispenser & temperature control
The ice dispenser jams a lot, unable to use the crushed ice then cube it jams up.. The temperature in the fridge does not stay cold unless it maxed.. [This review was collected as part of a promotion.]
Date published: 2019-04-30
Rated

3

out of

5
by
Cdmasam
from
Noisy fan and inflexible shelving
This refrigerator was a replacement for a similar unit that we bought with our brand new house, the original was inoperable from the first day. It took Whirlpool 2 weeks to get a technician to look at the refrigerator and diagnose the problem, then the builder (Pulte Homes) had to step in and insist that Whirlpool replace, not repair the refrigerator and that the delivery be expedited because Whirlpool treated this emergency situation as "business as usual". [This review was collected as part of a promotion.]
Date published: 2019-07-31
Rated

4

out of

5
by
RML2020
from
Roomy and cold
Nice fridge. Our old GE finally gave out. Wasn't looking for a whirlpool necessarily but a fridge pretty quick. Only issue is the meat and veggie bins don't slide out real smooth. Other issue is the ice stopped dispensing. After some detective work, we found the problem. The chute where the ice comes out of the bin in the freezer into the door moves loose a little sometimes on the door. The chute hits the light switch which tells the fridge the door is shut to dispense ice. It just has to be push back over a bit to hit the switch. [This review was collected as part of a promotion.]
Date published: 2020-09-03