Description
Complete your kitchen with a spacious, refined design refrigeration appliance! This Whirlpool(TM) 21 cu. ft. side-by-side refrigerator features frameless glass shelves and adjustable gallon door bins, giving you the flexibility you need for a perfect organization of your groceries. Two humidity-controlled crispers store your many fruits and vegetables in an ideal storage environment. A door-integrated dispenser with EveryDrop filtration system and LED night light gives you direct access to filtered water and ice without having to open the refrigerator door, no matter the time of day. In addition, the intelligent defrost system monitors the freezer environment and starts the defrost program only when needed. This Energy Star-certified unit is backed by a 1-year limited warranty.

Ecological Attributes
This refrigerator is ENERGY STAR® certified to save up to 10% in energy.
Product specifications
Side-by-side refrigerator
Reversible Door Swing (Y/N)
Number of Refrigerator Shelves
EveryDrop water filtration
Fixed door bin, 3 adjustable gallon door bins, dairy compartment, 2 humidity-controlled crispers, fixed shelf, 3 adjustable shelves
4 door bins, 3 wire shelves, bottom drawer
Frequently bought together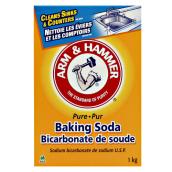 ARM & HAMMER
Baking Soda
Format 1KG
Details
Article #53975001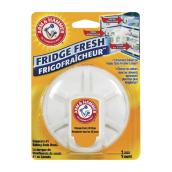 ARM & HAMMER
"Fridge Fresh" Refrigerator Air Filter
Details
Article #53975000
Whirlpool Side-By-Side Refrigerator - 21.4 cu. ft - 33" - Black
is rated out of
5
by
91
.
Rated

1

out of

5
by
SarahRif
from
Temperature uncontrollable so much waste!
We bought prior to the birth of my 1st son to ensure the quality of pumped breastmilk. After a fiasco with the door not sitting right, freezing and thawing several times, and losing 3 months of stored milk, the refrigerator was mostly fine; only occasionally freezing everything on the refrigerator side. A month ago the refrigerator froze over again, and we lost a ton of food, again. The repair man fixed it; he replaced a part. However it wasn't fixed. This refrigerator has been a major loss of money, time, and huge stress for us. I think we got a lemon, which at this point I think should be replaced.
Date published: 2019-09-27
Rated

5

out of

5
by
Buck21
from
Nice size
We bought this side by side to replace our old Whirlpool top freezer refrigerator. We like the ice and water available from the front of the fridge, with our old one we had to open the fridge door to get our water. The LED lights are a great feature. The ice maker works well also. The selves and slide compartments are a good mix. For the two of us it meets our needs, while a family would need the larger size I am sure. We hope this will last many years as our other one, only time will tell but over all we are glad we made this purchase. [This review was collected as part of a promotion.]
Date published: 2018-09-25
Rated

3

out of

5
by
Helen39
from
Just OK
I've had my new fridge for 10 days, and it looks very nice in my kitchen. It's smaller than my old one, but that's OK - I can manage. The new fridge has the water and ice dispenser on the front, and I am not happy with that. I have never had that on a fridge before, so I thought I would get it this time -- not a good decision! It's impossible to put ice in a glass without some of the ice landing on the floor. Also, the hopper takes up too much room in the freezer, so the freezer capacity is reduced by quite a bit. I can see that this item is going to be useless to me. Is it possible to remove the hopper and just have the water dispenser? (This review was collected as part of a promotion.)
Date published: 2018-05-14
Rated

4

out of

5
by
Mr. Poopie
from
Easy to organize and access items
Even though it took close to 3 months for delivery I am very pleased with this refrigerator. The door shelves are easy to adjust and ample room to organize frequently used items. I feel that I have plenty of room for food storage, especially when preparing meals for guests and you need the extra space. The ice maker works nicely and I like that you don't have to select between ice and water. The one concern is that shortly after delivery I did have water drip from the dispenser and a small puddle on the floor. Since that time I have had no incidents, but I am cautious.
Date published: 2019-07-24
Rated

3

out of

5
by
Earplugs required
from
Nice fridge but it is loud
Ordered this fridge from factory about 1 month ago. We have had it now for about a week. Like the design and layout of the fridge. Ice maker works well and produces ice quickly. Lots of room on the fridge side but the freezer side is quite small. Not problem with this fridge is it is very noisy. Brought out a Whirlpool repair person just to make sure all was okay with it. We were told that is the way this fridge sounds and it was okay. Had we been able to hear it run before we bought it we would not have bought this fridge. Runs way to often and is really quite loud. (This review was collected as part of a promotion.)
Date published: 2018-11-01
Rated

4

out of

5
by
NatalieD
from
Energy Star Rated and Efficient
I've had this appliance about ten days and so far, so good! On the plus side, the adjustment is easy for fridge and freezer on the outside and it is cooling and freezing very well without being set to maximum. We like the meat drawer and adjustable shelving in the door. Freezer is on the small side, but adequate for our needs. We had a shorter list of choices due to kitchen spacing concerns. This one fits beneath our cabinets. Negatives? Filtered water from the fridge is not as cold as my previous model and the unit is a little loud. I like the shiny black doors on the front and it goes well with my other appliances. [This review was collected as part of a promotion.]
Date published: 2020-01-15
Rated

5

out of

5
by
Joeybaby
from
Superb Quality!
I Purchased This Refrigerator Because Of The Whirlpool Quality. This One Replace a Similar Whirlpool Refrigerator That I Had For 32 Years! It Is Still Working! I Never Had Even one Problem With It. I Got This New One Figuring How Much Longer Can The Old One Last. But It Is Still Working and As Cold Now as It Was When New!. I'm Keeping It Just To See How long It Will Keep Working! I Recommend To Anyone To Buy a Whirlpool Appliance. I Still Have A Washer, Dryer, Double Oven, and Electric Range. All 32 Years Old and All Still Working! Thank You Whirlpool?.. [This review was collected as part of a promotion.]
Date published: 2020-01-18
Rated

3

out of

5
by
Mary L. S.
from
Missing featurws
This refrigerator isn't laid out as well as my previous frig and quality is lacking. The pop on door compartment inside of doors come loose often and the ice maker is loud. And space inside freezer door is limited. I lost compartments Up top inside of door with this frig. because of ice maker. Previous frig ice bucket fit better and allowed compartments inside of door up top. I would consider another brand if had to do over but purchased a whirlpool microwave first so wanted appliances to match. Microwave is fine. Next purchase is new stove/oven. [This review was collected as part of a promotion.]
Date published: 2020-10-01