Description
This sleek side-by-side Whirlpool(R) refrigerator will complement your kitchen décor. Add additional kitchen space with styling that fits virtually flush with the countertop. With the exterior ice and water dispenser with EveryDrop filtration system(TM), access fresh filtered water and ice without ever opening the refrigerator door. Move these adjustable 4-liter bins anywhere in the door for increased loading flexibility when and where you need it. Hide fingerprints and smudges with steel finish that easily wipes clean. The refrigerator is backed by a 1-year limited warranty on parts and labour.
Product specifications
Side-by-side refrigerator
1 deli drawer, 1 full-width humidity-controlled drawer, 4 shelves, 2 bins
Reversible Door Swing (Y/N)
Number of Refrigerator Shelves
Frequently bought together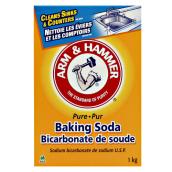 ARM & HAMMER
Baking Soda
Format 1KG
Details
Article #53975001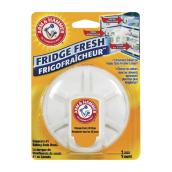 ARM & HAMMER
"Fridge Fresh" Refrigerator Air Filter
Details
Article #53975000
Whirlpool Side-by-Side Refrigerator - 21 cu. ft. - 36" - White
is rated out of
5
by
358
.
Rated

4

out of

5
by
Conner363
from
Wonderful!
This fridge is SO beautiful. I've had it about a month now. When looking at the reviews, the only negative I saw was that the ice maker was loud. It's not louder than the other fridges I've heard. The Fridge side is large and has many different sie shelves, which I like. I took a star off because of how small the freezer was. I was a bit disappointed that the ice maker takes up SO much space. You can't fit anything long in there. For example, the chicken that you buy at the grocery store, that's maybe a foot long, it won't fit in there. Which was disappointing. But over all, I'm in love. [This review was collected as part of a promotion.]
Date published: 2018-08-27
Rated

5

out of

5
by
dpam53
from
Perfect for us
We love this refrigerator. It's counter depth fits so neatly in our kitchen. We moved the shelves and drawers to fit our needs, love the gallon size shelves in the door. The internal lighting is great and I can find everything, even in the freezer. The door ice bin frees up a lot of freezer space. We had a little problem with the ice maker, but it turns out the installers didn't set the unit to the recommended temperatures. That problem seems to be solved. Replacement filters are easy to find. The fridge is in a great room, and I like the quiet operation. In fact we liked it so well that our daughter bought the same unit for her new house.
Date published: 2020-07-28
Rated

5

out of

5
by
Gram Barb
from
Exactly what I needed
I've had this about a month. So far no problems. Keep in mind it has limited space. But that's what I wanted. I needed a counter depth refrigerator and side by side. My last refrigerator had a bottom freezer and I was tired of losing things in the drawer. Everything I wanted was in the very bottom always and I hated the dig every time ! This is perfect and one of the few refrigerators in Black, not black stainless or black matte, regular black. My only complaint is they give you limited shelves in freezer. You have to buy 3 shelves to have any storage! Works perfect in my space though. [This review was collected as part of a promotion.]
Date published: 2019-01-18
Rated

3

out of

5
by
MarshaCho
from
All the door shelves are broken
The refrigerator is working fine. We realize it is not the most expensive fridge on the market but there are very few shelves in freezer and in fridge, and to purchase more it is beyond expensive. We were told to check everything before delivery men left because what ever we found after the fact was our problem. Well, we did check inside and saw nothing wrong..EXCEPT after they left and we started to put things away on shelves in door we noticed all of the shelves on the door had a hair line crack....ON THE SAME SIDE OF EACH SHELF.. Very disappointed seeing that we are senior citizens and now we have a new fridge with broken inside door shelves. Too much money for us to replace. [This review was collected as part of a promotion.]
Date published: 2018-08-24
Rated

3

out of

5
by
Raze
from
Disappointed
We are disappointed in the quality of this refrigerator, especially because of it's cost. It creeks every time we open and close it! It is cheaply made with plastics and styrofoam, which are visible. We weren't able to view the refrigerator at the store. If we would have, we never would have bought it! We blame ourselves because we wanted white, a side by side, and it had to fit in a counter. We also did not want a water and ice dispenser but had no other choice because of the counter space. The chooses were slim. We're stuck with a refrigerator, in our opinion, with many flaws. [This review was collected as part of a promotion.]
Date published: 2020-07-31
Rated

4

out of

5
by
Michael
from
Bought it sight unseen
There were only a few fridges that would fit our space (counter depth) and were also white. None were in stock, so I needed to purchase sight unseen. It took a couple of months to arrive. I knew it was slightly smaller than my old fridge, but it actually seems a lot smaller. I think the freezer is smaller and the fridge side is larger on the model than my previous fridge. There's just the two of us so I believe it will workout but it might not for a family of four. My wife thinks the bottom of the fridge looks unfinished. She even asked me where the bottom panel was because she wanted to snap it back on. The finish is a bit higher gloss than I thought it would be. These are all things you'd normally notice in person.
Date published: 2020-10-08
Rated

3

out of

5
by
Tenn2020
from
Room for Improvement
I have had this refrigerator for a week. Owner's manual needs to be re-written to improve one's understanding of electronic panel for ice maker, water, etc. For example, when you push options and it the icon reads sound off, it never changes to sound on if you push that option. There is column that shows 3 boxes, the middle box is marked. You would think that you can change the indicator to one of the other boxes open in the column, you cannot. Mine came without the air filter for odors. Lighting in the refrigerator/freezer could be located and engineered better to be less obtrusive. I like the counter top depth. [This review was collected as part of a promotion.]
Date published: 2020-03-12
Rated

5

out of

5
by
ICanEatAgain
from
Soooo Happy With My Choice!
I was overwhelmed by all the refrigerators out there, and studied them carefully, then made an excellent choice. This is the first time I've had a counter-depth one, and it is perfect. Still incredibly spacious on this model, but things don't get lost and forgotten about at the back of the shelves anymore. I'm enjoying the fact that I now have room next to the kitchen island for someone to walk by, even with the door open. It is so quiet that I often find myself checking to see if it's still working! Love the outside dispenser - unlike many others it holds my tall 8" water bottle easily. And so fun that I can set it and walk away while it fills it and then shuts off. Having the removable ice bin in the freezer door is also a huge help as it doesn't take up valuable shelf space, and the cubes are a nice smaller size. It also has the deli drawer, which so many don't have anymore. My only complaint was that some of the plastic wrap around it seemed to be glued into the trim on the refrigerator side, and that took some work to get it all out, but it was well worth it! [This review was collected as part of a promotion.]
Date published: 2020-02-12