Description
This sleek side-by-side Whirlpool(R) refrigerator will complement your kitchen décor. Add additional kitchen space with styling that fits virtually flush with the countertop. With the exterior ice and water dispenser with EveryDrop filtration system(TM), access fresh filtered water and ice without ever opening the refrigerator door. Move these adjustable 4-liter bins anywhere in the door for increased loading flexibility when and where you need it. Hide fingerprints and smudges with steel finish that easily wipes clean. The refrigerator is backed by a 1-year limited warranty on parts and labour.
Product specifications
Side-by-side refrigerator
Reversible Door Swing (Y/N)
1 deli drawer, 1 full-width humidity-controlled drawer, 4 shelves, 2 bins
Number of Refrigerator Shelves
Frequently bought together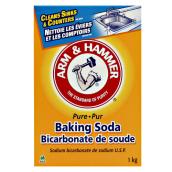 ARM & HAMMER
Baking Soda
Format 1KG
Details
Article #53975001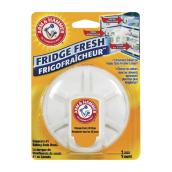 ARM & HAMMER
"Fridge Fresh" Refrigerator Air Filter
Details
Article #53975000
Whirlpool Side-by-Side Refrigerator - 21 cu. ft. - 36" - Black
is rated out of
5
by
1586
.
Rated

4

out of

5
by
Shopper100
from
Good but not great.
We have had this refrigerator for about a month. Overall it is good, but there are a few quality issues (see pictures.) Pros: Stainless steel is truly fingerprint resistant. Drawers have wheels and roll very nicely compared to other models we looked at. Noise is slightly louder than our old refrigerator but not really a problem. Large door shelves are very nice. Door mounted ice maker allows more freezer space. Cons: Items placed near freezer side wall in refrigerator will freeze. (Poor temperature control.) Quality control is obviously lacking - see pictures. [This review was collected as part of a promotion.]
Date published: 2019-02-17
Rated

4

out of

5
by
Conner363
from
Wonderful!
This fridge is SO beautiful. I've had it about a month now. When looking at the reviews, the only negative I saw was that the ice maker was loud. It's not louder than the other fridges I've heard. The Fridge side is large and has many different sie shelves, which I like. I took a star off because of how small the freezer was. I was a bit disappointed that the ice maker takes up SO much space. You can't fit anything long in there. For example, the chicken that you buy at the grocery store, that's maybe a foot long, it won't fit in there. Which was disappointing. But over all, I'm in love. [This review was collected as part of a promotion.]
Date published: 2018-08-27
Rated

4

out of

5
by
ArtieSB
from
Great counter depth fridge
We bought this fridge because we wanted a counter depth fridge. The freezer space is a bit small but that's to be expected for a counter depth fridge with a ice maker and water dispenser. There is an air filter compartment in the fridge section, but the filter is not included. We didn't put one in and it's fine. You can put in a baking soda box if you really wanted to. The fridge has a nice clean look. When it's running, it's a bit loud, but I feel that most fridges are. The displays on the water filter/ice dispense are nice. It was easy to set up. Keep tightening the nut for the water line to make sure there are no leaks. [This review was collected as part of a promotion.]
Date published: 2019-03-26
Rated

2

out of

5
by
Rebecca12345
from
DON'T BUY THIS!!!!
I bought this less than a year ago when I was in a pinch and my Kitchenmaid died after only 4 years. I wanted a different brand but this was the one in stock and available for delivery without a crazy-long wait. Don't let the stainless steel food you -- this is a basic refrigerator, without any upscale features. I still find that food freezes in the refrigerator section when I've even raised the temperature to 45 degrees, and the area around the water dispense is rusting. I'd never buy this again and have contacted customer service about having these things addressed. We'll see how that turns out.
Date published: 2018-09-23
Rated

5

out of

5
by
Raserx
from
Love the in-door ice maker!
Have been installed for 1 month now, and we love all the new features that were not on our 20 year old model it replaced. The finger print resistant stainless steel is awesome! While our kitchen layout restricted us to a counter depth model, it still provides plenty of room for our family of four. The one thing I had initial questions about was that it seems to "run" more often than the older model, but all the threads online said this is true of all new energy efficient systems with assurance that while running more, the power consumed is still less than the old model. [This review was collected as part of a promotion.]
Date published: 2019-06-20
Rated

4

out of

5
by
1moresunset
from
Good value for the price
The refrigerator section is plenty roomy for a small family. The freezer is missing shelves which from other reviews was expected but not quite understood. The only crazy thing which should not be an option is to turn "cooling off" on the water ice dispenser which happened when my grandkids were visiting. I thought because we had put a lot of grocery in and it was accessed often, that the unit was trying to cool off, but to my dismay and more lost groceries, it actually meant that someone had turned the cooling off!!! I figured it out the next morning when everything in the freezer had thawed. [This review was collected as part of a promotion.]
Date published: 2019-10-22
Rated

2

out of

5
by
SanJosemom
from
Disappointed
I bought this online without being able to see it in person due to the shelter in place order. It looks nice but I don't like it. The ice and water dispenser splash and get water and ice all over. Everything in the fridge is always wet. The top shelf seems to be unable to hold the weight of milks and juices and it's the only shelf tall enough to put them on. The shelves are not designed well for storing taller items and the door shelves are not deep enough to hold many items. The freezer is small and it's impossible to organize the food. I had to stack it in big piles I don't like it. [This review was collected as part of a promotion.]
Date published: 2020-05-22
Rated

5

out of

5
by
ValerieP88
from
Love this fridge!
I bought this fridge after going almost a month fighting with the Home warranty company on my broken fridge. I opted to buy this one rather than the GE one they wanted to send me. I'm so glad I bought this one. It has extra features I love like the backlight on the paddles for the ice and water. It also tells you how many ounces of water are in whatever you just filled up from the door. It was also the only fridge that truly fit in my space. All the other ones stuck out too far. This fridge looks great, works wonderfully and is super quiet. Would recommend this fridge to anyone. [This review was collected as part of a promotion.]
Date published: 2020-02-25