Description
This Whirlpool(TM) gas dryer ensures well-preserved fabrics and has a 7.4 cu. ft. capacity, which means that there's plenty of room for large items and larger loads. The advanced sensing system uses 3 sensors to constantly monitor humidity and temperature levels by adapting the drying time accordingly, which prevents your fabrics from overdrying. The Wrinkle Shield option protects clean clothes from wrinkles by intermittently tumbling clothes for up to 150 minutes after the cycle ends or until you open the door. Also, the dryer is equipped with intuitive controls that make choosing the right cycle easy and lets you choose between 36 custom settings for optimal fabric care. Finally, 4 baffles tumble the clothes in a randomized pattern, allowing them to move more freely in the tub, which is convenient for smaller loads. It is highly recommended to use a 4" (10.2 cm) diameter rigid aluminum or galvanized steel duct with this product.
Product specifications
Flexible Aluminum Duct (12245451/FX0456MC) - Item sold separately
Reversible Door Swing (Y/N)
Duct Clogging Indicator (Y/N)
Left, right, bottom, rear
(12) Bulky items, colours, delicates, heavy duty, normal, quick dry, regular, sanitize, timed dry, towels, whites, wrinkle control
Frequently bought together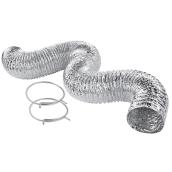 IMPERIAL
Flexible Foil Ducting with Clamps - 4" x 8'
Format 4x8'
Details
Article #12245451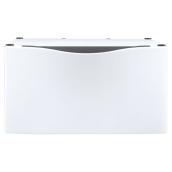 WHIRLPOOL
Pedestal with Drawer - Front Load Washer or Dryer - 27" - White
Format 15.5x27.3x27"
Details
Article #30005831
Is this unit stackable with WFW75HEFW? Thanks
Hi There, Yes, it can be stacked with this model using a Universal stacking Kit model number W10869845. Thanks for your question, Whirlpool Central Advisors.
Date published: 2020-08-05
Does this come with the lp conversion kit
Whirlpool Gas Dryer with Wrinkle Shield - 7.4 cu. ft. - White
is rated out of
5
by
162
.
Rated

5

out of

5
by
Michael
from
Awesome dryer/wonderful Whirlpool customer service
I absolutely love all of the features this set has to offer. We bought the matching stackable washer and dryer and it is our first experience with front loaders, so we had a couple of user errors. Customer service was amazing and we were able to connect with the engineers at Whirlpool to fix our issues. This set does a great job at cleaning and drying our laundry. There are so many settings to use and you have the option to turn off the Eco mode if you need something dried a little faster. I highly recommend this dryer and Whirlpool as a whole! Plus they are made in America :) [This review was collected as part of a promotion.]
Date published: 2019-01-18
Rated

4

out of

5
by
Rollingmom
from
What a difference 12 years make.
I've had my new Whirlpool gas dryer for about three weeks. I had my Whirlpool Duet for about 12 years. I like it. It works just fine. Some things I've noticed that are not necessarily improvements...the lint trap seems very chintzy and it feels like I could break it every time I go to put the lint trap back in the holder. My old Whirlpool Dryer came with a drying rack that went in the dryer...this one did not. Other than those two things, the dryer definitely dries the clothes!! [This review was collected as part of a promotion.]
Date published: 2019-10-21
Rated

4

out of

5
by
Pat
from
Whirlpool 7.4-cu ft Stackable Gas Dryer review
This dryer works well and seems to be energy efficient. There are multiple combinations of drying possibilities. The only issue I have is that the controls are extremely sensitive. If you just lightly touch them while folding laundry etc. the controls will light up and make a sound. The dryer will not actually start a cycle however unless you would hold the start/pause control and see the 3-2-1 countdown. [This review was collected as part of a promotion.]
Date published: 2019-03-24
Rated

3

out of

5
by
gmerc04
from
Not as good as my previous Whirl
I just purchased this whirlpool and I am not that happy with it. I replaced it with an older model which lasted 10 years. This dryer does not dry as good as my old one, nor does it have a sensor which when you program your clothes to dry if they do not dry in the allotted timeframe my old dryer would add time automatically until they were dry. This dryer does not have that option.Also when you press start you have to hold the key until it reads 3-2-1, which is annoying. I have also bought whirlpool, but i am not so sure in the future i will. [This review was collected as part of a promotion.]
Date published: 2019-06-21
Rated

5

out of

5
by
MEOberg
from
Quality Dryer
I love this dryer! The display works effortlessly with just a slight touch. There are multiple settings and options. This dryer does an excellent job. Although it doesn't have an inside light, the dryer door is large which helps light up the inside. I highly recommend this dryer. [This review was collected as part of a promotion.]
Date published: 2019-11-01
Rated

5

out of

5
by
Jerry
from
Very nice dryer
After having a dryer last 23 years, we needed a replacement. Whirlpool had great reviews and the price seemed right. The dryer is very quiet, has multiple settings to get the job done and can even handle a king size comforter. [This review was collected as part of a promotion.]
Date published: 2019-10-16
Rated

4

out of

5
by
secatt
from
Good Dryer, Bad End Signal
I've had this new dryer for over a month now. The drum is big, a feature that I appreciate, as it holds a lot of stuff, even more than one wash load. I bought it to replace my old Whirlpool Dual Sport dryer. I was delighted that the new dryer fit well on the old dryer's base drawer, which saved me from having to buy a new one. The only thing that should be changed on this dryer is the "end cycle" signal, which is an anemic chime. There are three volume levels to the chime, which are, basically, (1) Nearly inaudible whisper, (2) Faint whisper, and (3) Whisper. No way can I hear it anywhere outside my laundry room. The levels, which you can set, ought to be (1) Whisper, (2) Shout, and (3) Klaxon. (I would set mine on klaxon!) On the highest level, I should be able to hear the signal from any room in my house, but I can't. [This review was collected as part of a promotion.]
Date published: 2019-08-19
Rated

3

out of

5
by
Lsbwell
from
Adequate
This is an average washing machine. It does what it's supposed to do. It I don't add an extra spin and drain cycle the clothing is to wet to transfer to the dryer. it has the feature where you can add laundry detergent in bulk and it will add what is needed per load. I don't use it as I use different detergent for different types of clothing. I also find it annoying to have to hold the start button for a count of 3 to turn it on ! I honestly purchased this model because I needed a new one immediately and this was the only one in stock. [This review was collected as part of a promotion.]
Date published: 2020-09-20