Description
This Whirlpool Energy Star bottom-freezer refrigerator has plenty of space to store your fresh and frozen foods. A full-width fixed shelf and four adjustable half-width shelves, along with six door bins and two humidity-control crispers, let you organize and access items easily. The Accu-Chill(TM) temperature management system monitors and adapts temperature to control cooling performance efficiently. The replaceable FreshFlow(TM) produce preserver filter extends the life of produce up to four days longer. The fridge also includes LED lighting and an adaptive defrost sensor that monitors freezer temperature and runs the defrost cycle only when necessary to optimize performance and save energy..

Ecological Attributes
This refrigerator is ENERGY STAR® certified to save up to 10% in energy.
Product specifications
Accu-Chill(TM) temperature management System, FreshFlow(TM) produce preserver, adaptive defrost
Reversible swing door, 6 door bins, 2 humidity controlled crispers, 1 drawer
Reversible Door Swing (Y/N)
Number of Refrigerator Shelves
Frequently bought together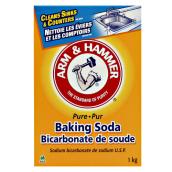 ARM & HAMMER
Baking Soda
Format 1KG
Details
Article #53975001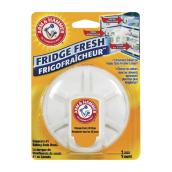 ARM & HAMMER
"Fridge Fresh" Refrigerator Air Filter
Details
Article #53975000
What is the width of this refrigerator?
Hi There, This fridge's width is 29 3/4 inches. Thanks for your question, Whirlpool Central Advisors.
Date published: 2020-08-05
What is the width?
Hi Kim, This fridge's Width is 29 3/4 inches. Thanks for your question, Whirlpool Central Advisors.
Date published: 2020-08-05
does this model have optional left or right side handle?
Hi Civi44, The door on the model #WRB329DFBB is reversible Hope this helps Whirlpool
Date published: 2019-09-30
Can you switch the door to open from the other side?
The delivery people switched the door for me. What you don't know when you buy it is they use white Phillips head screws to fill in the holes. Not a very nice look. Also leaves some holes on the top of the fridge. I called Lowes to see if there should be some type of little plugs.  They never got back to me.  
Date published: 2019-07-09
is the freezer wire baskets or solid?
The baskets are wire pull-outs.
Date published: 2019-06-04
Is this model a propane fridge ?
Hi garry 450, no this fridge does not use propane for any of it's functionality. Thanks
Date published: 2018-10-01
AM I able to add an ice cube tray maker in the freezer?
Hi guitchick! Yes this model can accommodate an added Ice Maker Kit by the part number IC13B. This will give you the ability to easily make and store more ice than ever possible with a regular ice cube tray. Thank you for your question!
Date published: 2018-07-23
Does this fridge have rollers for easy movement?
Took delivery of mine just 2hrs ago .... sure does have rollers. Well laid out shelving and storage compartments. So far .... love it and highly recommend this fridge
Date published: 2018-06-06
Bottom-Freezer Refrigerator - 30" - 19 cu. ft. - White
is rated out of
5
by
288
.
Rated

5

out of

5
by
Loves Ice Cream
from
Great Unit!
I really like the bottom freezer and top fridge. I had never had one before so I was not sure if I would like it. Temp stays fairly consistent throughout the fridge, I have only one spot in the back on the top shelf I have to be careful of freezing my lettuce. As a surprise bonus feature when the fridge door is open there is a ledge on bottom in front of crisper drawer which is great when I am loading things into the fridge or have to move something. The only downside for me is that the baskets in the freezer are hard to set an ice cube tray on. When you shut the drawer its easy to spill the water out of the tray.
Date published: 2019-08-22
Rated

4

out of

5
by
Rowrbazzle
from
So far, a good solid fridge
Our old fridge was in its death spiral, and we had several requirements for a new one -- specifically, (a) that it not be too expensive and not include a lot of bells and whistles that we did not want or need, and (b) that it be white, as not to clash with all of our other perfectly functional kitchen appliances. We also wanted to try a bottom freezer, as the top freezer on our old fridge was often difficult for my wife to access. With most new fridges now offered only in stainless steel, there weren't many options available to us, but the Whirlpool 19 c. fridge fit our specifications perfectly. [This review was collected as part of a promotion.]
Date published: 2019-10-07
Rated

5

out of

5
by
Xena1123
from
Freezer on bottom
I love that the freezer is on the bottom. My vent for the heat is right beside the fridge. So with the fridge part being on top the heat won't make its way in there come winter time. Freezer isn't open as often. I also love the fact that it has its separate temperature control. Now for the shelving on the door, they are strong and very well made. That was one thing I really looked at when looking to buy. Other fridges the shelves where thin plastic and break easily. This I know because our last fridge they all broke. Crispers are very well made as well. I give this this fridge a 5 star! Thanks for a great product. (This review was collected as part of a promotion.)
Date published: 2018-08-11
Rated

2

out of

5
by
Rosasev
from
Freezer very bad
We were limited by space and colour for a fridge, so were happy to find this one and bought quickly. As it turns out, the freezer has NO accommodation whatsoever for ice cube trays, which one would assume is a necessity in a kitchen freezer. Also, the drawer has no tangible indications for being closed; therefore, many times, it has not been closed properly, causing a huge build up of frost, etc. Despite the appearance of being a large freezer compartment, it does not hold much at all. I would NOT recommend this fridge - it is very disappointing.
Date published: 2018-04-08
Rated

5

out of

5
by
Tessierrose
from
Bottom freezer saved my sanity!
We purchased this fridge and hopes to keep our lives a little bit more organized when it came to our food. Well, this fridge has delivered! All of your food is visual and at I level with the fridge on top, and the bottom freezer is perfect for organizing all of our different sized frozen products. The black is sharp , And very easy to keep clean. It looks great in our small kitchen and doesn't stand out like our old white fridge. Highly recommend to anyone looking to make their lives easier with the standard sized fridge. Ps- it is super quiet too! (This review was collected as part of a promotion.)
Date published: 2018-05-31
Rated

2

out of

5
by
EdTa
from
Disappointed
I am not happy with the new fridge. In order to keep the refrigerator at the desired temperature, 2 degrees Celsius, I have to keep the temperature setting at 7, the coldest rating. In the future I don't have any room to move to make future adjustments to keep the desired temperature. Also don't like that there is not egg holder, I could purchase one but the fridge should come with one. I don't like the fact that there is no "stop" on the fridge door swinging out too far and there is no auto close feature on the door also. I am not happy with the fridge and if I had to do it over again I would not purchase this product. I would not recommend this product [This review was collected as part of a promotion.]
Date published: 2019-11-08
Rated

5

out of

5
by
Khepry
from
Great fridge
I bought this fridge a month ago and I am so happy I did. I had to replace my old fridge as it was not working anymore. I did not have a lot of money to spend and this fridge was just what I was looking for and so much more. I love that the freezer is on the bottom. There is so much space to store things. Plus, a big bonus is that things in the freezer are now organised and so much easier to find. Also, nothing falls on me as I look for items! Yay! It is Lso easy to find things in the fridge as things are at eye level. No more lost carrots in the back of the bottom of the fridge. As you can see I live my new fridge. I hope it continues to bring me joy! (This review was collected as part of a promotion.)
Date published: 2018-09-24
Rated

5

out of

5
by
Jani1952
from
Has a great sleek design
We purchased our Whirlpool Refrigerator a month ago and we love it. It is so quiet, keeps the food in both the fridge and bottom freezer perfect. We love the bottomed freezer as it allows you to totally see everything that is in the refrigerator. Love the adjustable shelves on the door and inside the fridge and how sturdy they are. We have also purchased the whirlpool washer and dryer 5 years ago and they are a beautiful pair and have worked wonderfully, we would recommend whirlpool appliances to everyone. (This review was collected as part of a promotion.)
Date published: 2018-10-03