Description
This Whirlpool® range hood helps you to keep the noise down in the kitchen with the quiet operation of 73 dBA (7 sones) at the hood's highest speed,57 dBA (1.9 sones) at low speed. The powerful variable-speed and 350 CFM motor provide the right amount of ventilation for every meal you prepare. Thanks to the FIT system, you no longer need to measure, cut and trim to get the perfect fit every time. By not having to connect it to outside air, this hood can be installed almost anywhere, including a condo. The hood is backed by a 1-year limited warranty on parts and labour.
Product specifications
Coal filter for odours - Mesh filter for grease diswaher safe
57 dBA (1.9 sones) 73 dBA (7 sones)
1-year warranty parts and labour
Rectangular 3.25'' (8.26 cm)
Frequently bought together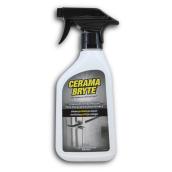 CERAMA BRYTE
Stainless Steel Cleaner
Format 474ML
Details
Article #8307003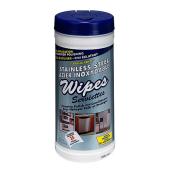 CERAMA BRYTE
Stainless Steel Cleaning Wipes
Format 35/PK
Details
Article #8307005
Hi there, What is the depth of the top of the unit (before the curved dip in the unit)?
Hi Tervon, thank you for your question. UXT5230BDS has a Depth(IN,inches) 18 5/8. We do not have a measurement available for the Hood before the curve. It does require at least 12" cabinet depth for installation. This unit can be setup for recirculation or can be exterior vented. I hope this helps! Have a great day!
Date published: 2019-04-10
It says is has three fan speeds but the buttons (2 of them) only show Med and high? Please advise?
Hi JDS1972, UXT5230BDS offers 3 fan speeds. The blower buttons turn the blower On/Off and control the blower speed and sound level for quiet operation. The speed can be changed anytime during fan operation by pressing the desired blower speed button. Left most button is for Light control, buttons next to that are for fan speed control (ranging from minimum speed (leftmost) to highest speed (rightmost)). This unit also keeps noise down in the kitchen with the quiet operation of 73 dBA (7 sones) at the hood's highest speed with a recirculation option. I hope this helps. Thank you for your question!
Date published: 2019-03-30
Whirlpool 30'' Undercabinet Range Hood - 350 CFM - Stainless
is rated out of
5
by
33
.
Rated

2

out of

5
by
AdrianGarstea
from
My wife is dissapoited
1. Good suction, 350 CFM, for 1 fan, but even 1 powerful fan is not enought if is just 1 filter; 2. Charcoal filter bought separately at store, i'm using Broan filter, it's the same as whirpool's size, fitted well, but i lost some time to figure out it; 3.Prepare to buy electric cable, it's not included; 4.No brand name on device; 5. One bulb light burned after 1-1.5 month. I would return it back but my work and time lost to install are irredeemable. I don't know how any issues i would have with a 400-500 range, so, in general, this one is working well, even with small described issues. 2 STARS, because of bad quality bulb.
Date published: 2017-01-09
Rated

5

out of

5
by
Anonymous
from
Easy on the eyes, easy to install
Since I didn't have a vent to outside, I was looking for a stylish range hood that had the functions I needed; variable speeds, good lighting. But my first choice was that it as a recirculating hood. The underside of this range hood, has a grease filter, but since I was using it as recirculating hoot, I ordered a set of carbon filters as well form Whirlpools website. What is really unique are the air vents on top of the hood, you don't even see them, they certainly push out a lot air. This Wirlpool range hood met all my needs and if I ever put in a vent to outside, it can easily convert to handle that as well.
Date published: 2015-06-14
Rated

2

out of

5
by
Bigwillsmall
from
Light is only on/of
I was disappointed to find the light had only on or off, no dim mode - this is sold as a premium model. I have not gotten it installed yet but I already added some sound deadening and installed a dimmer in the power line, which also allows infinite variation of the fan speed. For what they want for this thing it should have these things built in. Bad value compared to a $200 range hood microwave that has a dimmer AND a microwave. I expected more. Also it's unfortunate that they don't have these plugged in at the big box stores so you can see how they work.
Date published: 2016-05-23
Rated

3

out of

5
by
anonymous
from
Specifications deceiving...
We choose this fan because the specifications said CHARCOAL FILTER....YES. However, the charcoal filter is an OPTION that must be purchased from a distributor. Currently it is on national backorder until January 16th...MAYBE..... When it becomes available, it will cost another $8.99 to ship it (the filter is $24.99 plus tax +shipping ). When we called customer service we automatically got transferred to the distributing company that supplies the options. Very misleading specifications. Hope the fan works well...feeling skeptical.
Date published: 2015-01-09
Rated

4

out of

5
by
CareGiver
from
Good Purchase
Purchased product thinking it would look like the stainless steel appliances I have in the kitchen. It is shinier and looks much better than I expected. Looks more like chrome maybe, but it is a nice fit in between dull stainless steel and chrome. Really am pleased with the looks. Quality looks, not cheap looking. Can use stainless steel cleanser on it and it works fine (Hopes Perfect Stainless). The CFM provides a good outtake at the higher rating. However, when you turn it up, it is annoyingly loud on the high setting. Still loud Sones on the Medium setting as well. If you don't mind the noise, I believe it does a good job of recirculating the smoke and pulling up the grease into the mesh filter. I did not expect to have to unscrew a screw to get to the filter, but that is what you have to do before you can get the filter out for cleaning or to insert a new one. The clip directly in front of the mesh makes you think that you can just slide it forward and the mesh filter will conveniently drop down for removal -- this is not the case. It is a multi-step process: get a screw driver, unscrew, slide the clip, reach for the filter, remove. Once the filter is in again, use the screw driver to tighten. The vent has basic features; just push on/off for light. Off/on for turning on the fan. Push medium or high for more intake. The design is basic. Other vents on the market are higher end with electronic controls, automatic higher intake when more smoke or higher heat is indicated - this one does not have all of that. The quality is good or better based on this vent's higher CFM. For recirculating vents, the norm seems to be around 200 if that. This vent has a CFM of 350 which you can use for heavy duty cooking around the holidays and such. The lights on this vent are GREAT. I can cook in the dark or without turning on my overhead kitchen lights. I love the lights because it brightens up the entire area and enhances my vision for my needs in cooking. As a night light, it lights up my small kitchen area well. In fact, if you have a 10 x 10 kitchen or smaller, you might find that the lights are too bright to use as a night light depending on your preference. Overall, this is a good product and because of the higher CFM than many re-circulating vents, nice shine as an overhead vent, and high light output, I would recommend this product.
Date published: 2015-10-05
Rated

5

out of

5
by
Barnswallow
from
Outstanding Looking Range Hood
I bought this Stainless Steel Range Hood about 3 weeks ago to replace an older hood and to match the new Stainless Steel Range which we also purchased. They installed it the next day. Installation was very fast and installer was very capable and he even commented on its looks as he had never seen one before. Fit was perfect, looks Outstanding. Better than the previous model. Wife is Extremely happy with it and takes great care in keeping it looking like new. Very glad to have made this purchase and everyone who has seen it have commented on it.
Date published: 2015-06-28
Rated

4

out of

5
by
Heidi
from
Great hood when bought on sale, size not correct
We bought this to replace an old microwave over our range, it was exactly what I was looking for! We got it on sale with veteran discount for $189 which was an amazing price. When we got it home and ready to put up, we realized that the width was not 29.9375" as specified, it was a hair over 30". It did not fit the 30" space as promised. THANK GOODNESS my father has been doing carpentry for 40 years and did some very clever tricks to our cabinets to get it to slide in perfectly. YAY DAD! It looks sleek and simple which was what I wanted. It works well and the only thing I would change is the lights, they get so so so hot that I would never leave them on after cooking. I love how it doesn't hang down or look overly designed. It really sucks out the smoke and odors out quickly and it is much quieter than the old microwave. I am very happy with it, if my dad had not been able to fit it in I would be VERY disappointed.
Date published: 2016-09-30
Rated

4

out of

5
by
TL
from
Gets the job done
I have this rangehood for two weeks. The venting seems powerfully at the high setting. The lower speeds are quieter but not as powerfully. The lights are bright but wish they were LED. [This review was collected as part of a promotion.]
Date published: 2016-08-16