Description
With its 6.0 peak horsepower motor, the Shop-Vac® Wet/Dry Vacuum makes it easy to clean up your workshop, garage and other areas. The wet/dry vacuum features a 12-gallon (45 litre) capacity tank is made from corrosion-resistant stainless steel and has heavy-duty wheels for easy mobility. Three extension wands are included to help you get to those hard to reach places, while the floor nozzle, utility nozzle and crevice tool make sure you have the right accessory for the task at hand. 3-year warranty.
Product specifications
Removal of dry and wet debris in garages, workshops and basements
3 extension wands, floor nozzle, utility nozzle, crevice tool, hose, disposable filter bag, cartridge filter
Frequently bought together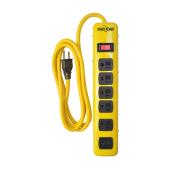 YELLOW JACKET
6-Outlet Power Bar with Surge Protection - 6' - Yellow
Format 1.8M
Details
Article #32045053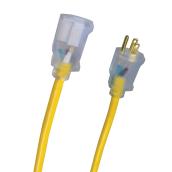 WOODS
12/3 Extension Cord - 25' - Red
Format 12/3 25'
Details
Article #74045239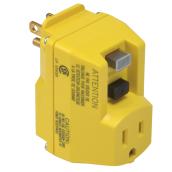 YELLOW JACKET
Single Outlet Portable GFCI Adapter - 1800 W - 15 A
Details
Article #32045050
What filter model does this use? I have a similar Craftsman 9.29927 120V 30L that needs a new filter and this looks comparable to try.
I purchased a Shop Vac Type F for dry use only in size 10-14gal and 37.8-53litres capacity with 3 filters per bag. It was purchased from Lowes but as you have a Craftsman brand shop vac you can purchase any filter brand within the above size allowances. Hope this helps.....enjoy your shop vac....I only wish I had purchased one sooner....would have made clean up an ease and saved myself a lot of time in the process.
Date published: 2020-08-24
Can this be used to clean the sofa or car?
Yes it can , it works great cleaning the car and for the house just be sure to buy the correct shop bags when using it for drywall dust or it can damage the motor
Date published: 2020-08-24
When using the shop vac for water do you take out the paper filter
The unit does not come with the foam sleeve for water pick up. You need to purchase seperate
Date published: 2019-02-05
Can this be used for fireplace ash?
This can be a dangerous thing to do, as you could suck up hot embers you did not notice. Let the ash sit for a good period of time. Then put bag in metal pail .
Date published: 2019-04-15
My unit just failed. How do I exercise the three year warranty? 
Sorry to hear that it died...mine is still working great...I even use it to vacuum my car year round...I hope when you find out about the warranty please let us know how well it goes
Date published: 2019-06-05
Does this vacuum allow to let water out as it is being vacuumed (resulting in draining something), or does this exit hole need to be closed while the vacuum is on?
The exit hole need to be closed while the vacuum is on.
Date published: 2018-04-29
Diameter of hose?
1 1/4
Date published: 2020-08-24
How does this vac do with Drywall Dust or Dust in general?
Great Just use fine dust bags with cartridge filter.
Date published: 2018-06-21
Wet and Dry Vacuum 6.0HP - SS - 12 gallons
is rated out of
5
by
389
.
Rated

3

out of

5
by
BigDboi
from
great shop vac, but!
First off, this is an extra Canister Vacuum I picked up because it was on sale. I love the power and the size but there are 2 minor things wrong with it. First, fully assembled and empty, the top won't stay on when I pick it up to carry it up or down stairs. Most other canisters have 3 latches, this one has two. The wheels work great if you're just rolling it around. secondly the hose clogs easily. I have to stop an evacuate the hose for small pieces of wood and puppy mess. I have a smaller, less powerful, canister that I don't have these issues with and use it for the same jobs. All-in-all it is still a pretty good canister vacuum.
Date published: 2015-07-19
Rated

3

out of

5
by
JohnnyRockets
from
1-1/4" Hose
Plenty of suction... Fair quality construction for the price point... The problem is the hose diameter when cleaning up wood chips and saw dust... The hose continually plugs up where the vacuum hose coronets to the hose fitting just before they connect into the tank. The 'lip' on the inside of the fitting acts as an obstacle where debris hangs up creating a jam and plugging up the hose... My solution... I purchased a 2-1/2" hose and fittings... Works great now... Hasn't plugged up lately! Great filter bags handle the finest dust particles including concrete dust!
Date published: 2015-12-19
Rated

4

out of

5
by
dirtrider
from
Worth the money if on sale
First, let me say that for the average user this was a steal of a deal on black friday. This thing is more than what most people will need for occasional garage work area clean up. When I'm stationary, I have no complaints about this vacuum even with the smaller hose size. If you catch it on sale, get it. The only improvement I would suggest it to change the design of the red clips that keep the lid on. I often (weekly) carry this shop vac out to my workshop, out to my garage and down to my basement. The red clips that are supposed to hold the lid on this vacuum have caused several messes. You really have to make sure they are snapped into place and I still have a tendency to unsnap one while carrying the vacuum causing me to lose the container and spill the contents.
Date published: 2015-03-24
Rated

3

out of

5
by
gorj
from
Shop Vac Chinced Out
The Shop Vac could have been very good, but they chinced out when they only included a 1.5" hose and accessories. With all that sucking power one really needs a 2.5" hose and accessories. The smaller hose gets clogged up to easily. Also Shop Vac needs to do a rethink on the design of the power cable holder and the accessories holder. It needs to be attached to the tank and NOT the top unit. When ever you pull off the top to clean/change the filter or empty the tank the power cable and accessories have to be removed. Another issue that several Shop Vacs have is that the latch holding the top to the tank often does not hold when lifting the vacuum. Finally the casters are a joke. Shop Vac should use decent castors so a loaded vacuum can be moved round without to much effort.
Date published: 2015-06-19
Rated

3

out of

5
by
Throck
from
Would not buy another one like it.
The vac has great suction but the hose is too small. The cord holder is misplace and must be un-wound to remove the top. The clasps that lock the top in often come undone if you try to carry the unit by the handle. The lid feels loose even with the clasps locked. I bought the unit on sale for 45 dollars during the 4th of July sale so at that price it was an okay deal.
Date published: 2015-09-06
Rated

1

out of

5
by
Phil
from
2nd time around.
I bought the vacuum on sale and for the price it's a mediocre value. The hose is too small and the bag feature reduces the volume that the vacuum can hold. The lid of the vacuum is constantly coming off when I pick up the vacuum by the handles. The latches that hold the lid on come loose constantly. The suction is ok, however I believe that it will probably drop if I were to switch to a larger hose. This is the second vacuum that I have purchased. I had to return the first one do to an engine malfunction. Not really sure what happened but the vacuum motor burned up and melted the plastic fan. I really wish that I had purchased a different vacuum. I base my decision mainly on the fact that I was replacing a prior Shop-Vac brand and had had good results with it. For my next vacuum I will most likely NOT purchase a Shop-Vac.
Date published: 2016-11-21
Rated

2

out of

5
by
PeglegD
from
Not so hot
Received this as a Christmas present. Was told it was on sale black Friday for a great price now I know why it was cheep! The hose diameter is WAY too small only 1 1/4 inch and im not too keen on the bag thing! We couldn't even pick up Christmas tree needles because it clogged every two minutes! The stainless container is nice and has a long hose and nice attachments but it just doesn't work for what I need it to do.
Date published: 2015-01-03
Rated

4

out of

5
by
atrain68
from
Two Thumbs Up
[This review was collected as part of a promotion.] Previously I bought one of the shop vacuum's from the orange box store and it failed after one use. Instead of plastic, I went with the stainless steel version of the Shop-Vac. The caster wheels roll smoothly and everything you need is included including a dust bag, which surprisingly the competitor's product didn't have. The only nitpick I have is the hose diameter could be wider so it collects wood chips and other debris more effectively, but don't let this deter you because this product sucks up saw dust like crazy. Another plus is there are tool holders built in on the lid so you can keep everything together
Date published: 2018-08-06