Description
The Summit(R) 400 all-season cover from Weber will effectively protect your grill from outdoor elements for many years to come. Drawstring bag fastens inside of grill cover using hang loop and touch fastener into seam, keeping items together but out of sight when covering a grill. This lightweight, durable and extreme cold resistant cover comes with a 3-year limited warranty.
Frequently bought together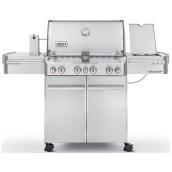 WEBER
Weber Summit S-470 Liquid Propane Gas BBQ - 88,800 BTU - 580 sq in - Stainless Steel
Format 88800BUx580"S
Details
Article #16665667
Weber Summit® 400 Barbecue Cover - Nylon - Black
is rated out of
5
by
46
.
Rated

2

out of

5
by
bcardamone
from
Summit Grill Cover
I purchased this two years ago for my Summit 400 series. The cover appears to be made well and fits nicely on the grill. I didn't think I would like the velcro straps on the ends, but it is quite windy where I live, so the ability to cinch the ends (to prevent the cover from blowing off) is nice. My complaint about the cover is that it is just not very durable. As I said, I've only had the cover for two years, and during the two years, I have cycled my grill from being on an outside deck, exposed to weather, to being stored in a three season room not exposed to weather. It has seen probably no more than 13-16 months of outside weather. During that time the cover has dramatically faded, and has dried and cracked in many areas, now allowing water to leak in. I didn't expect ths as my last grill cover, for a Kenmore grill, lasted for 10 years, and was still in good shape when I got rid of the grill and replaced it with the Weber Summit. I am actually purchasing a second cover, but I am now moving my grill to my garage where it will not be exposed to any weather or sun. I just expected a lot more out of the cover, particularly at the price point of the cover, and the price point of the grill that it is intended to protect.
Date published: 2011-05-11
Rated

3

out of

5
by
Shadre
from
Disappointing
I had to buy this cover because the others would not fit my older Summit "Gold" grill. But this one is about half as thick as my older one that lasted many years. I doubt this one will last very long. I also don't like that it is so long from top to the bottom. It hits the ground. Yes...it's not the cover designed for my grill but they need to offer one that fits my grill!! They manufactured it. The price seems very steep for this flimsy cover. Only time will tell if it holds up to the extreme weather of Memphis... .scorching summers and cold rainy winters. I'll look at other brands next time. I waited too far into the season to find a cover that fits what seems to be an irregular sized grill.
Date published: 2020-07-01
Rated

5

out of

5
by
Love the quality
from
Weber Premium Grill Cover
Great grill cover. Remains soft and easy to take on and off in cold weather - fits the grill perfectly. Water just rolls off. Perfect protection for my Weber Summit E-470 Grill.
Date published: 2018-08-19
Rated

5

out of

5
by
Grillmaster Stormy
from
Better design than before
My Summit Grill is 10 years old. The cover needed replacing as it had cracked and faded. I liked the original vinyl cover but thought it to be too heavy. This new cover is lightweight and pliable; easy to install and remove. It's too early to compare its durability to the original but I like it for now.
Date published: 2019-06-12
Rated

5

out of

5
by
Felix44
from
Great Cover
I bought this about a month ago for a new grill. I have one that is approximately 10 years old on another grill that I own. Based on how well the old cover has kept my grill clean and protected it against the weather I purchased the new one for the new grill.
Date published: 2018-09-06
Rated

3

out of

5
by
Maverick1
from
Summit Series 400 Grill Cover
Product fit nice, but not as heavy duty as the one I purchased 5 years ago from Weber. The selling price is too high based on the new construction.
Date published: 2020-05-13
Rated

4

out of

5
by
samscover
from
New and Improved
I purchased a Weber-Stephens Summit series grill over 4 years ago and purchased a cover with it. At that time the cover supplied seemed sturdy with the exception that they had 2 vents on top of the cover, which I felt was poor design if you were serious about protecting your grill from the elements. Over time that cover became faded, hard and brittle. This new cover seems much better made without the vent holes on top. It appears well made and fits my Summit Grill perfectly.
Date published: 2019-08-19
Rated

5

out of

5
by
Sullyjr
from
Weber Cover - Summit
Perfect replacement for my last Weber cover. Fir was perfect. Arrived rather quick to my house after I ordered it online.
Date published: 2020-05-10