Description
The Weber Q(R) portable cart features a front-load design that allows you to slide the grill back and lock it securely in place. This cart includes an integrated carry handle, 2 durable wheels, 2 tool hooks and a strap to keep the grill secure on the stand in transport mode. This cart is suitable for Weber Q(R) 1000 and Q(R) 2000 series only. This product is covered by a 2-year limited warranty. Assembly required.
Product specifications
Compatible with Weber Q(R) 1000 series and Weber Q(R) 2000 series grills
Frequently bought together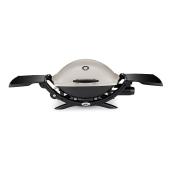 WEBER
Weber Q(R) 2200(TM) Propane Gas Barbecue - Portable - 12,000 BTU - 280 sq in - Titanium
Format 12000BUx280"S
Details
Article #16665728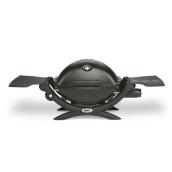 WEBER
Weber Q(R) 1200(TM) Propane Gas Barbecue - Portable - Black
Format 8500BU 189"S
Details
Article #15895054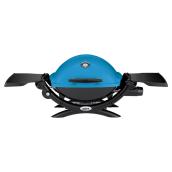 WEBER
Weber Q 1200 - Portable Liquid Propane Gas Barbecue - 189 sq.in. - Blue
Format 8500BU 189"S
Details
Article #15895031
 could i use the stand from a weber 3200 under the 2200. i have a perfectly good stand but need to replace my 3200 bbq with a 2200 would it fit into that stand? the one recommended for the 2200 is just too flimsy
I'm not sure if your bbq would fit the stand you have but I have the Weber 1400 with the stand as suggested and it works just fine for me.  This will be my second season using this combination and I love the fact that it is so versatile and can be transported so easily.
Date published: 2019-04-08
Will this cart work with the older Weber Q 20 grill that has "Weber" written on the lid handle?
Not sure what size your grill is but to fit my grill to the cart I got some 1 1/2"x 1 1/2" alum. angle and bent the ends in to fit my grill and then bolted to the cart and it works great. Gary A.
Date published: 2018-09-09
Will this cart work with a Q200?
Weber Q(R) Portable Grill Cart - Black
is rated out of
5
by
125
.
Rated

5

out of

5
by
Queball
from
Great Cart-Owned it for years !
I bought this cart for my original "Q" gas grill when there was only one version! I have replaced the grates but nothing else! The cart has been terrific! It's just the right height and I do not find that it is poorly made or that it wobbles! I can store two 20lb. gas tanks underneath if need be. One in use and one as a spare, as I use the special adapter for the large tanks for the "Q" grill! I use the "Q" cover and keep every one protected from rain and snow on the deck. Could not ask for more until I move to and apartment, then the cart cover and side tables go with me to join an electric Weber to become an E-griller!
Date published: 2018-08-15
Rated

1

out of

5
by
Darren
from
I cant believe Weber put their name on this
This thing is a piece of junk. I got this with the Weber Q1000 series electric grill. This was the only cart that was available on the Lowes site I didn't even care if it moved. I just needed something to put this thing on so I got this. First if you are grilling it sits real low. Its under my waist and I am only 5-10. Second the thing is not that sturdy. If you are grilling and you are flipping some meaty items it will shake. The only pro to this if you call it one is that it has wheels to move around. But since I don't need that its not a pro for me. If you are looking for a sturdy cart or stand this is not the one to get. Its going back right now.
Date published: 2016-05-28
Rated

1

out of

5
by
KJames
from
Cheap, Flimsy and Unstable - Big Mistake
I just bought this cart for my new Q2200 and it's hard to describe how disappointed I am with the quality. The cart build is cheap and is extremely wobbly—your bbq will be moving around a lot while you grill. I'm taking it back today. Worst part is that I sold my old Q1000 and portable cart (had it for 8 years and it was great) to "upgrade" to this. I think this is a perfect example of a company seeing how little they can spend to produce their products. Congrats Weber, you built a cheap overpriced product and squeezed out a higher margin at the expense of your customers. Weber has just lost me as a customer and I'm not saying another good word about them.
Date published: 2020-06-11
Rated

5

out of

5
by
DaniB55
from
Not too shabby
I bought this to go with my new little Weber grill, I can't remember the model number. But it's the smaller one that comes in different colors; I got the green one. This little cart is wonderful. I don't feel it's worth $70 per say. It's very easy to put together and very easy to use. It's lightweight so not too heavy to lift in and out of the vehicle with the grill on it. But tips from side to side easily if you run over anything on one side, so be careful and follow the instructions to remove the grease container before moving unless you want a mess all over your cart. I love the fact it folds flat for storage when you don't have the grill on it. Only takes up the width of the wheels basically.
Date published: 2015-07-22
Rated

2

out of

5
by
Damion
from
Great concept, poor execution
I bought this cart to go with my Q2200. I have always loved Weber and their high quality products. This is NOT one of them. I like the ability to break it down with the grill locked into place. Easy to tote around and lift back into upright position as well. The problem is when it is extended and being used on flat level ground, the cart is so flimsy. It sways side to side and front to back when scrubbing the grates or flipping burgers etc. It feels so cheaply made and feels like it may just crumble under the weight of the grill itself. It is top heavy with the grill on it and I will be searching for an alternative.
Date published: 2019-10-02
Rated

5

out of

5
by
Gardennovice
from
Great..Portable.. Our camping grille companion!
Bought the grille, then bought the cart..works great...lightweight..plan to take it with us fulltime RVing in a year...
Date published: 2015-06-23
Rated

1

out of

5
by
Molister
from
Assembly is a nightmare
Try assembling this cart using the "instructions". There's more pages in different languages explaining the product liability than how to assemble the cart. The photos-only are very confusing; no written step-by-step instructions. Had to take it back and have the hardware store make an attempt at assembling it. Even tried to locate a YouTube video on how to do it....nothing. I'd recommend Weber provide a link to a video on how to assemble the cart...step-by-step
Date published: 2019-02-07
Rated

1

out of

5
by
Michael987
from
Very Disappointing!
Weber should have known better when releasing this product. It is wobbly, weak, does not hold the grill as securely as needed and does not match the strongly built look and feel of the rest of their products. It does not feel like it will last very long. A much stronger solution is needed to provide reliable and confident towing across terrains and using when standing still. I will use an alternative towing solution and have no problem using the grill on the ground or a picnic table.
Date published: 2018-07-08