Description
6 stainless steel burners with a total of 60,000. A 12,000 BTU side burner. A 10,600 BTU infrared rear burner. A 10,600 btu sear station burner. A 6,800 BTU smoker burner & stainless steel smoker box. Total cooking area of 769 sq.in. Snap-jet individual burner ignition system. Stainless steel flavorizer bars. Stainless steel cooking grids. Limited warranty.
Frequently bought together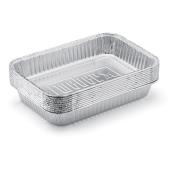 WEBER
Weber Disposal Drip Pan - 10/Pack
Format 8.5"x6"x10PK
Details
Article #1666312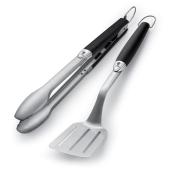 WEBER
Weber Set of 2 Barbecue Tools - Stainless Steel
Format 2PC
Details
Article #15895007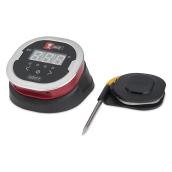 WEBER
Bluetooth Digital Thermometer - iGRILL 2
Details
Article #15895078
Does the bbq come with the rotisserie?
Hello, Yes, the Summit S-670 does include a rotisserie. Thanks!
Date published: 2018-05-04
Natural Gas BBQ - 769 sq.in. - 100,000 BTU - Stainless Steel
is rated out of
5
by
23
.
Rated

5

out of

5
by
fmueller
from
Weber, nuff said!
I have had this grill for 3 years now, I use it all year and 3-4 times a week! Lights every time, still has nice even burn across all burners, cabinet still look great! Can't beat the performance! I cook all kinds of food on my Weber! The smoke box works pretty good, not like a smoker, but this is a grill after all! Customer service is awesome, while I haven't needed them for this grill, I have used them for my old kettle grill in the past! I recommend Weber grills to everyone looking for a new grill! It is a little pricy, but you certainly get what you pay for... The $150 - $500 grills only last a few years, I have bought my share of them over the years!
Date published: 2015-01-31
Rated

5

out of

5
by
Babydoc
from
BEST GRILL EVER!
I originally purchased my Summit 670 in 2009 because I grill all year round and wanted, specifically, the sear station/infrared burner/outboard burner for sauces. It's now 2018 and time for a restoration because the burner tubes are aging and not as efficient as they should be. I called Weber, expecting to pay for a new set of tubes and a few other spare parts and they reminded me that my unit is still under warrantee - so they shipped all the parts at no charge! Who does that? They even knew EXACTLY what my unit is after all that time so there were no questions bout which parts were necessary. WEBER is up there with APPLE both in quality and service (and I am an all-Apple guy too). Their products exceed expectations and are the best and most reliable that I have ever seen or used.
Date published: 2018-08-08
Rated

4

out of

5
by
CMSJM
from
Good Grill
I have the natural gas model; I like being connected to the house gas. I like the consistent heat from the grill. The side burner area is hard to clean. There's some white covering in the side burner that is coming off; it's burning up. The interior needs some shelves & hooks for utensils. I haven't been able to get the rotisserie burner going. I will have to call Weber. Moving the grill is a bit different b/c the wheels are smaller & don't swivel easily. Weber needs to improve your assembly literature. Can't get the rotisserie working. Can't get the knob lights working. Weber needs to improve the wheels; it's not easy to move the grill
Date published: 2018-09-24
Rated

3

out of

5
by
Billfer
from
Rusting out ,
Bought this Grill in 2009. I live on the coast and see the ocean from my backyard. Every grill I have owned eventually met it's demise. Rust is the number one issue. I thought this one being stainless would last. It didn't. The stainless is fine but the entire steel structure beneath is rotting out and looks like cancer stricken bone. One leg rotted off and the grill has a pronounced tilt. I jammed a large decorative rock under it to keep things level. Everything else still works well.
Date published: 2013-05-01
Rated

1

out of

5
by
thegotoguyr
from
Finish not holding up
I bought this when I built my house in 2013.It still cooks decent but I am very disappointed with the finish quality. It began rusting and flaking within a year and now looks like junk. When I showed it to the Weber dealer where I purchased it who told me it had a lifetime warranty on the stainless steel, they said unless it rusts completely through it is not covered. 'Ive bought trucks that cost less than this thing and they lasted longer.
Date published: 2020-04-19
Rated

5

out of

5
by
Mickey D
from
Great Grill
I have this Weber grill for about a year and let me tell you by far this is the best grill I ever had. It has a shear station If you want to shear ypur food and a roastesory 6 burners and cooks all food evenly.It is a pricey but you get what you pay for and that is quality and Weber is a name that you can trust when it comes to grilling.
Date published: 2011-07-10
Rated

5

out of

5
by
JR
from
AMAZING !!!!
Best BBQ ever no hot spots,no flare ups. Cooks very even you feel like a pro and has enough room for cooking for the whole family. Worth the money : )
Date published: 2017-05-23
Rated

5

out of

5
by
Solid
from
Amazing natrual gas heats up quick and perfect
The weber summit 670 natural gas exceded my expectations in every way. The grill got so hot with all the burners on and sear that it burned the hairs on my arm, it was nothing serious but it gets extremly hot. This grill need proper sized gas line so people that complain its not hot enough may need to read the directions. The grill gets to 500 degrees with all 6 burners on max in around 5 min. I can grill fast and sear steak quickly. There is plenty of space and everything is very heavy dury from the flavor bars to the grill gates. I looked at high end grills for thousands more but compared to them summit is very cheap. They may use galvanized steel on the cabinet but if they can make a grill thousands less then for me its a great deal. I registered for the ten year warrenty and look forward to years of grilling. The lights are nice and bright this grill cooking great tasting food wise is the best.
Date published: 2020-06-24