Description
4 main stainless steel burners for a total of 48,800 BTU. Side Burners: 12,000 BTU. Sear Station burner with 10,600 BTU. Integrated smoker burner and stainless steel smoker box with 6,800 BTU. Rear mounted infrared rotisserie burner: 10,600 BTU. Front mounted thermometer monitors temperature inside the grill. 580 sq. in. total cooking area (468 sq. in. primary and 112 sq. in. warming rack. Stainless steel grease tray, with catch pan for easy access and clean up. Painted enclosed cart with stainless steel doors and chrome-plated aluminum handles. Two stainless steel work surfaces with 6 integrated tool hooks. Snap-Jet individual burner ignition system. Two heavy-duty front locking casters and two heavy-duty back swivel casters. Lighted control knobs. Limited warranty.
Product specifications
Snap-Jet electronic system
Frequently bought together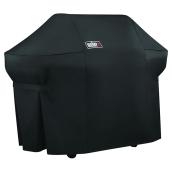 WEBER
Weber Summit® 400 Barbecue Cover - Nylon - Black
Details
Article #15895014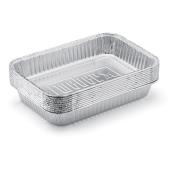 WEBER
Weber Disposal Drip Pan - 10/Pack
Format 8.5"x6"x10PK
Details
Article #1666312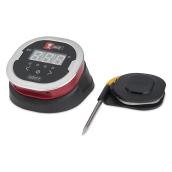 WEBER
Bluetooth Digital Thermometer - iGRILL 2
Details
Article #15895078
Does it come assembled?
Mostly, but there is still some assembly required. Doors, side tables, etc. It's also VERY heavy so you'd likely need help to get it in place.
Date published: 2019-02-27
Bonjour, Est-ce que la rotisserie est incluse? Merci!
Can i convert this grill to natural gas?
Natural Gas BBQ - 580 sq.in. - 88,800 BTU - Stainless Steel
is rated out of
5
by
67
.
Rated

1

out of

5
by
Barry66
from
Poor quality
I am 66 years old and have been a Webber fan for years, but this new grill is the worst. The stainless is of low quality and even while covered the rust is evident. The gas knobs are poorly manufactured as well. The markings have worn off after very little use. The stops on the control valves do not give you the feel of when the grill is securely shut off and I have accidentally wasted a few tanks of gas by not securely shutting off the grill. Now I do know that the securest way to close down the grill is to close the propane but sometimes it doesn't get done. I am very disappointed in Webber for the first time in 30 years.
Date published: 2018-08-27
Rated

5

out of

5
by
Mac
from
Have had no complaints on my built in model
I have been so impressed with this model as a built in not portable. I had it for years and became a great griller because of this grill. I have just moved from that house to another after retiring and I am going to buy the portable model for my new house.The rotisserie works great and cooking with the indirect heat beats warming up the house with the oven in the summer. I also recommend buying the Weber Way to Grill book, lots of good ideas. Oh by the way I have no affiliation with Weber, just a retired construction guy.
Date published: 2017-07-29
Rated

2

out of

5
by
Chris S.
from
Weber Summit S-470 Gas Grill
My wife bought me the Weber S-470 gas grill 2 years ago for my Birthday. I had a Weber gas grill for 18 years prior and it was the best. Really did not have to do any thing and it work like a tank. My S-470 stainless steel grill is failing. The trim around the knobs is pealing and cracking. 4 of the igniters are not working and been cleaned several times but now they are all rusted and fell out, So I need to use a lighter to get the grill light. Last is the gas meter doesn't work. If I press the button to see how much gas is left 3 lights light up, Full, Half way and then . empty. I use the grill a couple times a week and also keep the grill covered when I'm not using it. My other weber that I had for 18 years I never covered and only had to do very little maintenance for the upkeep.
Date published: 2018-09-10
Rated

5

out of

5
by
rengster
from
Surprised
I am surprised at some of the negative reviews. We have had several Webers which has spanned over 30 years, this one is great. We have owned the Summit 470 for one year and have used it on average 4 times per week, winter and summer. It has held up just fine and looks as good as new.Of course, I am responsible to keep it cleaned and covered, but that is it. I have had two issues with it, at no fault of the unit. When I called Weber, they have been more than helpful to make sure that I am satisfied - even when the issues were with the dealer and not them. I could attach a photo, but it looks just like new.
Date published: 2019-07-11
Rated

5

out of

5
by
Ghgggggggghgggg
from
Best Grill I Have Ever Owned!
I just bought another Weber 470 grill but this time for propane instead of natural gas because I had moved to an area without natural gas. There was no doubt in m mind with regard to buying another Weber grill. The quality is there and parts should you need to replace anything such as grill grids flavor bars are readily available. Absolutely love the searing burners for perfect grill marks on my steaks and pork chops.The smoker box is awesome especially with its own burner and the rotisserie works great for grilling chickens and pork loins. Great grill - will never own any other.
Date published: 2018-12-26
Rated

3

out of

5
by
Lights
from
Control knob lights
I purchased by Weber Summit S-470 a few months at and have used it three times now. Every time I've used it it's been daylight and I have not used the control knob lights. However, after I turn the gas off and come inside the control knob lights come on automatically after an hour or so. I go out and push the black button on the left and turn the lights out and then an hour or two later the lights come back on. I turned them off again before going to bed and when I get up the next morning the lights are on again. So, what am I doing wrong in turning the lights off that I never turned on in the first place.
Date published: 2019-03-09
Rated

5

out of

5
by
PJCogs
from
Everything you could possibly want in a Gas Grill
We recently redid our outdoor patio and moved from a propane Weber Grill that we had for over 15 years to this new Summit S-470 Natural Gas Grill. The side burner and the rotisserie make it so much easier to coordinate cooking times across all sorts of foods and control when they are ready. Weber, in my opinion has always made the highest quality outdoor cooking grills and this one will certainly not disappoint.
Date published: 2013-04-23
Rated

5

out of

5
by
Bflat879
from
What a Grill!!!
I've been researching this grill for well over a year and, with an investment of this type, I wanted to be sure it was worth the money. The one thing I saw, that convinced me this was the grill to buy, were the reviews on grills that were much cheaper, many of the reviews had negative comments where they wished they had paid a little more money for a better grill. I bought my first Weber Grill in 1996, when my daughter graduated from High school. This is the grill I was replacing so it lasted 16 years. Before that grill, I was buying the cheap grills every other year. Once I got the original Weber, I was in heaven. It performed as expected and did it for many years. I wanted this grill because I don't have a lot of room for extra items, like smokers, etc, so I wanted a grill with a rotisserie, smoker, sear burner and 4 burners. Also, I wanted a grill that had solid Stainless Steel grates and this was the grill that had all that I wanted. I've used it for over a month and have cooked everything on it from hamburgers to steaks to chicken to ribs. It took a little while to get used to the sear burner because steaks and hamburgers cook much faster, using the sear burner, than they normally do, and they do this without flare-ups and burning. The built-in rotisserie works really well. It comes with 2 sets of spears so I cooked 2 chickens at once and they both came out perfect. The last thing you should think about, with this grill, is the money. It's a grill you'll have for many years and, by the time you divide it, even at 10 years (which this will last much longer) you're only talking $190.00 per year and many, many great meals. For my money it's worth every penny. Lowes was great, since I used their C/C, I got money off the grill, which is almost impossible with Weber Grills. They put in the order, put it together, and delivered it in perfect condition. I was really pleased with their service.
Date published: 2012-06-13