Description
14 in diameter cooking area. Lid lock for carrying which lowers to double as a lid holder. Porcelain-enamelled bowl and lid. No-rust aluminum vent. Heavy-duty plated steel cooking grate.
Frequently bought together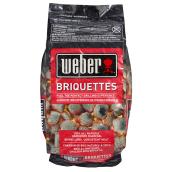 WEBER
Weber Natural Hardwood Charcoal Briquettes - 20 lb
Format 20LB
Details
Article #15895126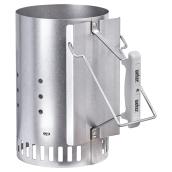 WEBER
Weber Rapidfire® Chimney Starter - Aluminum
Details
Article #15895018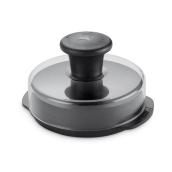 WEBER
Weber Burger Press - 1/2 lb and 1/4 lb - Plastic/Nylon - Black
Details
Article #15895038
Charcoal BBQ - 154 sq.in.
is rated out of
5
by
112
.
Rated

5

out of

5
by
T.J.
from
Compact, sturdy, grill
Powerplant of a grill! Small, but big small that will grill even the biggest steaks or roasts. Grilling area can share both hamburgers and hotdogs without needing to wait for space to open. Secure handle that can be easily transported in vehicle without any shifting or even on a bicycle back rack strapped tightly. This grill can easily serve 1-4 persons. For use at a tailgating event with more than 4 people are involved, will need to wait for open space for grilling area. However, for a small family this grill is absolutely perfect. With the grills compact design and 3 short legs it works well as a table top convenience. I LOVE THIS GRILL. AWESOME!
Date published: 2019-10-29
Rated

5

out of

5
by
Anonymous
from
Best portable grill
This SJ Premium model is well worth the price difference over the original. The dual function locking bail cradles the lid when in use and seals tight to extinguish the coals and make for portability. The side vents, as opposed to bottom vent, needs no adjustment. The side vents turn with the bail and have proven to serve the 14-inch kettle just as well if not better than the bottom vent on this size. The SJ Premium should be considered a replacement for the original. It needs only the handle heat shield improve the simplicity of working with your Smokey Joe.
Date published: 2018-06-11
Rated

4

out of

5
by
Zeppy
from
Great for one person!
The Smokey Joe is a great compact grill for one person meals. I bought this Grill to save some money on charcoal. Smokey Joe is great for a few burgers and dogs maybe one or two steaks depending on the size. I find myself always going back to my original premium 22.5 kettle it's the perfect size to cook my entire meal and doesn't use much more charcoal. I also find it's much easier to control the temperature in my original 22.5 kettle. Smokey Joe temperature seems to be very hot and food cooks too fast or not hot enough and the food takes forever. I really couldn't find or hold a steady temperature in the Smokey Joe.
Date published: 2018-01-05
Rated

5

out of

5
by
Muthergoose
from
Beautiful grill
I really do live the color and looking forward to getting his 22" bigger brother. As some have stated having the holes on the side and not the bottom does not the grill get searing hot with the lid on. I tend to use this and my other 14 in grills for cooking with a cast iron skillet and using the lid as a cover if needed fir said skillet. Having the lid off really gets the skillet going. I have cooked steaks and a wide variety of dishes. If I need a portable grill I have a jumbo joe to cook burgers, steaks, etc.. I love the 14 inch grills and will probably end up collecting the various color combos.
Date published: 2021-01-14
Rated

5

out of

5
by
Anonymous
from
Great small grill
I haven't had a Weber charcoal grill in a long time. Had propane Webers for years. The last grille purchased was a Q grille, which was wonderful. I sold my last home furnished, grille included. Decided I'd like to try a tabletop charcoal one this time. The premium Smoky Joe was my choice because the ashes are contained and the handle supplies a lid holder. I considered the ease of cleaning, as the bowl is closed at the bottom and holds soapy water to be dumped, when cleaning. The grille sits on a table outside of a sliding door In my new condo. Looks neat and clean for a very noticeable location. I wish the smoke blue was a bit more blue.
Date published: 2020-08-27
Rated

5

out of

5
by
Truly Serious
from
Smokey Joe: Small but Mighty
I bought this as an alternative to campfire grilling (so unreliable), and am I glad that I did! First, I was impressed with its sturdy construction, and excellent venting system. The conveniences, like the handles and the way that the legs are made, make this easy and safe to use at the campsite. I bought the convenient carrying case and also a chimney to heat up the coals. I am amazed how much heat this little guy can generate! We can easily grill a meal for 4 using our Smokey Joe. Because I use lump charcoal, there is relatively little mess afterward. A wonderful purchase for a small family, and a nice little grill. I highly recommend it!
Date published: 2020-07-29
Rated

5

out of

5
by
GUYin Me
from
Excellant little grill !!
I Got this Smokey Joe from My mother in laws estate, I have never owned a Weber before. This is a very versatile Grill!!!. I used it last night to cook some steak and it came out perfect! Then I soaked some wood chips and put them on the charcoal and cooked Pork tenderloins, boneless chicken breast and boneless chicken thighs. The results were Unbelievable, I adjusted the bottom vents and the top vents and it smoked the meat low and slow, all the meat came out cooked, juicy and excellent in flavor!! I like the snap handle feature as well. Thank You, Mum!
Date published: 2019-01-02
Rated

1

out of

5
by
THB.
from
Does not get hot
To start with the positive points: The grill looks good and is portable. Now the downsides: I read the reviews here and elsewhere about the poor technical design with the side vents being located ABOVE the coal, but I trusted the many other reviews which said the grill was good. The truth is that Weber did not manage to trick physics: With the side vents above the coal, there is no air coming from underneath, so the coal doesn't get really hot (even with the side vents fully open and the lid off) and you need tro hurr to have a short time of heat just sufficient to quickly grill some dogs - the coal actually does not even completely burn off. With the lid closed it doesn't work at all. Re quality, the grate is too small for the grill and somewhat moves around in the grill base, not providing a good feeling on quality. Overall, this is the first Weber grill which really disappointed me (I love my Genesis II and the Q I had before!). I cannot recommend this one.
Date published: 2020-06-29