Description
It never hurts to be prepared with a backup like the Weber 6' Q Adapter Hose when having friends and family over for dinner. This BBQ hose connects to a standard Type I (791) cylinder connection on a 20 lb liquid propane tank. Pair this adapter hose with any Weber Q series or Go-Anywhere grill to keep your BBQ grilling all summer long.
Product specifications
Connects to Type I (791) Cylinder Connection to fit standard 20 lb Propane Tank
Fits Weber Q100/1000 Series and Q200/2000 Series
Frequently bought together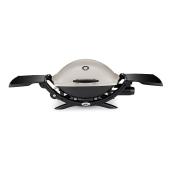 WEBER
Weber Q(R) 2200(TM) Propane Gas Barbecue - Portable - 12,000 BTU - 280 sq in - Titanium
Format 12000BUx280"S
Details
Article #16665728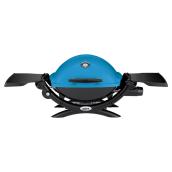 WEBER
Weber Q 1200 - Portable Liquid Propane Gas Barbecue - 189 sq.in. - Blue
Format 8500BU 189"S
Details
Article #15895031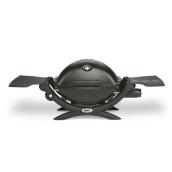 WEBER
Weber Q(R) 1200(TM) Propane Gas Barbecue - Portable - Black
Format 8500BU 189"S
Details
Article #15895054
BBQ Adaptor Hose - 6 ft
is rated out of
5
by
69
.
Rated

5

out of

5
by
Shrimp Master
from
Extremely Useful!
I bought this a couple of months ago because I got tired of buying 1 lb. propane cylinders for the 1980's camping grill I inherited from my father. The small cylinders are inconvenient and wasteful, since you cannot have them refilled, and I already keep a 20 lb. tank for my home-brewing burner. Anyway, the adapter fits perfectly, even though the grill I use it on isn't a Weber. It is very well made. The hose feels solid while remaining quite flexible; the brass fittings are heavy and nicely-machined, and everything threads together easily and tightly with no leaks. I can see using this adaptor for many years with no issues.
Date published: 2018-08-28
Rated

1

out of

5
by
crackdown
from
Cheaply Made
We have purchased 3 of these now for the Weber Q2200 grill and all of them have broken or stopped working after just a couple of months use. There is a plastic piece inside the part that screws onto the gas tank that breaks and comes apart in pieces. When this happens it won't screw onto the tank correctly and therefore the grill won't work. We won't be buying anymore Weber hoses, even though we love our Weber grills. It is such a shame that these aren't better quality.
Date published: 2018-06-27
Rated

1

out of

5
by
Atita
from
Dissapointment!!
Out of the clear blue our Q2200 stopped working. Checked all troubleshooting and maintenance in your manual with no luck, we even bought a new gas tank! We tried a small propane canister and worked perfectly. Thanks to this reviews checked the hose and noted the crack in the green adapter. It is a shame that a hose will affect the quality of a great product, specially when it is required by the product. PLEASE, say something about the hose in the troubleshoot area of your manual. It would have save us some trouble.... I appreciate if you notify me when this issue is corrected.
Date published: 2020-04-18
Rated

1

out of

5
by
George
from
No, No, No,...
Get the hose adapter with the regulator that connects to tank valve. This type keeps the tank valve bypass on and you will get just a small flame.
Date published: 2018-07-21
Rated

1

out of

5
by
Mike60
from
Inconsistent
I have bought two of these adaptor hoses and both have rarely worked. The grill works with the small propane canister but, after a while, when connecting the grill to a large tank it stops working. Many people have reported problems on various web forums. Why does WEBER promote this as something that works when clearly there is a flaw?
Date published: 2018-06-20
Rated

1

out of

5
by
plumber81
from
Poorly designed hose.
Had the same issue with the plastic ring inside the green tank connection breaking leaving the hose unoperable. Its unfortunate that Weber makes a great barbecue and relies on such a poorly constructed hose. Sure puts a damper on your cooking at a campsite when your barbecue doesn't work.
Date published: 2018-08-26
Rated

2

out of

5
by
Blerg
from
Having same plastic cracking issue
Works well but the plastic cracked like others have complained about. What a waste of materials to have to throw a whole hose away because the smallest plastic piece cracked and broke... fix this weber, charge us more for better materials if you have to but I am sick of this throw away culture.
Date published: 2020-06-03
Rated

1

out of

5
by
Joe101
from
Quality
Worked great for 5 connections. White plastic spacer behind tank coupler end broke into 6 pieces on 6th connection. Hand tightened only! Over 70 years have had numerous Weber grills and currently have 3 and this is my first disappointment in the Weber product.
Date published: 2018-06-08