Description
This Samsung washer has a beautiful black stainless steel exterior that will bring a modern touch to your laundry room. Its Activewash(TM) system has a built-in sink in which you can handwash delicate articles or pretreat stains. A water jet can also be activated by pressing a button. The SuperSpeed(TM) cycle is great when you're on the go, reducing the cycle time by 40 minutes! Integrated touch controls are easy to use and the appliance uses Smart Control technology which means you can control and monitor your laundry, as well as check remaining time and receive notifications on your smartphone. This Energy Star® certified washer uses vibration reduction technology so you won't be disturbed by loud noises. Last but not least, its Steam Wash cycle releases steam from the bottom of the tub for a deeper clean.

Ecological Attributes
This washer is ENERGY STAR® certified to save up to 25% in energy and 33% in water.
Product specifications
Normal, SuperSpeed(TM), Bedding/Waterproof, Heavy Duty, Perm Press, Steam Sanitize, Brilliant Whites, Delicates, Quick Wash, Rinse+Spin, Spin Only, Deep Wash
Self Clean, Delay End, My Cycle, Pre Soak, Extra Rinse, Sound On/Off, Child Lock, Fabric Softener, Smart Care, Smart Control, Eco Plus
Flexible Connector Pk/2 (01735519/3237-902) - Item sold separately
Reversible Door Swing (Y/N)
Frequently bought together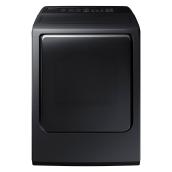 SAMSUNG
Electric Dryer with Multi-Steam(TM) - 7.4 cu. ft. - Black Steel
Format 7.4CFT
Details
Article #22945146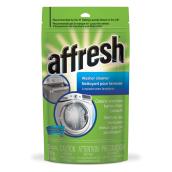 AFFRESH
Affresh HE Washer Cleaner - 3 Tabs
Details
Article #07305002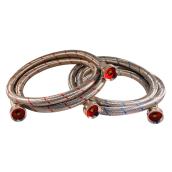 AQUA-DYNAMIC
Flexible Washer Connector - 3'4" x 60" - Pack of 2
Format 3/4"x60" 2/PK
Details
Article #01735519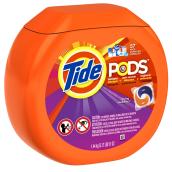 TIDE
Tide Pods Detergent - Spring Meadow - 57 Pieces
Format 57UN
Details
Article #13605148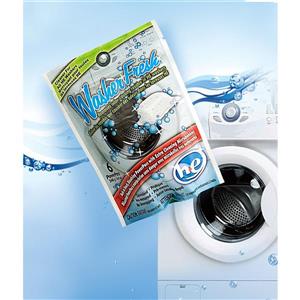 FRESH PRODUCTZ
Fresh Productz WasherFresh™ HE Washing Machine Cleaner - 6-Pouch
Details
Article #330656561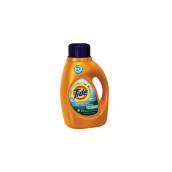 TIDE
Liquid Laundry Detergent - Cold Water - 1.36L
Format 1.36L
Details
Article #97735388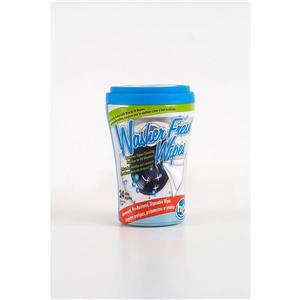 FRESH PRODUCTZ
Fresh Productz WasherFresh™ HE Washing Machine Wipes - 2-Pack
Details
Article #330656560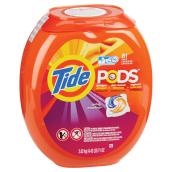 TIDE
Laundry Detergent - Tide PODS - Spring Meadow - 81 Units
Format 81UN
Details
Article #13605097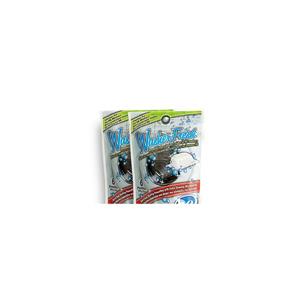 FRESH PRODUCTZ
Fresh Productz WasherFresh™ HE Washing Machine Cleaner - 12-Pouch
Details
Article #330656559
What is the height of this machine with the lid up?
Washer with Steam Wash Cycle - 6.2 cu. ft. - Black Stainless
is rated out of
5
by
60
.
Rated

1

out of

5
by
Seafogg
from
Great concept but fails to perform
I bought my Samsung washer 2-2017 and thought it was great. Then I started to notice my whites were no longer white and small little spots were not washing out. I haven't changed detergents or laundry techniques and attribute the poor wash quality to the lack of water in the wash basket and very little movement /no agitation . The basket does not fill with water, it only adds enough water to get the laundry wet so the dirt doesn't leave it just wiggles around with the other wet dirty clothes. No agitator and very little water does not get laundry clean. I have to do my whites at the laundry mat. Dissatisfied
Date published: 2018-01-01
Rated

1

out of

5
by
Bigdog72
from
Keep Looking
We had a Samsung front loader for 8 years and never had an issue, so when it stating making loud noises when in the spin we had it checked out. It turned out that the drum bearings failed and would cost more to repair. So after reading the reviews and the history of Samsung we decided to change from a front loader to top. What a mistake ~ this machine make more noise that our old with failed bearings. We also purchased the matching dryer and it's much loader than the old Samsung. If you plan on having the machines on the outside of your home, you may find you will like your purchase.
Date published: 2018-12-20
Rated

1

out of

5
by
SpunkySue
from
Just avoid
Just avoid this machine. We regret it. Almost $1K for a machine that broke just after the 1 year warranty. The machine wouldn't spin or drain. Turns out the master control panel went awry. Really? In the technology? I expect better from Samsung and believe this should be part of a recall. The part are out with their own distributor, J & J international parts. Seems to me there,s a lot of these being ordered if you're out of them... just saying. This makes me think twice about Samsung before buying and we've bought a lot of Samsung!
Date published: 2018-10-19
Rated

1

out of

5
by
mommyx3
from
leaves dirt in the bottom of basket
I bought this about 5 months ago, and have never really loved it. If I don't wash a load every other day, my laundry room starts smelling musty. If I wash "dirty" clothes (from mountain biking, so there is actual dirt in the clothes) there is dirt/mud left in the bottom of the machine after I take the clothes out. Last night when I pulled the clothes out, there was still soap and fabric softener all over my clothes, and it was not a very large load. I ended up having to run a rinse/spin cycle just to rinse out the clothes so I could put them in the dryer. I only use about half the recommended amount of fabric softener, and still there is slimy residue inside the container where you pour the softener. I don't feel like this gives any agitation to the clothes, they just spin around in a circle. My old front-loader did a much better job.
Date published: 2018-11-04
Rated

1

out of

5
by
Stangs
from
DO NOT BUY!!!
This is by far the worst washer I have ever owned! You go to wash something and it never uses enough water and you can't put water in yourself (using the washer) to make up for what it doesn't put in. Clothes are sticking out of the top of the water and if you open it after 5 or 10 minutes it's still the same thing; the stuff never gets washed! Also it is constantly off balance when it spins, so the machine will drain the water and start the spin cycle all over again and add extra minutes to it. Also the machine's actual wash cycle is sometimes 5 - 10 minutes and then the other 75 - 80% is spent spinning and rinsing. It's a total pain! Buy a GE instead, that's what I've always owned and never had issues with! Totally regret buying this machine!
Date published: 2018-04-15
Rated

4

out of

5
by
tomt1979
from
Wonderful capacity, lots of features.
I really like this machine. It has a capacity that allows us to wash loads that were twice the size of my old front load, without compromising the washing effectiveness. I have little ones in football and grass stains, and this has no problem cleaning even the toughest of stains. There are also alot of cycles that help with different types of garments. The only things I dislike is the washer does seem a little noisy at times, and I really wish there was a delay start available. But, all in all, I would recommend this product for anyone looking for a large capacity machine. [This review was collected as part of a promotion.]
Date published: 2018-10-31
Rated

5

out of

5
by
amullen
from
LOVE THIS WASHER
My favorite new addition to our new home!! I love washing clothes. We have had ZERO issues with this washer. So many settings!! From Delicate to heavy duty. You won't be disappointed with your purchase!
Date published: 2018-01-14
Rated

5

out of

5
by
cybil
from
stop your search here
this is the best washer i have ever used. when was the last time you washed 19 full sized towels, 9 hand towels, and 7 wash cloths in ONE cycle??? now you can! most washers without agitators are hard to use because you have to place the items around the "agitator" but with this washer, you just throw them all in. i've also washed two king size comforters at the same time. yes, you read that correctly. i have cats and all of the cat hair was washed out. just choose the deep wash cycle or bedding works fine. i washed shirts with bbq sauce all over them in the quick wash and they still came out spotless. the washer is quiet and plays a cute little tune when finished. i have had exactly zero issues with this washer and it's been three months with heavy/normal use. i'm finally now doing the self clean cycle that it suggests. i was hesitant about the pre wash basin on top but i actually love it! simply throw the item you need to stain treat in there, push the button to release as much water as needed, scrub the stain out, and tilt the basin back to drain the water when finished. run the spin cycle and all the yucky stain water is gone. ready for you to start a new load. i love it. i hope this washer lasts me years and years because i can't see anything being better. purchase this washer and dryer set, for sure!
Date published: 2018-03-06