Undermount Range Hood 30" - 310 CFM - Stainless Steel
Article #23085266
Model #JVX5300SJSSC
Format 5.5x20x29.88"
This item is not currently available for immediate purchase, but can be ordered by visiting the selected store. Orders typically take 3-7 days from date of order to be received at your selected store.
Description
Clear your kitchen of nasty odors and smoke with this GE Profile 30" under-cabinet ventilation hood. It offers a 4-speed fan which can circulate air at a speed of up to 310 CFM and comes equipped with backlit controls, an easily washable grease filter, and halogen lighting.
Product specifications
Back: 3 1/4" x 10" (8.26 x 25.4 cm), top: 7" (17.78 cm) round
Dishwasher safe removable grease filter
Frequently bought together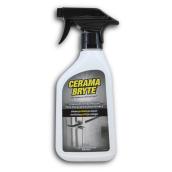 CERAMA BRYTE
Stainless Steel Cleaner
Format 474ML
Details
Article #8307003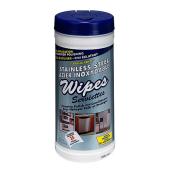 CERAMA BRYTE
Stainless Steel Cleaning Wipes
Format 35/PK
Details
Article #8307005
what is the noise level on this model?
Is there a range hood that does not have to be vented outside
what is the CFM for this product?
Can the halogen lights be replaced with LED lights?
Undermount Range Hood 30" - 310 CFM - Stainless Steel
is rated out of
5
by
400
.
Rated

5

out of

5
by
Poppin
from
Love the New Hood
Our Hood failed in March and we contacted our home warranty Company and a service Technician came out and had to order parts. The parts never came and finally our home warranty company contacted us and offered us several choices for replacement. The ones we liked were out of stock and we waited until the one we liked was available and placed our order. The hood was delivered promptly by the GE Supplier and we were contacted by the installer last Friday and they set the appointment for Tuesday, June, 18. They were very courteous and professional and performed the job promptly. We love this new hood and look forward to many years of service.
Date published: 2019-06-19
Rated

4

out of

5
by
Wood67
from
Attractive Hood Range but...
This is an attractive range hood that compliments our kitchens accoutrements well but, I was left wondering why the hoods blower was designed on the left side. Our GE stove has the "power boil burner" on the right side, which is the primary burner we use, so when cooking the blower is not as effective as it is on the left side of the stove top. They should consider a center or dual blower design to accommodate the entire stove top. The installation took more then 10 minutes (about 1 1/2 hrs) as I had to add wooden slats under the cabinet to secure the range hood properly. Once the wooden slats were installed, the hood install went quickly.
Date published: 2017-03-29
Rated

4

out of

5
by
Edward64841
from
GE 30" Rangehood
I swapped my over the stove GE microwave with the GE Range Hood (JVX5300SJSS). The box said it only takes 10 minutes to install- more like 3 hours with the help of a second person (my wife). The item does not come with a power supply; you'll need to purchase one separately. But after getting the necessary extra parts and lining up the vent, the hood does it's job fantastically!! It's also very easy to clean. My suggestion for anybody looking to replace or add this appliance to their kitchen check all the prep work you have to do before taking on this task. Now off to installing a backsplash....
Date published: 2017-03-13
Rated

1

out of

5
by
Dissatisified GE Customer
from
GE Range Hood JVX5300DJWW
GE range hood is very noisy, like a jet taking off and essentially only draw cooking vapors on the left side. BTW: Oddly, the GE cook top has the large burner for frying and boiling pasta in the right side. Also, don't be fooled by two filters, in my opinion the right one is useless, a poor design. Even though we have a external vent, it blew vapors back in room. To fix it, the installers put duct tape over the vent into the kitchen. When I tried to replace it, GE customer service representative informed me that GE doesn't have a customer satisfaction guarantee for its appliances. However, GE is going to send a technician out to determine whether the appliance is working as designed. What happens when it just a bad design? It appears to be a builder-grade product. We are extremely dissatisfied with product.
Date published: 2017-02-06
Rated

4

out of

5
by
Txtitan120
from
Don't forget the filter!
Very good product, with multiple installation options "Ductless, round vent, rectangle vent, rear venting". The 3 fan speeds are perfect for normal home cooking and venting needs. The lights are well placed and do the job as intended. All that being said there is only one issue that cost it a star, it does "not" come with the charcoal filter! It is a necessity for ductless venting. It is an added expense and can be hard to find. I recommend that you glance through the installation instructions "pdf" online before purchase to get the proper add-ons "power cord, spacer, filter, etc" you will need for your particular situation.
Date published: 2019-12-26
Rated

5

out of

5
by
ashwinrao77
from
Plug/wire & round damper not included
Quality and finish seems good. Noise is low, most noise comes from the air movement in the duct. Most internal parts including fan are plastic. They did provide a rectangle damper but not round. But dampers are cheap you can buy it in stores. I wish it included the plug/wire and wire and strain relief for wire. It has a remote receiver but no remote included. I have bought other range hoods and it usually includes everything. My DIY installation included adding ducts to the roof, roof caps, making holes in the cabinets, and mounting the range hood, Took 6-7 hours total ..excluding frequent trips to store for tools and parts.
Date published: 2017-12-03
Rated

1

out of

5
by
bbcolo22
from
Poorly Designed - Both Light Fixtures Broken
Bad: The halogen bulbs heat up, which I guess I can live with. When they burn out (and that's often), when changing the bulb you have to push up slightly. Well I think that since they get so hot, it causes the plastic to become brittle. Bottom line, after 2 years the last 2 bulb changes - slightly pushing up to turn bulb to remove has broken the plastic of the socket, so now both sockets just dangle. There is nothing now to hold the sockets and nothing to push against to insert the new bulb - and even if I could, the socket now has nothing holding it up. Trash. I spent a little more for this - what a waste. Don't buy this unit. Ok: It looks fine, and the vent worked ok.
Date published: 2019-08-15
Rated

4

out of

5
by
pmkisl
from
Carbon filter not included
We like our fan. The slate color is great. The fan was easy to install. Works well. We chose to use it as a recirculating fan not vented. Why not sell these units separately and include at least one filter for those who choose to use the recirculation style. Even if you have to raise the price. It is better than having to go online, try to find the correct carbon filter and then wait several days for delivery. Or mark the box Filter not Included. Then you could order the filter before you install it.
Date published: 2017-09-19