Description
The power of the 4-speed fan adds to the precision of this under-the-cabinet ventilation system which pairs well with most 30-inch cooktops and ranges. The under-the-cabinet design allows you to hide ductwork inside cabinetry for a sleek look.
Product specifications
Dishwasher safe removable grease filter
Programmable off function
Back: 3 1/4" x 10" (8.26 x 25.4 cm), top: 6" (15.24 cm) round
Frequently bought together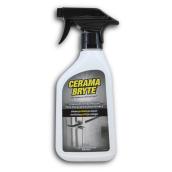 CERAMA BRYTE
Stainless Steel Cleaner
Format 474ML
Details
Article #8307003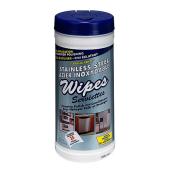 CERAMA BRYTE
Stainless Steel Cleaning Wipes
Format 35/PK
Details
Article #8307005
This range hood opearates @ 44 dBA (1.3 sones) at low speed. What about @ high speed?
Does this range hood vent outside?
Under-Cabinet Range Hood 30" - 600 CFM - Stainless Steel
is rated out of
5
by
64
.
Rated

4

out of

5
by
Handyman
from
Clears the Air
This unit was bought bought and installed about 4 months ago. The first unit was installed and used maybe a week, vented to outside. The fan began making sounds and upon further inspection, we found pieces of the plastic fan blades inside. Our local supplier intervened and obtained a replacement vent - parts could not be obtained for the fan alone. After 2nd install, we found the vent and fan to work very well and have not had any further problems with the fan. The installation process was difficult and required some modifications. As for functionality, the fisrt and second speeds are adequate for venting our cooking area.
Date published: 2015-12-01
Rated

1

out of

5
by
John
from
Nice design doesn't make up for poor quality
Vibration caused cheap damper to fall into fan which broke into pieces. Replacement fan broke in shipping. 2 months now, no fan working and no follow up by Whirlpool even after numerous calls. Lowes should drop this product. No faith that the replacement part will hold up if we ever get it. Also, warranty starts when you place the order, not when you receive the appliance. So 3 monthe gone from warranty and it still doesn't work. I reviewed this previously and it was not posted by Lowe's. Be forewarned.
Date published: 2014-12-08
Rated

4

out of

5
by
RobsMuir
from
Nice range hood, incomplete documentation…
I do wish that this hood was a little quieter. Efficient, and clean design. The hood has poorly-engineered mounting screws in awkward locations making it difficult to hang and level. After several weeks, the 'clean grease filter' alert came on. I cleaned the filters, but the fault indicator remained on. No solution in the manual or online anywhere. I eventually reset the alert by holding the '+' button down for > 5 seconds. Absolutely nothing in the manual about this!
Date published: 2018-05-28
Rated

4

out of

5
by
Homeowners
from
Nice lines, looks good.
Installation wasn't great. A few of the small screws holes were stripped so I had use some larger diameter ones that were extra in the package. Not a big fan of the fact that you need a technician to replace the led lights. Being that they are led lights, they should last a good long time. One hopes. Also the controls for the fan,lights,and timer are a little quirky but once you get used to it it works fine. The alarm for the timer could be louder. Overall we're happy with it. It's good looking with clean lines. The fan works great and it's nice and quiet and the lights are excellent.
Date published: 2017-01-08
Rated

5

out of

5
by
Tonya S
from
Great Solution!
We wanted to replace our down draft gas stove, but was fearful of installing an exhaust to the outside. The contractor recommended this exhaust vent as a solution. Perfect solution. [This review was collected as part of a promotion.]
Date published: 2018-12-19
Rated

4

out of

5
by
Mr. Moke
from
Great looking, works well, a pain to install
I purchased this hood a little more than a month ago and it works well and looks really good in my kitchen as it should for the price of the item. When looking at photos online, I thought that there was a clock on the display on the hood, but I was mistaken as the numbers shown are for the timer. The only issue was the installation; hire someone to do it as I did it myself and it took awhile to figure it out, I had to pay a buddy to help me with it because it takes at least two people to hold it up. They don't give you an installation template and there is little space to see if you are lined up with the screws. I eventually got it installed, but you'll save yourself a headache if you hire someone else to do it.
Date published: 2016-11-30
Rated

4

out of

5
by
AreYouKiddingMe
from
Super quiet
Good looking, super quiet, multiple speeds. Only wish it were possible to adjust the lights from bright to dimmer. Can't have everything......or can we? Can't understand why it cost more than the new KitchenAid range I bought at the same time. [This review was collected as part of a promotion.]
Date published: 2017-10-26
Rated

5

out of

5
by
Peter B 65
from
New KitchenAid Eshaust Hood
We bought this under the cabinet exhaust fan about a month ago and really like it so far. We had a under the cabinet microwave/exhaust previously and this is so much better than that. Since it exhausts to the outside it really makes a big difference when we are cooking. The only issue I have with it was the installation directions were a little confusing but we got it installed correctly and it works very well. [This review was collected as part of a promotion.]
Date published: 2018-09-13