Description
Achieve a bright, high-gloss finish with Krylon Triple Thick Clear Glaze. One coat of this glaze delivers a glass-like look that's equivalent to three coats of the average clear coating. Use this versatile glaze on wicker, ceramic, plaster, paper mache, metal, wood, paper and more.
You may also like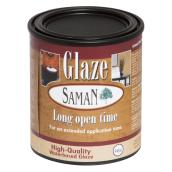 SAMAN
Clear Water-Based Glaze - 946 mL
Format 946ML
Details
Article #72645185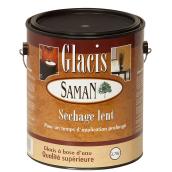 SAMAN
Clear Water-Based Glaze - 3.78 L
Format 3.78L
Details
Article #72645187
Triple Thick Clear Glaze - 340 g - Clear
is rated out of
5
by
8
.
Rated

3

out of

5
by
Debbie
from
Don't overspray!
Found out the hard way that if you overspray, the finish turns cloudy almost white. Resist the temptation to spray over what was just sprayed. If you need another coat, let dry completely and then spray again lightly. [This review was collected as part of a promotion.]
Date published: 2018-08-03
Rated

5

out of

5
by
Terri
from
I love this high gloss glaze.
I use this glaze on my gourd art over alcohol ink and acrylic paint. Like all sprays, you have to do light coats so you don't haclve runs. It produces a beautiful glaze similar to high gloss ceramics. [This review was collected as part of a promotion.]
Date published: 2019-12-13
Rated

4

out of

5
by
Cindy
from
Clear and shiny
Have used many times to finish acrylic paintings on canvas. They look beautiful! Use in a well ventilated space! Don't use outdoors in high humidity.
Date published: 2018-07-11
Rated

5

out of

5
by
craftyKarl
from
high gloss shine
My wife wanted a basket she bought sprayed gloss white. After i finished painting it white it was not nearly shiny enough. My wife purchased a can of the clear glaze (and a painting mask). The clear went on evenly and effortlessly it dried very glossy. 1 word of advice make sure you wear a mask as this paint has quite a smell to it
Date published: 2018-12-01
Rated

5

out of

5
by
Jess
from
My go to..
I'm a floral designer / mixed media artist and Serial crafter. I like the "glass like" look and coverage it provides when used on dried flowers and used it on my own bouquets to preserve it. It's been 10 years and while the look and name of the product has changed, my flowers have not! It's my go to clear sealer when preparing ink jet prints for mixed media collages etc. If you don't "seal" the ink prior to adhering with modge Podge, they will bleed and run.. this product prevents that from occurring, ruining your prints. I also have used it on photos, same idea as well, protects the photo if using in a mixed media, collage application. I find that applying, outside, on a non windy, non humid day, produces the best results. I apply with light hand, in a sweeping motion.. and I do several coats.. like 2-3 in the same manner to ensure even coverage. Becareful not to apply to the point it's running because that will ruin your prints or photos. Found that out the hard way. However used as I stated above, I've had excellent results. I also use to seal my finished art pieces, prints, paintings, mixed media pieces, embellishments, empherma, even to protect silk flowers to make them easy to dust. I find this product to be superior to other sealants. Just my two cents!
Date published: 2018-07-22
Rated

1

out of

5
by
Painter123
from
Cloudy not clear.
Spend a week making and preparing wooden lure. Looked great until I spray with Clear. Turned my paint job cloudy and white. Don't use this stuff.
Date published: 2018-05-24
Rated

4

out of

5
by
Meeee
from
Excellent!
This glow was used on my canvases, they are amazing. Do not apply too much gloss though or else it'll be too glossy and a little sticky and this product will need multiple layers if used on solid wood for like a wood burning or so(I used it on solid wood from Michael's). Other than that this product is amazing!
Date published: 2020-06-12
Rated

1

out of

5
by
jim
from
Left everything cloudy - not shiny
last line of the instructions says if the glaze looks cloudy reapply after 30 minutes to restore gloss. If I had read that I would've known it was a warning. Reapplying never made it glossy just cloudier. Ruined my stainless steel mailbox. Just a milky mess now and I was very careful
Date published: 2019-05-24