Trailer with Removable Rear Panel - 3 1/2' x 5' - Black
Article #30738276
Model #3.5X5LSHS
Format 3.5x5' This item is not currently available for immediate purchase, but can be ordered by visiting the selected store.
Description
This utility trailer with a lift-out gate is perfect for all types of work around the house. Its mesh flooring is practical and makes the construction lighter for less fuel consumption without sacrificing the results. It is equipped with 12'' (30.5cm) rated at 449kg (990 lb) each. It has an impressive payload of 794kg (1750 lb). 1 7/8'' (4.75 cm) coupler with safety chains. The articulated axle of 907kg (2000 lb). Black steel trailer of 3 1/2' x 5' (1.07 m x 1.52 m). (Note that product availability may vary from store to store)
* Trailer license and registration are required when picking up this item.
Product specifications
Product availability may vary from store to store
Frequently bought together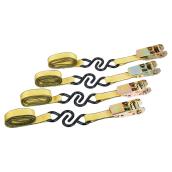 ERICKSON
Ratchet Tie-Down - 1'' x 10' - 900 lb - 4/PK
Format 1"x10' 900LB 4PK
Details
Article #16425000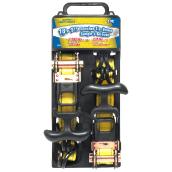 STINSON
Tie Down Ratchet
Format 1 1/4"x16'xPK2
Details
Article #0033335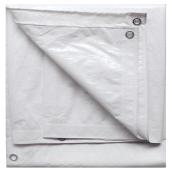 PROJECT SOURCE
Project Source Polyethylene Tarpaulin - 8-ft x 10-ft - White
Format 8'x10'
Details
Article #19595012
What is the width including wheels?
3.5x5LSHS Overall Width: 56"
Date published: 2020-08-08
how often to grease the wheel axle? how to get the hub out at the wheel axle?
https://www.carry-ontrailer.com/wp-content/uploads/2014/08/dexter.pdf page 51 will discuss your needs.
Date published: 2020-08-08
How high is the trailer once it's level from ground to top of sidewalls? Thanks all !
3.5x5LSHS has 16" mesh sides and has 12" tire and wheels.
Date published: 2020-08-08
What is the wall height?
3.5x5LSHS has 16" mesh sides
Date published: 2020-08-08
What is the recommended hitch height for this trailer? I have a 2017 Toyota Corolla and the hitch height for the Corolla is 9 1/4"
Not sure about the hitch height, but you should be fine.  The long neck helps with backing, and keeps weight on the trailer so as not to overload the rear of your car.
Date published: 2019-08-15
The tire pressure states 90psi , seems like a lot for such small tire , plus my air pump couldn't pump that much into the tires. What would be a good tire tire pressure to drive safely on and offf highways?
621 KPA , manufacturer specs aren't "best suggested guess", don't over inflate, don't under inflate. Same goes for load sizes . It was designed that way and passed the federal safety standards for a reason.
Date published: 2019-08-07
Is this trailer big enough to carry a Poloris 570 Touring Quad?
Nope.  Quads are usually about 43-48" wide
Date published: 2019-05-23
Can I used this trailer in a Hyundai Accent 2014 1.6 let?
I used this trailer behind a Mazda 3 to haul all kinds of bulky things.   I did not overload it weight wise because I still wanted to be able to stop !   Trailer tows well.  Only problem is it is so light that when towing empty it hops over bumps...  really high !   
Date published: 2019-05-23
Trailer with Removable Rear Panel - 3 1/2' x 5' - Black
is rated out of
5
by
90
.
Rated

5

out of

5
by
RB60
from
Great small trailer
I bought one a year ago but waited to see if the other reviews panned out before saying anything else and it is even better than I had hoped for. I pull it with a Jeep and take it from St Pete, Florida to North Carolina 3 or 4 times a year. No problem at highway speeds. One thing I did was to install an orange rod at each back corner and attach a small flag near the top of the rod because the trailer is too low to see in the rearview. We named it Lil Tug and use it all over town like going to Lowes for garden supplies. It is the perfect size and well worth the money. Being small when it is empty is very easy to manhandle around.
Date published: 2014-08-05
Rated

5

out of

5
by
manollo
from
awesome little trailer
Bought this trailer on sale more than a year ago. The main purpose is: hauling my motorcycle (Honda XR 400), yard scrap, runs to the hardware stores (bricks, sand etc) and camping gear. I am very pleased with this trailer. Pull it with my Jeep Wrangler and can't tell it is there. A lot of stuff fits in there. Please see my picture (Obviously everything was strapped down before getting on the road#. Keep it in my back yard and it is really easy to move around by hand. I would highly recommend this trailer despite some small issues #rust, quite loud when empty, tailgate cannot be secured properly - old version). Flipped the axle to gain additional clearance. Some more mods to follow.
Date published: 2015-11-11
Rated

4

out of

5
by
DB
from
Great Little Trailer!
I do wish Lowes carried this trailer at all their stores. It was out of stock locally in San Diego....so had to drive to Yuma,AZ.....closest store that stocked it. The trailer is solid, however the finish work was sloppy. Wires not run through the tongue, horrible paint job. I STRONGLY advise that you immediately replace the pins that hold the gate in place with larger pins, and perhaps some additional backup. Other reviews have mentioned the same issue. Fortunately, only one pin worked its way out during my return to San Diego. Had I lost both pins, I may have lost the gate on the freeway. Yikes! [This review was collected as part of a promotion.]
Date published: 2018-08-04
Rated

3

out of

5
by
Chuck
from
BE CAREFUL
I love the size of this trailer. The high sides are great too. The problem is that when I move the trailer by hand, and lift the tongue, the license plate holder breaks. This happened even at the store when I first bought it. They replaced it free and it broke again in minutes. I gave up and zip tied my plate to the gate. Then the low mounted brake lights scraped the ground. No I am no 8 feet tall, I am 6 foot and was not lifting very far. I will be moving the lights to a higher spot on the trailer soon. But I wish they would have used metal instead of plastic parts. What ever happened to quality? I am more than willing to pay a little extra for a better product.
Date published: 2018-04-01
Rated

4

out of

5
by
Victor
from
Great trailer buyer be prepared
Great trailer buyer be prepared. Picked up this trailer last Saturday from Boise Idaho. 09/29;2019 Just a few things you want you should know or at least I had problems with my trailer. Remember this trailer had its wheels put on at Lowe's store and it's not done to any specification so bring a torque wrench. Bring an air compressor or be prepared to go to the gas station straight away 68 pounds in one and 50 pounds in the Orther tire is not correct 100 is. My trailer driver side lights did not work wires have been pulled free you don't know that until you hook it up to your vehicle. Other than that I think the trailers great . SO BE PREPARED BUYER !
Date published: 2019-10-02
Rated

5

out of

5
by
Jhrich
from
Great little trailer
I purchased it at lowes and they were really great. They went to work on it immediately. I was ready to take it home with in 30 min. I had to drive 100 miles to get it home. Since it was empty it bounced around on rough roads but quiet on hwy. it was exactly what I was looking for. I placed 2x6 boards on the floor to give it more strength plus I added 21" sides which was taller than the 16" sides. This will give me the ability to stack more in it. I also added the trailer front wheel. I would think they should come with it. My needs are logs, branches and gravel hauling. Can't wait to put it to work.
Date published: 2015-07-19
Rated

3

out of

5
by
Dennis
from
Mediocre.
The hitch. Has a 1 7/8" hitch that cannot be changed to a 2" without cutting the weld. A 2" ball is far more popular. Paint is poor at best. 5 lugs hubs make for easy upgrade. Wiring doesn't even warrant a 1 rating. Bare wires, lights not connected, wrapped around sharp metal surfaces. Lights mounted too low to allow license plate mounting without tearing it off on first bump. Sides are not removable, so lights should be a foot or more higher for plate security and disability. Tailgate has security patch, which is good. Decent trailer if you are willing to reposition the lights, rewire the trailer, and repaint.
Date published: 2018-02-07
Rated

4

out of

5
by
Skip
from
This should be a great little utility trailer .
I have not had much time to use .The one major issue I had was while bring the trailer home the rear gate was lost. The latch failed and the gate was lost while driving on the expressway . Not a terrible rough road although this is Michigan . I was driving from Big Rapids to Grand Rapids about 60 miles. I did not notice the gate missing until I got home . Lowe's did send me a replacement and I have bolted it to the frame . I think this is a serious safety issue and would hope they will find a better way to secure the gate. The rest of the trailer seems well made .
Date published: 2016-08-31