Description
Efficiently clean large amounts of clothing with this 5.2 cu. ft. Samsung top-load washer! This appliance offers you a choice of 9 different wash cycles and 6 options, including a deep wash cycle and a self-cleaning option which doesn't require any detergent. You can pre-rinse heavily soiled or stained clothes with the built-in water-jet faucet using a simple push-button. This washer also features a stainless steel "Diamond" drum equipped with VRT Plus(TM) technology which keeps the drum evenly balanced. Thus, the sound level and vibrations during operation are greatly reduced. Backed by a 1-year limited warranty on parts and labor. Backed by a 10-year limited warranty on direct drive motor (parts only).

Ecological Attributes
This washer is ENERGY STAR® certified to save up to 25% in energy and 33% in water.
Product specifications
(6) Self-clean, delay end, pre soak, extra rinse, sound, child lock
10-year limited warranty on motor parts
Flexible Connector Pk/2 (01735519/3237-902) - Item sold separately
Electronic Touch/Rotary Knobs
(9) Normal, bedding/waterproof, heavy duty, perm press, delicates, quick wash, rinse+spin, spin, deep wash
Frequently bought together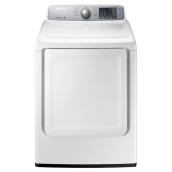 SAMSUNG
27" Electric Dryer - 7.4 cu. ft.
Format 43.85x29.96x27"
Details
Article #22945000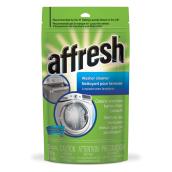 AFFRESH
Affresh HE Washer Cleaner - 3 Tabs
Details
Article #07305002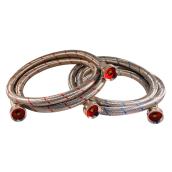 AQUA-DYNAMIC
Flexible Washer Connector - 3'4" x 60" - Pack of 2
Format 3/4"x60" 2/PK
Details
Article #01735519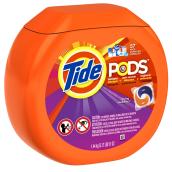 TIDE
Tide Pods Detergent - Spring Meadow - 57 Pieces
Format 57UN
Details
Article #13605148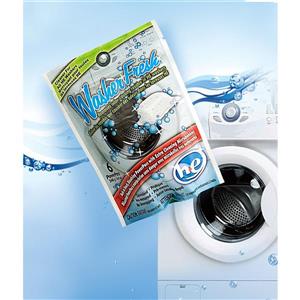 FRESH PRODUCTZ
Fresh Productz WasherFresh™ HE Washing Machine Cleaner - 6-Pouch
Details
Article #330656561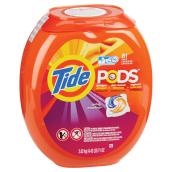 TIDE
Laundry Detergent - Tide PODS - Spring Meadow - 81 Units
Format 81UN
Details
Article #13605097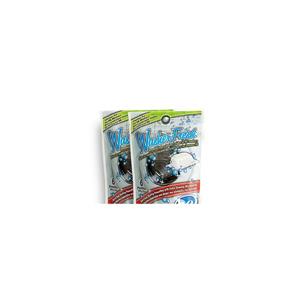 FRESH PRODUCTZ
Fresh Productz WasherFresh™ HE Washing Machine Cleaner - 12-Pouch
Details
Article #330656559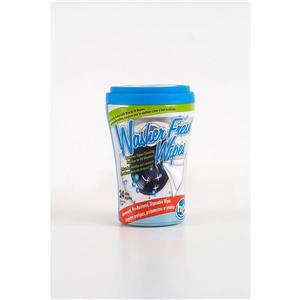 FRESH PRODUCTZ
Fresh Productz WasherFresh™ HE Washing Machine Wipes - 2-Pack
Details
Article #330656560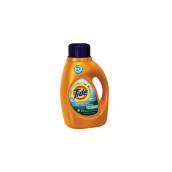 TIDE
Liquid Laundry Detergent - Cold Water - 1.36L
Format 1.36L
Details
Article #97735388
Am I able to adjust the water jets temperature? Whenever I use the sink option, the water is ice cold. TIA
Hello Ebbie, thank you for your question.The water jet temperature cannot be adjusted and is based on the home tap cold water. If you have further questions, please feel free to contact us at 1-800-SAMSUNG or via live chat on our website (www.samsung.com/ca/support).
Date published: 2019-12-05
so whats the answer, is there a spot for fabric softner to be added????
Yes, it even shows that on the images of the inside of the washing machine. It has a pull out drawer for laundry soap and fabric softener and a separate area to pour in bleach
Date published: 2019-05-09
is there a spot to add fabric softner/
Why does enough water never go into the washer? with light loads some clothes stay dry. I have to trick the washer and add a wet towel in order to get more water in the machine. I am sorry I bought this machine.
Top-Load Washer with Water Jet - 27" - 5.2 cu.ft. - White
is rated out of
5
by
24
.
Rated

4

out of

5
by
Momster
from
Does the job
Bought this washer last winter and it is holding up pretty well. It holds a queen size duvet beautifully and the lack of agitator definitely is a plus. It sings a cute little song when done that I had to turn off because my dog barked every time it went off. Downsides would be. It's tall. At 5'2" my feet are off the floor trying to reach socks in the bottom. It can become easily unbalanced with certain items. Lighter items like tshirts and towels trick the sensors into not adding enough water and if you use the pods they end up smeared and stuck to clothing. I sometimes throw in wet towels and jeans just to add weight.
Date published: 2019-10-12
Rated

1

out of

5
by
Nicole
from
Cochonnerie
Je n'ai jamais détesté autant une laveuse, j'ai tout essayé, les cycles, le savon, la température de l'eau, il reste toujours des résidus sur le linge. Je suis obligée de refaire un autre rinçage pour tout enlever! Ça fait 40 ans que je fais du lavage, je crois que j'en connais un peu là dessus! Je pense à en acheter une autre même si elle n'a que quelques mois, le pire c'est que je ne peux même pas la vendre car la personne qui l'acheterais voudrais savoir le pourquoi de la vente et je serais obligée de lui dire la vérité
Date published: 2019-02-13
Rated

2

out of

5
by
MathieuF
from
Most cycles are inadequate
Been using this washer for about 3 months now, and my wife and I have accepted the fact that we have to use the deep wash cycle for pretty much every wash otherwise some items end up on the surface and don't wash properly. When this is the case, they also come out with stains presumably due to the soap (although we only use HE liquid soap). Some items can't be washed with others since they unbalance the machine and no amount of additional rinces can fix the problem. For example, my karate uniform can only be washed with towels otherwise it unbalances the dryer which ends up giving an error code Ub after a few additional rinces. The built-in water jet isn't too useful since it's pointed straight and at the side instead of inward and in the middle so you end up splashing all around when using it. We've yet to be able to remove the soap dispenser from the machine to wash it even if the manual is pretty clear on how to proceed. Eventually I'll force it out and hope that it doesn't break in the process.
Date published: 2019-01-09
Rated

2

out of

5
by
tijuhar
from
Not happy with my purchase
Water doesn't always cover the clothes. I have to play tricks with the machine so it adds enough water to cover the clothes. If I set the water temperature to warm the water is cold or lukewarm. If I set it to hot sometimes it is hot but rarely. Most of the time it is cold or lukewarm. I have asked my plumber about it and he says that our hot water tank is set high enough. So very disappointed in this machine. Would love to talk to a rep about it.
Date published: 2019-12-10
Rated

1

out of

5
by
Cliente très déçue
from
Pire achat de ma vie
Acheté il y a un mois, des le premier lavage peluche le linge. Peu importe si je lave a l'eau chaude tiède ou froide, plus d'eau, moins d'eau, lavage long ou court, seulement avec du savon liquide, laisse des résidus de peluche sur le linge. C'est le pire achat de ma vie! Cochonnerie...
Date published: 2019-12-28
Rated

5

out of

5
by
Pit Couture
from
Simple d'utilisation
Très satisfait de mon achat de laveuse Samsung. Lave bien en utilisant un minimum de savon. Appareil très fonctionnel.
Date published: 2019-06-16
Rated

5

out of

5
by
HOME
from
WHY NO OTHER COLOURS
I WISH THERE IS OTHER COLOURS FOR THIS UNITS SURPRISED NO PLATIUM
Date published: 2018-08-31
Rated

1

out of

5
by
Full of regret
from
Absolutely terrible
Bought this hunk of beeping junk a month ago and its Friday night and error codes already... What a peice of landfill...
Date published: 2019-05-18