Description
This Samsung washer has a 5.8 cu. ft. capacity which lets you wash family-sized loads easily. Featuring a platinum finish bringing a modern look to the laundry room, this appliance offers a choice of 11 wash cycles, 5 temperature options and 3 water levels for all your laundry needs. It is equipped with SelfClean+ technology that keeps the tub clean without using detergent, as well as with Smart Care technology that actively monitors, detects and diagnoses technical problems and sends troubleshooting options to your smartphone. The Vibration Reduction Technology lets you enjoy quieter operation.

Ecological Attributes
This washer is ENERGY STAR® certified to save up to 25% in energy and 33% in water.
Product specifications
Electronic Touch/Rotary Knobs
Flexible Connector Pk/2 (01735519/3237-902) - Item sold separately
(11) Normal, Bedding/Waterproof, Heavy Duty, Permanent Press, Brillant Whites, Active Wear, Delicates/Hand Wash, Quick Wash, Rinse + Spin, Spin Only, Deep Wash
SelfClean+, Delay End, Pre Soak, Extra Rinse, Sound (On/Off), Child Lock, Smart Care, 5 temperature options, 3 water levels
Reversible Door Swing (Y/N)
Frequently bought together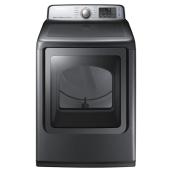 SAMSUNG
Electric Dryer - 7.4 cu.ft - Platinum
Format 7.4CFT
Details
Article #22945128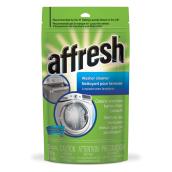 AFFRESH
Affresh HE Washer Cleaner - 3 Tabs
Details
Article #07305002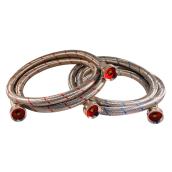 AQUA-DYNAMIC
Flexible Washer Connector - 3'4" x 60" - Pack of 2
Format 3/4"x60" 2/PK
Details
Article #01735519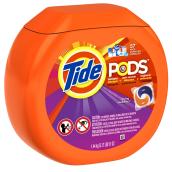 TIDE
Tide Pods Detergent - Spring Meadow - 57 Pieces
Format 57UN
Details
Article #13605148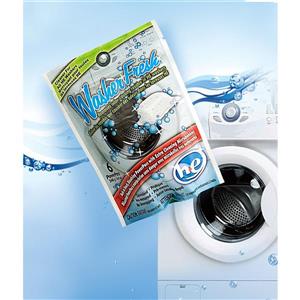 FRESH PRODUCTZ
Fresh Productz WasherFresh™ HE Washing Machine Cleaner - 6-Pouch
Details
Article #330656561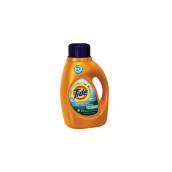 TIDE
Liquid Laundry Detergent - Cold Water - 1.36L
Format 1.36L
Details
Article #97735388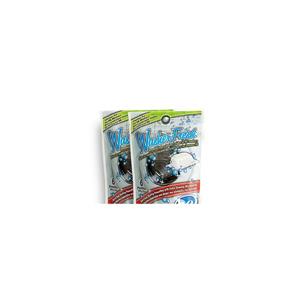 FRESH PRODUCTZ
Fresh Productz WasherFresh™ HE Washing Machine Cleaner - 12-Pouch
Details
Article #330656559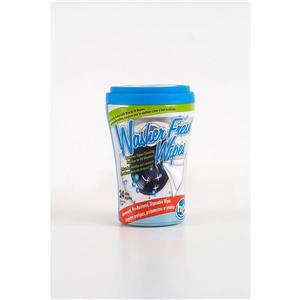 FRESH PRODUCTZ
Fresh Productz WasherFresh™ HE Washing Machine Wipes - 2-Pack
Details
Article #330656560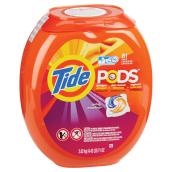 TIDE
Laundry Detergent - Tide PODS - Spring Meadow - 81 Units
Format 81UN
Details
Article #13605097
What is a minimum load? Would washing one jeans spoil the drum?
What is the dimensions of the dryer and washer 
what are the dimentions of the washer dryer
Top Load Washer - 5.8 cu. ft. - Platinum
is rated out of
5
by
120
.
Rated

5

out of

5
by
GwashMe
from
Samsung washing machine
I purchased the Samsung washer because the price was right at the store. I did not realize the capacity until it was delivered. The features at the store caught my attention right away. The active wear, self-clean (yes!), and bedding, and the no agitator was something I really wanted among other features that were a plus. In addition, the price was low and affordable. Once the set up was finished, I washed two loads of my son's clothes in no time. I was impressed at the time it would have taken to wash with my old washer. The capacity helps wash clothes in no time, the sound is smooth. Simply put, I am happy with my first purchase of a Samsung washer.
Date published: 2017-04-21
Rated

1

out of

5
by
MRod3922
from
Mold build up
We have had this washer dryer combo for just over a year now and have had multiple issues with this washing machine building up mold quickly. We always leave the top of the washer open after use to air out, but the agitator plate within the drum is poorly designed. I constantly have to clean out the mold that builds up within the plate. We use the affresh cleaning tablets as well and this doesn't help one bit. I took apart the agitator plate and found a large amount mild build up between the the plastic piece and aluminum metal that covers the plastic. This is definitely not acceptable and unwanted. Mold pieces break off and end up on our clothes. The washing machine develops a terrible smell and your clothes will get mold in it. I wouldn't recommend this product to anyone unless Samsung finds a solution.
Date published: 2019-05-12
Rated

5

out of

5
by
nana2019
from
Washer review
We have had our set for four months. I was unsure what to expect after reading the disparity of reports, but have other Samsung appliances and took the plunge. We are very satisfied. If you are expecting the same water fill, agitation etc of your nonHE washer, you should know this will seem different. It is not worse, just different. I am also a nurse, have grandkids, a dog, a yard, a garden, love to craft and cook. I have had no problems with the washer and feeling like stains were removed or the clothes cleaned. If I have blood on something or a stain I am concerned about, i use a detergent booster or pretreat, just as I have always done. I appreciate the water saving features and do not feel it compromises cleaning ability. It IS different. But change can be good.
Date published: 2019-05-05
Rated

1

out of

5
by
Laundryma
from
Have to warn you
I'm in between moving wet items from tub of machine to buckets because this giant top loader is going OFF BALANCE again. I have to warn you that this machine is a disaster. I should have stayed with a front loader. 1. Forget about doing regular bath rugs; towels & bedding - it's always going off balance (UB it reads) I have to open it & lift wet heavy things and try to move them around -doesn't work- now lift rugs etc., into buckets and try less items; ughh 2. Can not reach the bottom to retrieve clothing, I'm of normal size; this thing is just TOO DEEP 3. Guess I'm stuck with this thing for awhile :((
Date published: 2018-03-07
Rated

5

out of

5
by
John B
from
Great Washer
I have owned the washer for a year now after Black Friday Purchase. I replaced a frontloader. I am happy how well the machine works and that it is low maintenance. Since it holds so much, the tub is pretty deep and a step stool may make it easier to get all of the items out for those who are vertically challenged. [This review was collected as part of a promotion.]
Date published: 2018-11-18
Rated

1

out of

5
by
Midget
from
Laundry Insanity
I have owned this washer for just over a year now and it is a constant source of frustration. I was excited to have such a large capacity washer because we have a large duvet. My excitement was short lived because trying to wash bedding is an absolute nightmare. Washing my bedding is now an all day affair because I must constantly stop the washer to try to rebalance the load. Furthermore, the bedding comes out so wet it took over two hours to dry one quilt. When trying to wash clothing, the washer turns the load into a giant pile of knots that I literally have to pry apart to get into the drier. I also find that when washing darks, I always have to use an extra rinse cycle to ensure they don't come out covered in soap scum. The washer was so miserable to use, I was sure there was something wrong with so called the approved tech in our area to come look at it. Sadly, all was well. He said that's just the way this washer is. So unhappy with this product I am considering selling it at a tremendous loss just to be free and clear of it. I'm not sure how this can be called water or energy efficient because if you try to wash anything on the normal cycle it doesn't come out clean. If you wash anything on another cycle that actually gives you enough water to clean, they come out so wet you have to run your dryer three times as long to get it dry. I have read the users manual from cover to cover and have done everything by the book - including folding bedding in the correct way before I place it in the machine - which is ridiculous if you think about - folding your laundry before you wash it!? I know this post is all over the place - that is how freaking unhinged using this appliance makes me. Will never ever ever buy a Samsung washer and dryer again.
Date published: 2018-10-08
Rated

2

out of

5
by
CanadianShopper
from
Don't buy
Disappointed in my Samsung washer and dryer. The pre soak only gives you the option of ice cold so you can't hand wash anything unless you wear gloves. When it's on the "spin" only cycle, it continues to add water. Also, the dial to change the cycles lags and is slow. I was much happier with my old appliances!
Date published: 2018-03-15
Rated

5

out of

5
by
Gerit
from
product anti-vibration feature is nice!
I had balance problems continually with a Whirlpool washer I owned prior to purchasing this Samsung machine. No problems with this Samsung. I also love the quiet operation of this machine. I would highly recommend this Samsung machine if you've had balance problems with washers in the past!
Date published: 2017-04-28