Description
This electric dryer from GE has a 7.2 cu. ft. capacity and offers 4 heat selections for all of your drying needs. This appliance's sensors touch clothes and stop the heating cycles as soon as the clothes have reached the selected dryness. This dryer also features a quick fluff option delivering ready-to-go results in minutes without heat. It is highly recommended to use a 4" (10.2 cm) diameter rigid aluminum or galvanized steel duct with this product.
Product specifications
Air fluff, casuals, cottons, delicates, quick fluff, timed dry
Flexible Aluminum Duct (12245451/FX0456MC) - Item sold separately
Reversible Door Swing (Y/N)
Frequently bought together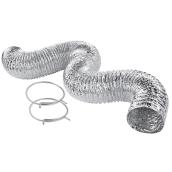 IMPERIAL
Flexible Foil Ducting with Clamps - 4" x 8'
Format 4x8'
Details
Article #12245451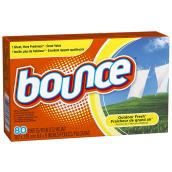 BOUNCE
Dryer Sheet - Outdoor Fresh Scent - 80 Sheets
Format 80SH
Details
Article #13605152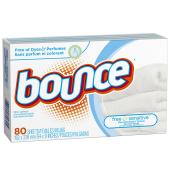 BOUNCE
Dryer Sheet - Sensitive Skin - 80 Sheets
Format 80SH
Details
Article #13605154
Why am I seeing brown almost looks like burn or heat damage
I'm not sure. This dryer does not work very well, it usually takes two cycles to completely dry larger loads. I have only had one problem with it popping a circuit on my panel, and then having to reset the circuit a couple of times before the dryer started heating up.
Date published: 2019-03-25
Can these be side vented
No, the only opening for venting is the very bottom of the back 
Date published: 2019-03-14
What is the warranty on this product??
1 year on the whole unit and 2 years on the motor itself
Date published: 2018-12-16
Hi. I need to buy this dryer but space is an issue.. Could you please tell me what four-day venting is? And I noticed at the store that the depth was about 36"with the bumped-out rear wall.. You state it's 29.5" deep??? Am I mistaken???
I think they mean four way venting. Mine is 26" deep plus the rear bump out making it around 29.5
Date published: 2018-04-28
Is the 4.4 Cu ft stainless steel basket top load washer 731880/GTW330BMKWW in this week's flyer a high efficiency washer
Specs: 15 lines down: "High Efficiency: No"
Date published: 2017-10-30
Is the dryer gas or electric
"GE 7.2 cu ft Electric Dryer (White)" 
Date published: 2017-10-30
please define long venting capability.what length, I am aware that I have to add 5 ' for every 90 bend thanks
I have a natural gas unit and need to convert to propane no instructions on how to get to gas valve
Top Load Dryer with DuraDrum2 - 7.2 cu.ft. - White
is rated out of
5
by
22
.
Rated

3

out of

5
by
Darkinside
from
Too dark to see my clothes
Bought this dryer two weeks ago and find it an excellent replacement for my previous dryer EXCEPT for the lack of a light inside when I open the door. Great big drum but I can't see inside to collect all the dried clothes. The switch is there but no socket for the lamp. Did they forget it or just cheap out on an otherwise very nice machine.
Date published: 2017-01-16
Rated

3

out of

5
by
ANIC
from
Noise dryer for sure
Just had is a couple of days. Buzzer too loud, and seems to sound off twice or three times before it shuts off. No light which is not great for sure. No MANUAL. They give a basic manual for all makes that really does not suit the model. I just find it is too noisy of a drum as well. My brother bought and did not do his research. This is totally a piece of average that won't last long. Too bad, I enforced for Canadian bought material but did not except this.
Date published: 2019-04-09
Rated

1

out of

5
by
Wayne
from
Cheap Plastic Parts.
This Dryer After Just Over A Year (Thank God I Purchased Extended Warranty) The Top Hinge Of The Door Fell Off Bending Up The Bottom One When The Weight Of The Door Fell On It. Then The While Waiting For The Repair Man To Look At It The Timer Seized And Now Have To Wait over 2 weeks for parts and canèt even use the vice grips that i was told to use foe a temp because the timer shaft is plastic and just chews up. Junk!
Date published: 2018-07-31
Rated

1

out of

5
by
GEdiaspointment
from
GE Sensor Dry, top load dryer
Very loud from the beginning. Repairperson thought at first it was the drum, after a new drum then realised the side panel was faulty and was replaced. Eleven months from purchase the machine is acting like there are small explosions, e.g. bangs, making floor vibrate a lot. The third bang was so loud that we thought there was an impact (from unknown source) on exterior wall. (No) it was the GE clothes dryer. Later there was also a screaming sound. Oddly, the service centre in Mexico told us the warranty had run out (before it was even purchased). Really concerned about the function of this expensive machine. Service people are great but do not wish to contact them each year for servicing this machine. I am concern about the quality of this machine.
Date published: 2018-10-16
Rated

2

out of

5
by
CallMeAl2
from
Be Careful What you wish For
Bought this product 14 months and 9 days ago, comes with a 1 year warranty. Now the timer is broken. That is absolutely ridiculous considering we do +/- 4 loads a week or approximately 250 loads since delivery. Now the cost to repair it is going to be almost half of the cost to replace it with a new one.
Date published: 2019-04-26
Rated

5

out of

5
by
WorkingMom22
from
So far it's a winner
Purchased this dryer 6 months ago and am pleased with its performance. Was a little wary after reading some of the reviews but it has been problem free. Note to buyers - it does not have a drum light or buzzer to let you know the load is done. Store I purchased from told me that ahead of time though.
Date published: 2018-11-08
Rated

4

out of

5
by
Susie Q
from
Great dryer, works well. Very disappointed with the end of cycle buzzer, it is loud and can not be turned down or off. Was never told about this when I purchased it
Date published: 2019-05-01
Rated

4

out of

5
by
Smile
from
Efficient
The buzzer is VERY loud and can not be turned off. I am to the point of figuring out out to disconnect the buzzer from the system it is so LOUD!
Date published: 2019-11-19