Top-Freezer Refrigerator - 30" - 18 cu. ft. - White
Article #30005633
Model #MRT118FFFH
Format 67.31x33.12x31.93"
This item is not currently available for immediate purchase, but can be ordered by visiting the selected store. Orders typically take 3-7 days from date of order to be received at your selected store.
Description
Great storage capacity makes this Whirlpool top-freezer refrigerator a great choice for your space. Up-front controls give you easy access to temperature without having to reach, while LED lighting makes it easier to find what you need. A pantry drawer and adjustable shelves offer customized storage, while the FreshLock(TM) crispers have a bottom-mounted design for stability while maintaining the freshness of your produce. A Fresh Flow air filter helps eliminate odours, while the white finish complements any kitchen setting.
Product specifications
Number of Refrigerator Shelves
1 fixed full-width gallon, 1 fixed full-width, 1 fixed partial-width, 1 fixed partial-width gallon, 1 fixed partial-width flip-up storage, 1 dairy compartment
2 humidity controlled crispers, 1 non-climate controlled drawer
2 adjustable shelves, 1 fixed shelf, 1 deli drawer, 2 crispers, 1 dairy compartment, 5 door bins
2 door bins, 1 glass shelf
Optional ice maker ECKMF95
Reversible Door Swing (Y/N)
Frequently bought together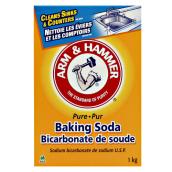 ARM & HAMMER
Baking Soda
Format 1KG
Details
Article #53975001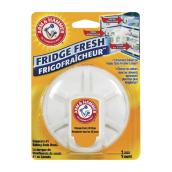 ARM & HAMMER
"Fridge Fresh" Refrigerator Air Filter
Details
Article #53975000
does the door only have the handles on the left Sid of both doors?
Yes handles on both sides. Hinges can be changed from side to side. Door can open either way.
Date published: 2019-07-09
Top-Freezer Refrigerator - 30" - 18 cu. ft. - White
is rated out of
5
by
1073
.
Rated

5

out of

5
by
Kathy
from
Maytag man not welcome here
I just purchased Maytag 18.2 cu ft Top Freezer Refrigerator and am extremely happy with this item. After doing a lot of homework, I picked this model mainly because of the deli drawer set up. Instead of being deep and taking up a lot of room on one side of the refrigerator, it is thinner and runs across the length of the appliance. Definitely easier to see and find the foods stored there. I also have a galley kitchen; could not completely open the door on my old refrigerator. The new Maytag fits and door opens all the way perfectly. A sufficient amount of room without taking up a lot of space. [This review was collected as part of a promotion.]
Date published: 2019-05-22
Rated

4

out of

5
by
DBow
from
Nice product
I was very pleased with this refrigerator. It runs super quiet in comparison to the one it replaced. It is spacious with a very large drawer for meat, and it is well lit so that everything is easily viewed. My only complaint is that my gallon mile jug does not fit in the door. The pictures I viewed showed a gallon jug fitting in the door. I understand that there may be some smaller sized gallons that would fit, but the standard grocery store gallon does not fit. That was one of the main reasons I picked this refrigerator over others.
Date published: 2017-08-25
Rated

4

out of

5
by
Anonymous
from
As advertuzed
Purchased this to replace a failing basement refrigerator. It does the job and is quiet. I wish I had gone for a split shelf model because utilizing the existing shelves makes for a pretty tight situation. Tall bottles do not fit. The door shelving could also have higher barriers to keep cans and jars from nose diving. I have limited the door use to cans only, for that reason. I tested the unit with a laser thermometer and found the unit to be quite satisfactory in all areas except the doors which are about 5 degrees warmer than the interior; not a good place to store milk but OK for butter . [This review was collected as part of a promotion.]
Date published: 2016-10-14
Rated

1

out of

5
by
Anonymous
from
Poor
I am very disappointed in this refrigerator. It is poorly constructed and not as advertised in the product specifications. The deli drawer doesn't fit properly and there's a large gap between the shelf and the top of the drawer. There are plastic shavings on all the door bins that were not properly trimmed. The door bins cannot fit a gallon of milk as stated in the product info page. We contacted Maytag to return the product and pick out a new one, but they were't interested in helping us. Will not be buying another Maytag product. [This review was collected as part of a promotion.]
Date published: 2016-09-12
Rated

3

out of

5
by
Anonymous
from
It's new, it works
I bought this unit about a month ago. Once I started using it. I noticed several design flaws. It has a door stopper that does not allow shelves to be removed easily for cleaning, or moving to a different level.A Gallon of milk would not fit into this refrigerator. The control panel is in the center, where it gets in the way of putting food on the top shelf. I like the wide lunchmeat drawer. I made a service call to Maytag regarding the doorstoppers, and the reply was totally unsatisfactory. So much for TOP service. I am replacing a Kenmore that was 16 years old and getting tired. [This review was collected as part of a promotion.]
Date published: 2017-01-30
Rated

1

out of

5
by
Figureitoutmaytag
from
Chemical Leakage
I had purchased an apartment unit which had a Maytag refrigerator in it. After my experience I will never touch another Maytag product ever again. It worked fine no complaints for a year(was built in 2017), however yesterday I started to notice a nail polish chemical smell. After some investigation I realized it came from the back of the refrigerator. Doing some research I quickly realized the alarming event that my fridge was leaking Freon. The constant chemical smell/light headedness has made my apartment unbearable to be in. At this point I want the refrigerator out of my unit, very sad Maytag!
Date published: 2019-10-06
Rated

5

out of

5
by
Kristina
from
Perfect for my limited space!
When we purchased our home, the previous owner had installed very costly, beautiful cupboards, that utilized every bit of the kitchen. So when looking to replace the existing refrigerator there was no way we were going to remove cupboards for a larger refrigerator. It is a perfect size, and the handles being inverted into sides of the door, saves even more space, and avoids fingerprints on the front of door.
Date published: 2017-08-03
Rated

4

out of

5
by
AZ Native
from
Works Almost Too Well
We bought this model as an extra for overflow items and to replace a similar refrigerator that was quite old. Although it's smaller than the old model, it seems larger probably because it has greater depth in the freezer and refrigerator compartments. The shelving is easy to adjust but I wish there were more flexibility in those adjustments. Also the control panel in the refrigerator section is in the top front which limits what you place on the top shelf. Lastly, it cools almost too well as we've had to set it to the lowest temperature level to keep liquids from freezing. [This review was collected as part of a promotion.]
Date published: 2017-07-12