Description
This GE refrigerator features a contoured door with high-gloss finish for sleek elegance with a smooth surface. The door is reversible for more convenience. This compact refrigerator provides a lot of storage space - 2 clear vegetable crispers, 3 full-width shelves, including 2 adjustable, and 3 full-width door compartments allow you to preserve your favourite foods. The freezer comes with a frost-free defrost function and an Ice N' Easy Tray.


Ecological Attributes
This refrigerator is ENERGY STAR® certified to save up to 10% in energy.
Product specifications
Frost-Free defrost system
Reversible swing door, 3 door bins, 2 humidity-controlled crispers, 1 dairy compartment
Reversible swing door, 2 door bins, 1 shelf, 1 ice tray
Reversible Door Swing (Y/N)
Number of Refrigerator Shelves
Frequently bought together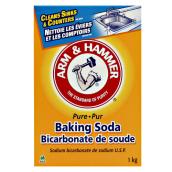 ARM & HAMMER
Baking Soda
Format 1KG
Details
Article #53975001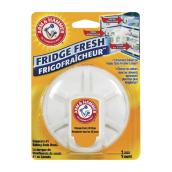 ARM & HAMMER
"Fridge Fresh" Refrigerator Air Filter
Details
Article #53975000
What is the country of manufacture for this GE fridge? (As an apt. building manager, I am aware the fridges built in China are junk).
Pretty sure GE is a U.S. company.  All I can tell you is that it is the best looking, laid out and most spacious apartment sized fridge I have seen.  
Date published: 2019-03-28
What is the k/Wh/yr rating on this fridge
my oner bought this same fridge nov 30 2012 compresser gone after 6 yrs we have to get another ffridge ge is a piece of garbage
Date published: 2019-07-07
If I were to purchase this fridge would the manufacturer change the side for the opening of the doors? I would need them to open from the right... I see they open from he left currently
No, you have the ability to change them yourself. It isnt hard as long as you have a screwdriver.
Date published: 2019-07-07
Does this refrigerator have wheels.
When delivering a new refrigerator do you remove the old one?
Who manufactured the GE 11 cubic ft refrige and freezer. I bought it in 2015. The sticker in the fridge sez Electrolux. GE sez not. The freezer has a thermostat at the rear of the freezer and my operaters manual sez not. I hope that you can solve my myste
Is it possible to poste an interior picture of this fridge. The exteriors are fairly the same but the interior design is vitally important thx
What is the height and depth of this 24 inch fridge?
Top-Freezer Refrigerator 24" - 11.6 cu. ft. - White
is rated out of
5
by
71
.
Rated

5

out of

5
by
ladyotter
from
This Frig is so nice we bought a 2nd one!!
We have 2 apartments - when one frig (12 yrs old) went down and we got this 12 cu ft GE we weren't sure we'd like it - BUT--- WOW! We LOVE IT! The large shelves in the door hold all the items we used to have to go searching inside the refrigerator for. What terrific convenience. The when the 16 yr old refrigerator in out other apartment went down, it was a no-brainer, We bought another 12 cu ft 24" wide GE, and we love that one too. Even my husband says he loves it because his 1 liter bottles of Pepsi, as well as the wine and seltzer for spritzers all fit in one door shelf. We're happy to recommend this one!
Date published: 2019-11-02
Rated

3

out of

5
by
Igor117
from
Average
This one seems to work. The first one was defective and not cooling well. This will cycle on and off. When off the temp in the frig is 41 and when cool temp 37/38. I liked the Profile I had. The door shelves are clear plastic and they will scratch easily. The freezer is fine. I don't lije the draw/bibs. They are not on a track or anything so when fillec with produce and you pull it out it tips and that is very disconcerting. Also, the shelves are glass. There are no wire shelves. I imagine with this glass set up the cold air doesn't circulate that much.
Date published: 2020-07-23
Rated

5

out of

5
by
Riverdale Girl
from
Great frig. Just what I wanted and more
I replaced an older GE Refrigerator ( 15years ) that was still in working order. That being said I was interested in purchasing another GE. I live in a studio apt and I am restricted to a certain size. I had an 11 cubic foot before. This one is is ever so slightly bigger. Great organization. I fit a gallon size of milk, 1/2 gallon almond milk and a good size filtered water canister. Milk can go on side of door if you wish. It's very quiet. Vegetable bin is see thru. Easy to see what you have and what you need. I am sooooo pleased with this purchase.
Date published: 2019-05-13
Rated

4

out of

5
by
ANONAMISS
from
COOL PRODUCT
OVERALL THIS PRODUCT IS WELL CRAFTED. ONE MINOR DETAIL IS THAT THE DOORS DON'T CLOSE COMPLETELY WHEN SLIGHTLY PUSHED. THE DOORS ON BOTH THE FREEZER AND REFRIGERATOR HAVE TO BE SHUT CLOSED PROPERLY
Date published: 2016-08-30
Rated

1

out of

5
by
hg
from
There's a Jungle in there!
Made in China. It makes all kind of noises (this is NOT a joke): 1. Jungle resemblance: sounds of Elephants, lions, wolfs, frogs, etc; 2. Vomiting: For a while I was thinking my neighbor was throwing up badly till I realized it was the sound from the refrigerator. 3. When the door of the freezer gets open there's a scary roaring sound. The refrigerator was brand new out of the box, and was replaced 3 times, but still the same except the roaring sound from the freezer is gone. "Phew!"
Date published: 2019-05-10
Rated

1

out of

5
by
Easyed714
from
Freezer is not working properly.
This freezer is not working properly. Ice cream and bread remain soft after having refrigerator for less than a month. When I called the appliance store where I bought it, the customer service rep said it will take 4 weeks to get repairman. I spoke with store manager who said she would exchange the refrigerator for anew one. When the new one was delivered, the knob or roller to level the refrigerator was broken and delivery men could not fix it. I am still using the original refrigerator which has a freezer that doesn't freeze very well.
Date published: 2021-02-23
Rated

4

out of

5
by
NickSz
from
Great RV Refrigerator
Replaced a Norcold 12cuft in motorhome. Don't need more cold space. Got room for broom closet & pantry. Keeps everything cool & takes less power. Deeper shelves for storage. Wish there was a light in freezer & fine-tune control for refrig temp. Made travel door lock with ball bungee, "s" hook & metal hinge in door side-swap mounting holes. Refrig is more expensive than Frigidare - hope it is more reliable.
Date published: 2016-09-07
Rated

5

out of

5
by
Ron2328
from
Great Product
I bought this as an extra refrigerator in my basement for the holidays, and all year round for large items that would take up too much room in my main refrigerator. I selected this unit because it fits in my back door. However, even with its narrow width, it is a nice sized unit that meets my needs. It looks nice and runs well. It is super quiet and energy star rated. The LED lights are cool.
Date published: 2018-12-24