Description
There's always a place for fresh and frozen favorites inside the 30" wide top-freezer refrigerator with 19 cu. ft. capacity. Finding food is easy thanks to energy-efficient LED interior lighting, and for more convenient storage options above the refrigerator crisper, the Flexi-Slide bin quickly moves side-to-side. There's even an additional door bin to help you store more, so there will always be room for what you want, where you want it inside the top-freezer refrigerator with electronic temperature controls. Plus, you won't have to fill ice trays again thanks to the compatible, easy-to-install EZ Connect icemaker kit (icemaker kit sold separately - model ECKMFEZ2)..

Ecological Attributes
This refrigerator is ENERGY STAR® certified to save up to 10% in energy.
Product specifications
Number of Refrigerator Shelves
Shelves: 3 interior shelves, 1 fixed conventional shelf full-width glass, 2 adjustable full-width glass. Door Bins: 1 Dairy, 1 Fixed Full-Width Gallon, 4 Adjustable Partial-Width Gallon. Drawers: 2 Half-Width humidity-controlled drawers.
Shelves: 1 interior shelve fixed, full-width glass. Door bins: 2 fixed full-width bins.
Reversible Door Swing (Y/N)
Frequently bought together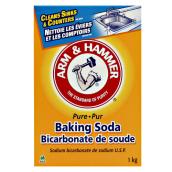 ARM & HAMMER
Baking Soda
Format 1KG
Details
Article #53975001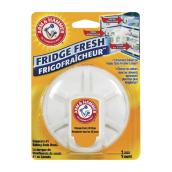 ARM & HAMMER
"Fridge Fresh" Refrigerator Air Filter
Details
Article #53975000
What is the fridge width? Why do the specs not provide this info? Somebody there needs to THINK!!!!
Top-Freezer Refrigerator - 19.2 cu. ft. - White
is rated out of
5
by
244
.
Rated

1

out of

5
by
kupuni
from
JUNK!
I bought refrigerator in Dec. 2015 and it has never worked right! On the recommended temp. the range is too broad.It gets too warm and then too cold and freezes things. There are only 3 setting. low, middle (recommended) and high. Service people have worked on it 6 times or more and replaced the temp. controller 4 times but nothing changed. In the morning it's about 44 degrees so I have to put it on the high setting until the temp drops to about 36 degrees, then I put it back to the recommended middle position. So I'm changing this at least twice a day. I've lost over $200 worth of food to freezing. Whirlpool has finally agreed to replace this unit and give me credit towards purchasing another one of their refrigerators. My 20 yo. Roper fridge in the garage works better than this one.
Date published: 2016-10-22
Rated

5

out of

5
by
Seektheface
from
It's really big!
When I moved into my new home, my old refrigerator decided to go out. I looked around for awhile for a replacement. I am happy that I took my time and got this refrigerator. It is really large to accommodate my family. There is lots of space to store my freezer items and there are plenty of shelves on the door to store drinks and condiments. The drawers have temperature control sliders to match your produce up with the correct humidity. The deli drawer is nice size and adjustable. There is room for all my dietary needs. I love fruits and can store whole melons inside. No more over ripened fruit due to lack of storage space. I am very happy with this purchase.
Date published: 2017-09-25
Rated

5

out of

5
by
Anonymous
from
Great Value
We are very happy with this refrigerator. This is a basic refrigerator and for the price, it is a great value. I am in the food service industry and the most important feature for me, is that it keeps proper, consistent temperature which it does. My personal preference would be that the shelves were wire especially in the freezer because I use it to cool foods to the proper temperature and with a glass shelf, you have to be considerably more careful. I think the gap in the door shelf of the freezer is too wide for convenience but with all things considered, it is a great refrigerator. [This review was collected as part of a promotion.]
Date published: 2017-06-01
Rated

1

out of

5
by
Marlee
from
After 2 years a lemon.
I put up with the door not really holding anything well whether it fell through like the freezer or not narrow enough in fridge to hold bottles upside down when near finished. The fridge door looked nice in store but after sometime you realize it is very badly designed. The sealing was warped but it appeared to not leak coldness. The stainless steel is very hard to keep looking nice. Now what has made me write this review after 2 years is that I am having the repair man again in less than 2 months to fix it. First the fridge was freezing and defrosting all day long and now the freezer is doing it. Ugh as I write this I notice it now makes loud noise when motor turns on. I am so hoping to replace this somehow. I'm fed up of wasting money on food.
Date published: 2017-09-03
Rated

4

out of

5
by
Anonymous
from
Great for the Price :D
I bought this two weeks ago and I am satisfied with the purchase. It is a big improvement from my previous refrigerator which broke down. Since I live in an apartment, space is pretty tight and although this refrigerator is slightly bigger than the previous one - it does not take up too much space. It is also very spacious within the refrigerator section. The freezer section could be bigger but I'm not complaining. The only real down-side worth complaining about is how low the refrigerator door is. It's pretty close to the ground and if you open the door while your foot is right in front of the door, you will definitely stub your toe. Therefore, be careful! [This review was collected as part of a promotion.]
Date published: 2016-07-06
Rated

5

out of

5
by
Gramma 67
from
Spacious
I have had this for a few weeks now and I love it. So much room, especially the door, hold so many items that in my old fridge got lost way in the back. I love the idea of the smaller bin to hold cheese and cold cuts. Everything is clear plastic so I can see what I have in the produce bins, very well lit up. The freezer is a pretty good size, and my ice cream actually freezes perfect, not too hard or too mushy. I studied a lot of refrigerators before purchasing a Whirlpool and the price was in my range and also fits my kitchen, I also own a whirlpool stove and dishwasher. I plan to stick to this name brand for a long time. (This review was collected as part of a promotion.)
Date published: 2018-05-28
Rated

1

out of

5
by
Anonymous
from
Poor design
Returned this unit .Dissatisfied with shelf design. Freezer shelves too narrow with no bottom. Smaller item fell through to floor. refrigerator shelves when adjusted to fit larger bottles did not allow items to fit in shelf below. Freezer has no light. The freezer door extends down and out too far so that to see items on top shelf we had to bend down.and subsequently hit our head on the freezer door getting item out.. [This review was collected as part of a promotion.]
Date published: 2016-05-21
Rated

4

out of

5
by
Red1213
from
Take a little to get use to
We purchased this refrigerator to replace our 17 year almond colored one, all other appliances are black, drove me crazy for years. The space inside is nicely laid out, although the veggie and fruit drawers are smaller than our old refrigerator. The first hours after it was installed I noticed it made a little more noise than the old one, but once it got up to the correct temp it was really quiet and has remained very quiet. The finished is a high gloss black, easy to clean, but finger prints do show at certain angles, I don't have kids so no biggie. [This review was collected as part of a promotion.]
Date published: 2019-01-16