GATOR - Drill-Grinding and Sanding (1)
Remove the rough edges left behind by cutting or welding, leaving projects smooth and polished, using
grinders
and other attachments. Stones round, conical, or cylindrical shapes attach to cordless or
corded drills and drivers
, which turn them at rapid rates and deliver precision control. There are also
sanders
that use pads of sandpaper or sanding sleeves to remove the rough outer surface of the wood. Remove rust and polish metal as well as wood with brush wheel attachments. Rona offers a versatile array of
rotary tool accessories
for many applications, such as cut-off wheels and specialized bits.
---
Rona's selection of drill-powered
grinders 
and other sanding attachments make it easy to give your project a smooth and finished look. Clean up rough edges left behind by saws with
sanders
, or bumpy textures at welding joints with
grinders
. Drill
grinders
 come in a range of shapes and sizes to move around work pieces, scouring away these and other imperfections. They offer not only quick and convenient deburring but also precision control. Look for round, conical, and drum-shaped attachments, both individually and in collected sets.
These attachments are made of abrasive materials such as vitrified aluminum oxide or steel wire. Consider the latter for heavy-duty applications such as the removal of long-term accumulations of rust and other environmental build-up. There are also nylon brushes and flap wheels with coarse grit to polish flat surfaces such as tile. They are also essential for stripping away an old, chipped layer of paint before applying a fresh coat. Some brushes have a cup shape to better polish spherical objects. Rotary rasps made of tempered steel provide aggressive cutting power when filing down many materials, including metal, plastic, and wood. Some of these also feature cut-outs for an improved view of the work piece.
Other attachments include drum-shaped
sanders
and sanding sleeves that leave wood feeling smooth to the touch. Like grinding accessories, these are also available in many sizes to suit the needs of different applications.
These
power tool accessories
are compatible with many power drill models and attach to them with ease. Drills with quick-change chucks facilitate rapid bit exchanges and quickly switching between attachments while the project progresses.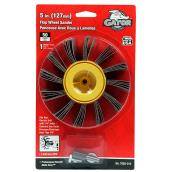 GATOR
Gator Flap Wheel Sander - 5-in dia - 1/4-in Arbour - 50-Grit - for Electric Drill
Format 5"
Details
Article #77375596