SIMPSON STRONG-TIE - Pneumatic Nailers and Staplers (1)
Use
nailers
to install or repair roofs and other structures. These tools have lightweight, ergonomic designs to help minimize user fatigue. Fire nails of different sizes into wood, concrete, plastic, stone, or metal surfaces. Pneumatic nailers handle framing, flooring, and other construction applications. For heavy duty jobs,
nailers
can fire at high speeds, and have large magazines to hold 
coiled nails
.
Select pneumatic
staplers
 to provide more versatility on the job, handling insulation and moisture barrier applications quickly.  Both tools include contact safety mechanisms. Consider 
air compressors
 that come with a
nailer
included for ease of use.
---
Pneumatic
nailers
offer the means to finish jobs quickly and with precision. Air-driven power provides reliability and efficiency. It also means less maintenance, with no oil to change. Many
staplers
feature high-capacity coils, providing a greater supply of nails and
staples
so there's less time spent reloading. Their durable housings and over-moulded handles make them rugged and durable, so they stand up to the rigours of work sites and are easy to grip. 
These pneumatic tools are available in a range of PSI strengths, and they feature adjustable depth mechanisms for more precise driving. Choose tools for specific applications, such as installing roofing shingles and window frames. Flooring
nailers
may include an additional tool for removing old floors such as a mallet and a built-in wedge, while others include convenient carrying cases. Roofing models feature shingle guides to get accurate placement, and they have pads to protect against contact with rough surfaces. Drive in nails quickly and efficiently with the contact method, or add a layer of safety with sequential nailing. This requires first pressing the tip against a surface before pulling the trigger.
Choose full-size
nailers
for standard or heavy-duty jobs, or select miniature versions that are more compact and portable, some small enough to fit in the palm of the hand. Along with pneumatic models, there are battery-powered, cordless options to choose from that provide more freedom of movement. These tools are also safe to maintain, with easily cleared noses to minimize downtime caused by jams. Also look for models with built-in LEDs that illuminate the work surface, making it easier and safer to work in dimly lit areas. 
Keep
staplers
and
nailers
supplied with coiled nails that fire out in smooth succession, as well as brad nails and staples that fit into magazines. Check the capabilities of the tool to ensure use of the correct size and gauge.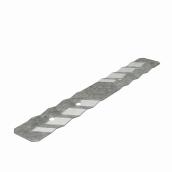 SIMPSON STRONG-TIE
Simpson Strong-Tie 22 Gauge Steel Brick Tie - 7/8-in x 6 9/16
Format 7/8"x6 9/16"
Details
Article #35945319