QUICK-JAW - Clamping Tools and Pliers (2)
Pliers
and
clamping tools
are essential tools used by contractors and for DIY work at home. Clamps fall into two categories; those for wood and soft materials that exert a moderate clamping force, and others that are stronger, intended for clamping metal. Hand-held pliers have a pivoted jaw controlled by two handles. There are many types, including bull-head for heavy-duty work, long nose for precision work, and adjustable for large diameter pipes and fittings.
Cutting pliers
use sharp blades for cutting wires. Consider our bench-mounted vises, which provide a solid base for holding, machining, and cutting materials.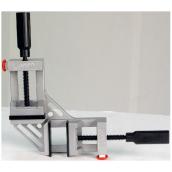 QUICK-JAW
Wolfcraft Angle Corner Clamp - Quick Release - Steel Jaw Pads - Ergonomic Handle
Format 90DG
Details
Article #1137078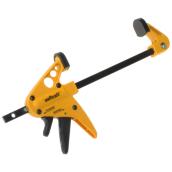 QUICK-JAW
Wolfcraft Quick-Jaw Bar Clamp - Yellow/Black - Ergonomic Handle - 4 3/8-in Opening
Format 4 3/8"
Details
Article #1137069