Description
Designed for drilling, sanding, shaping, detailing and other light-duty jobs. This compact, go-anywhere, use-anytime tool comes in extremely handy in and around the house. It features two speeds from 6,500 and 13,000 RPM to match the proper speed required.
It can be used with any Dremel rotary tool accessory with up to a 1/8" (0.3 cm) shank. 2-year warranty.
Product specifications
407- 1/2" 60 grit sanding drum with mandrel, 401- mandrel, 414- felt polishing wheel, 432- ½ "120 grit sanding band, 84922- silicon carbide grinding stone, wrench.
Frequently bought together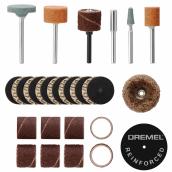 DREMEL
SANDING ACCESSORIE.
Format ST/31
Details
Article #1916246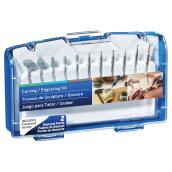 DREMEL
Carving/Engraving Mini Accessory Kit - 11 pieces
Format 11PC
Details
Article #19835917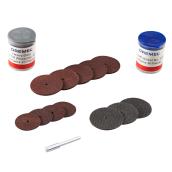 DREMEL
CUT OFF WHEEL
Format ST/69
Details
Article #1916247