Description
This panic bar from Tell can be installed on metal doors as well as on wooden ones with width varying from 28" to 36". This push bar is backed by a 10-year limited warranty.
Product specifications
ANSI A156,3, Grade 1, UL/UCL
You may also like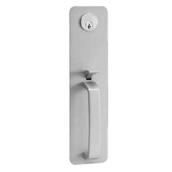 TAYMOR
Entrance Gripset for Push Bar
Details
Article #06926340
How does it work?
Here is a link to the 8300 series installation instructions that will show how it is installed and give an idea of how it works. For further detailed questions, please give us a call here in Tell Customer Service at 800-433-4047. http://www.tellmfg.com/TECHNICAL%20SUPPORT%20NEW/ALL%20NEW%20PDFs/Exits/8000%20PDFS/NEW%20Inst%20Inst%208300%20JUNE%202012%20ART/PDFS%20TO%20LAUNCH/NEW%20OCT%202012%208300%20INST%20INST%20ENGLISH.pdf
Date published: 2017-08-21