Softap Touch Dimmer - White
Article #12695163
Model #ADTP703TUW4
Format 700W RONA Langdon Hardware Ltd. / Fort Erie
(289) 320-8250
Description
Softap dimmer that turns lights on and off with just a soft touch of the finger. Halogen, incandescent, LED and CFL compatible. White. 1-year warranty.
Ecological advantages
Ecological Attributes
This dimmer allows you to control the brightness of your energy efficient CFL light bulb or LED. Used with a bulb-compatible according to manufacturer's recommendations, it reduces your electricity consumption compared to a traditional switch.

By reducing your electricity consumption, you help to reduce the environmental impacts associated with its production.
Environmental Issues
This product is eco-responsible because it reduces the impacts associated with the following environmental issues:
Availability and quality of water
You may also like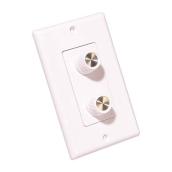 Control - Ceiling Fan Control
Format 2.5Ax120Vx300W
Details
Article #0181412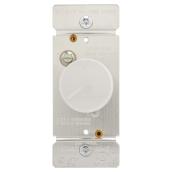 Ceiling Fan Control
Format 5Ax120Vx1POLE
Details
Article #0181055