Description
Enhance the elegance of your kitchen with this LG built-in range that ensures perfect, consistent cooking with every use thanks to its efficient ProBake(TM) convection system. Its large capacity of 6.3 cu. ft. allows you to prepare hearty meals such as large roasted meats while leaving extra space for side dishes. The ceramic glass cooking surface is equipped with a warming zone and 4 burners, including an Ultraheat(TM) 3200-watt element, perfect for a quick water boiling. As for cleaning the oven, it is easy: spray the inside of the oven with water and press the built-in EasyClean(R) option. Once the process is complete, simply scrub the remaining residue for sparkling cleanliness. Backed by a 1-year limited warranty on parts and labor.
Product specifications
Spray bottle, scouring pad, cooktop cleaner
Stainless steel finished aluminum
Warming zone: 100 W, front-left element: 1400 W/3200 W, rear-left element: 1200 W, front-right element: 2500 W, rear-right element: 1200 W
Convection Conversion (Y/N)
Hot Surface Indicator Light (Y/N)
Clock (12H/24H), temperature unit of measure (?F or ?C)
Bake, broil, convection bake, convection roast, favorites, multi-rack convection baking, delay back, delay clean, proof, warm, pizza, speed roast
Reversible Door Swing (Y/N)
Electronic Touch/Rotary Knobs
Number of Burners/Elements
(5) Center: 7", left front: 6"/9", left rear: 6", right front: 9", right rear: 6"
Frequently bought together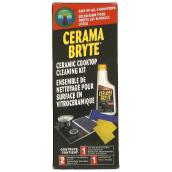 CERAMA BRYTE
Ceramic Cooktop Cleaning Kit
Details
Article #83075006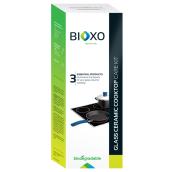 BIOXO
Bioxo Ceramic Cooktop Care Kit - Biodegradable - 500 ml
Format 500ML
Details
Article #30135135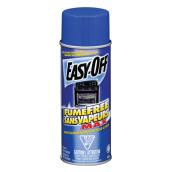 EASY-OFF
Easy0Off Oven Cleaner - Fume Free - 400 g
Format 400GR
Details
Article #17085054
I read in the manual that the lockout function locks the door and controls to operate the oven, but would it also lock out the controls for the cooktop? I'm nervous that my toddler may be able to reach the knobs and turn on the cooktop.
Hi Stacy19, as this particular model (LSE4611) does not have a Self-Clean option (uses Easy-Clean), when you initiate the Lockout feature, the controls will be locked but the oven door will not. Only the models with Self-Clean like LSE5615 and LSE5613 will lock both the door and the controls. We hope that helps clarify things! Best regards.
Date published: 2018-11-19
Does this stove have storage in the bottom of the stove
Hi there, thanks for your interest in our product. Yes there is a small storage drawer below the over> Please refer to the product's photos for reference. Best regards.
Date published: 2018-11-13
Does this have to vent outside?
Hello, thanks for your interest in our product. Ranges don't require to be vented to the outside. This is typically reserved to products such as range hoods and over-the-range fans and microwaves.
Date published: 2018-05-10
does this stove have a convection oven?
Yes, It has what LG calls, Pro Bake. Which is a professional version of Convection. I found this page within lowes: https://www.lowes.ca/articles/lg-probake-convection_a6091.html
Date published: 2018-02-13
Hello, I purchased this oven and I would like to know what the maximum degrees I can use my convection setting at?
Slide-In Electric Range - 6.3 cu. ft. - Black Stainless Steel
is rated out of
5
by
74
.
Rated

4

out of

5
by
Suef
from
I like it.
I went to the store to buy another brand but ended up with an LG. I really enjoy the large oven (and the pretty blue oven color). Both the oven and the burners heat up fairly quickly and seem to be accurate. The only thing I don't care for is the oven timer. I will need to look at the owner's manual again to see if I missed something but if holding my finger down on the button to set it for 60 minutes or more is the only way to set it for long times I just don't care to do it. I can punch the timer in on my microwave so much quicker and that's what I've been doing. My LG can email me what I'm doing wrong. Otherwise, I like it.
Date published: 2019-11-12
Rated

4

out of

5
by
JAH2
from
Nice oven, good with kids
[This review was collected as part of a promotion.] Good oven thus far. Like having controls on front, but very easy to hit them and accidentally turn on walking by or for kids to reach. Lockout feature great either having kids or adult guests to avoid finding cooktop on and to kerp kids from opening oven door. Dislike the timer, very touchy and takes a while to get correct time set. Been using a couple months and one day no buttons would work which meant I was unable to turn oven on, but after a while it decided to start working again.
Date published: 2017-09-22
Rated

1

out of

5
by
BTrenholm
from
Knobs Ruin this Range
In a matter of months the oven knob snapped off while cleaning. I researched it online and it is obvious LG has an issue with these cheap knobs. As one reviewer stated, the knobs are attractive and sturdy, but LG cheaped out and have the metal control going into a piece of plastic. Its not a matter if these will break, its when. And the parts are absurdly expensive. Customer service was no help, sending a form letter to contact their parts department.
Date published: 2019-08-13
Rated

3

out of

5
by
Not a Chef
from
Not user friendly!
[This review was collected as part of a promotion.] We've had this range for a couple of months and it does an excellent job on everything we've used it for from baking to boiling. Although it is state of the art in cooking it is 20 years behind in being user friendly. The numbers are around the outside of the knobs which make them hard to see. This is called a slide-in range, however it's just like a free standing range on the sides and leaves a gap between counter on either side. What really puts it 20 years behind is the control panel. There is NO KEYPAD, so when you set the oven temp it's + or - , same for timer, have to keep punching + or - to try and get the right time. I recommend this range for how it cooks and not for being user friendly.
Date published: 2017-10-23
Rated

4

out of

5
by
Griffin House
from
Great, but is my UltraHeat working right?
We love this thing, oven and stovetop, but something seems wrong with the UltraHeat burner. No matter the setting, it is full on or full off only. The inner/outer rings work as expected, but '2' is just as much 'on time's and heat as '8' same with 'HI' and 'LO'. We can only use it to boil water, anything else and we have to keep turning the burner on/off to control temp. Is this the way it is supposed to operate? If so, why a dial at all?
Date published: 2020-06-09
Rated

1

out of

5
by
Chuck
from
Pretty Severe Safety Issue
We just got this stove installed. Fit and finish is great and it works great. The issue however is the knobs on the front. They have no safety mechanism and when reaching over the oven to get into a cabinet the burners frequently get turned on by accident. Our initial major concern was this last weekend when I woke up and went into the kitchen to find a pot burning on the stove and another burner on full high with nothing on it. We chalked it up to our dog (a large breed) jumping up and grabbing something off the counter sometime in the night. Today we came home to a cutting board that had been melted to the burner. The whole inside of the house is covered in cutting board soot. We're lucky the house didnt burn down, im not sure how it didnt. Just want people to be aware of these type of stoves in general. They look nice but there are no safety features to prevent the knobs from turning, a simple press and turn would solve this issue.
Date published: 2017-04-06
Rated

5

out of

5
by
Cury619
from
Very Nice
[This review was collected as part of a promotion.] Had this for about 3 weeks. It is a beautiful range. We were a little worried that it would be hard to keep the glass top clean, but that really has not been an issue. Top burners work as they should. We have only been using the bake mode, not the convection settings, but even with the bake mode the fan in the back does seem to be on most of the time, but is very quite. Items cook faster than with our previous oven, and it doesn't seem to matter what rack you put things on. Both my wife and I are very happy with the purchase.
Date published: 2017-12-05
Rated

1

out of

5
by
Bill
from
Knobs
I have only used the range once, however it turned on 3 times! 2 of those 3 times were due to myself or the painter accidentally touching the knobs. Each time there was something on the stovetop that started to catch on fire! I have 2 small children, needless to say this firehazored will be going back to lowes and I will exchange it for something that is safe!!!
Date published: 2017-08-19