Slate Garden Wall Block 4.5" x 17.5" - Beige
Article #53985045
Model #MUREAB
Format 4x17 1/2x4 1/2"
RONA Langdon Hardware Ltd. / Fort Erie
(289) 320-8250
Description
Solve erosion problems while accenting your outdoor space with an attractive retaining wall built from Patio Drummond Slate Garden Wall Blocks. The stacked decorative finish of these retaining wall blocks provides a multi-dimensional landscaping option in gardens, on terraces and as borders. The sturdy interlocking slate slabs stack without the use of mortar for easy installation.
Related Projects
Slabs, blocks and pavers
There was a time when sitting outside on a sunny day meant simply putting a couple of garden chairs out on the grass. Today, outdoor living is about creating tr...Learn more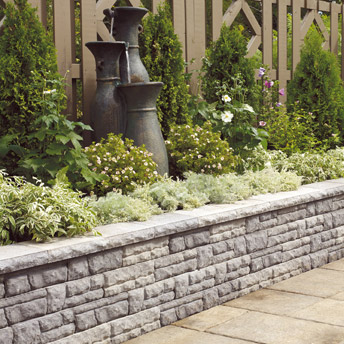 Build a concrete retaining wall
A retaining wall can be more than purely decorative; it can contain a flowerbed, enable terraced landscaping, or mark the boundaries of your property.

Learn more